Bermuda's Kyrah Scraders raced to victory in the 800m B Final during the 2014 Youth Olympic Games in Nanjing, China today [Aug 23] running a season best time of 2:10.66 to finish ahead of Celia Alonso from Spain who clocked 2:11.12 to place second, Ana De Campos Silva from Brazil who finished third in 2:11.27, while athletes from Ukraine, Botswana, Australia and Jamaica rounded out the remaining B finalists.
Screenshot of the official results: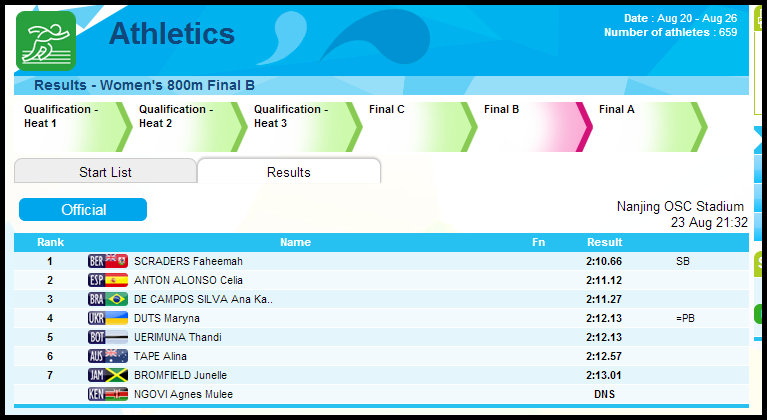 Following the preliminaries, the athletes are divided into the A Finals, B Finals and C Finals, with the athletes with the fastest eight times qualifying for the A Finals, the next eight fastest qualifying for the B Finals while the next group compete in the C Finals, so Scraders effectively placed 9th overall at the Youth Olympics, which attracts the best athletes under 18 from around the world.
The 17-year-old Berkeley Institute student — who served as Bermuda's flag bearer for the Youth Olympics Opening Ceremony – recently captured medals at the 2014 CAC Junior Championships in Morelia, Mexico and the 2014 CARIFTA Games in Martinique.
Read More About