The Bermuda Society of Arts [BSoA], in partnership with Pianos Plus, CellOne and the City of Hamilton is excited to launch the Public Piano Project. The BSoA is calling all artists, designers and creators to submit ideas to decorate a piano that will be displayed for the public to listen to and play outside of City Hall in December during the holiday season.
Applications can be found online at www.bsoa.bm or collected from the BSoA at City Hall. All submissions are due on November 7th by 4pm. Applications can be submitted via email at bsoa@ibl.bm or dropped off at the BSOA Gallery from 10am-4pm Monday-Friday and 10am-2pm on Saturday. Jpeg images must have a resolution of 300dpi. Artists can submit a maximum of 5 images each.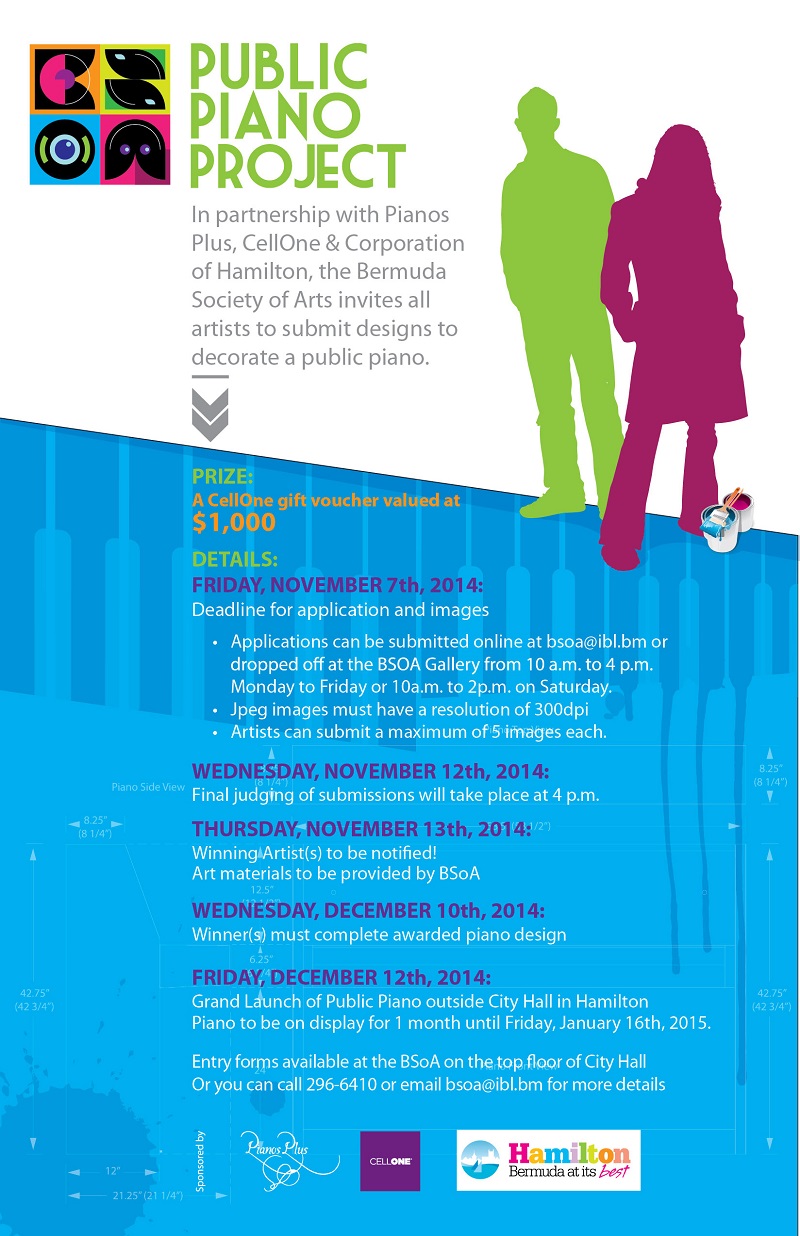 A panel of judges will review the submissions and award the final design to the winning artist[s] with a $1,000 gift certificate from CellOne.
The winner[s] will have time to paint the piano as per the winning design over a one-month period after which the piano will be publically launched on December 12th outside of City Hall.
On December 12th the BSoA will award the final prize and showcase the winning piano design with local performers who will play and sing with the public piano. The piano will be free and available for members of the public to listen to or use at their leisure until January 16th 2015.
The BSoA Public Piano Project is an adaptation of a project called "Play me I'm Yours" started in 2008 by Luke Jerram. More than 1,300 pianos have been decorated and placed around the world reaching over six million people.
CellOne is looking forward to engaging with Bermuda in a new innovative and creative way alongside the BSoA", says Marketing Director Joel Ferrier. "To be part of an adaptation of a global initiative which brings everyone together for the upcoming holiday season is a wonderful way to celebrate the remainder of 2014, and ring in a new year.
"We appreciate the BSoA for having us as a partner for this project and encourage all of Bermuda to get involved by entering the contest or appreciating the winning selection Charles Anderson, President of the BSoA, stated that the "Public Piano Project will be an amazing piece of public art that will combine visual and performing art into a unique an interactive piece."
The vision of the BSoA is to nurture the growth of art and artists in Bermuda by fostering and improving the standard of local work on island.
Read More About
Category: All, Entertainment