[Written by Laurie Fullerton] Stamina and determination were key factors for the competitors racing in day two of the Renaissance Re Junior Gold Cup today. The 14 international guests and 26 young Bermudians finished five races on Bermuda's Great Sound. This is a test of endurance for any sailor especially young ones.
The results keep Christian Spodsberg of Denmark in 1st place with 14 points after seven races. Bermudian Adam Larson remains in second with 33 points but is now tied with Rocco Falcone of Antigua, also with 33 points.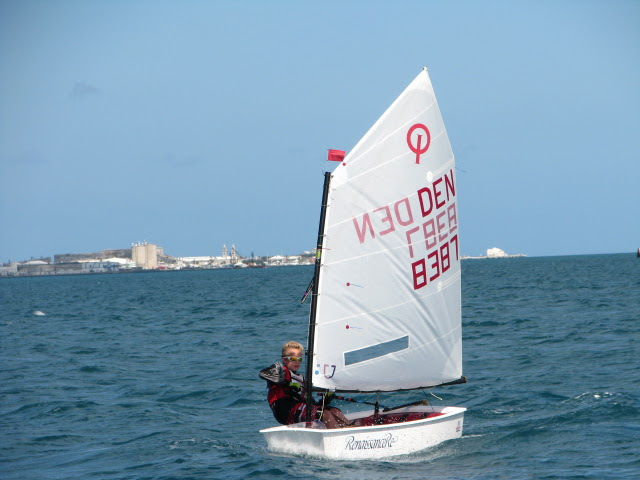 Much of the key to the success of today's marathon was the resilience of the competitors who did not flag or falter as they put in a great day of sailing in a building breeze of 17-18 knots.
"The hardest thing is hiking and playing the shifts and getting a good start. As the day went on I became quite tired," said Spodsberg. "So, eating and drinking was a big part of having the energy I needed and I am really pleased with my position in the regatta.
It was also a good day for Bermuda sailors who have done very well this week with Adam Larson in second place after suffering rig failure and dropping out of the seventh and final race today.
"It was unfortunate that I couldn't finish the last race and I will have a fight ahead of me tomorrow," Larson said. "I was assuming going into the last race that my fourth race today would be a drop. But, overall, this was a great day and all of the younger, smaller sailors out there really fought hard and that is great to see. It was better for everyone today and I think we knew what to expect. All of the sailors found themselves and did a lot better."
Regatta director Somers Cooper noted that, "I am really pleased to see Adam Larson in 2nd place. He has really come into himself here. We have not had a Bermudian in the top two spot in a long time."
For Antigua sailor Rocco Falcone, he began to conserve his energy toward the end of the day. "I paced myself more and although five races was tiring, I kept eating and drinking a lot and that worked."
For both the international and Bermudian teams, the need for five races today will pay off tomorrow as winds are expected to abate and four more races are necessary tomorrow.
"Today was really about fitness, stamina and concentration," said Dede Cooper, regatta organizer. "The Bermudians in general were tested and sailors like Campbell Patton showed a lot of stamina as he came back strongly in the last half of the day. Tomorrow will be a clockwise wind shift so we took advantage of the idyllic day. Today really shows what these kids are made of."
The coaches, too, were impressed by the caliber of sailing today and the fact that none of the sailors – even the nine year olds – did not give up.
"It was great to see so many Bermudians finishing in the top ten today," said Royal Bermuda Yacht Club coach Tom Herbert-Evans. "Jordan Etemadi is having a great regatta. Campbell Patton did really well today and got a lot more consistent as the day went on. It was a bit hard for the nine year olds to be out there sailing five races all day. Hats off to them and to all the sailors."
Organizers hope to get four races in on Saturday and the final race will be during the halftime of the Argo Group Gold Cup finals Sunday afternoon.
Read More About