[Updated] If you just had your power knocked out again in the Devonshire area it may have something to do with the fact that a truck pulled down lines on Dock Hill at around 7.30am this morning [Oct 22], which appears to have temporarily knocked out power to the area. Personnel from BELCO, Fire and Police are on scene.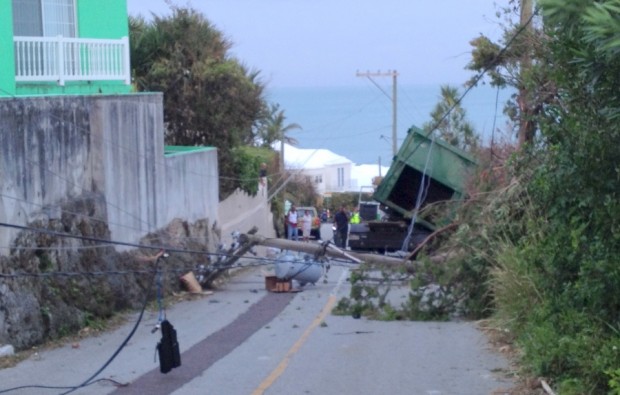 A police spokesperson said, "Motorists are advised to avoid the North Shore Road, Dock Hill Devonshire area until further notice as BELCO personnel work to repair downed electrical wires. An update will be provided as soon as normal traffic flow can resume along that section of road."
Update 5.00pm: BELCO said they want "customers to know that some crews had to be diverted from planned work today in order to rectify the damage on Dock Hill, after a commercial truck struck one of our poles and brought down lines this morning.
"Some jobs were slowed down by the Dock Hill incident today, but work on those scheduled restoration jobs will resume tomorrow. A complete list of tomorrow's major work areas will be developed this evening and published for tomorrow morning.
"We are also watching weather conditions, which are expected to deteriorate this evening, and which may have an adverse effect on progress tonight. We cannot have crews working in unsafe weather conditions," BELCO added.
The Bermuda Weather Service has issued a Thunderstorm Advisory valid for late tonight through Thursday morning.
Update Oct 24, 11.25am: Traffic is now moving normally in the Dock Hill area, with a police spokesperson saying, "Normal traffic flow has since resumed in the Dock Hill, Devonshire area. The motoring public is thanked for their patience and cooperation while downed electrical wires at that location were rectified."
Read More About
Category: Accidents and fires, All, News