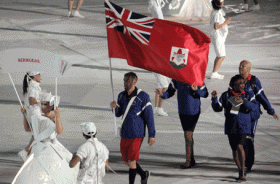 The Opening Ceremony for the 2014 Central American and Caribbean Games in Veracruz, Mexico took place last night [Nov 14], and it was spectacular affair highlighted by the live performance of Latin American star Ricky Martin.
Martin performed his new single "Adios" among other songs from his multi-award winning greatest hits.
The Central American and Caribbean Games have become one of the most recognized sports events in Latin American and is used as a window for young, upcoming athletes to showcase their abilities in anticipation of the Pan American and the Olympic Games.
Swimmer Julian Fletcher carried the Bermuda flag, leading the team of over 40 athletes set to represent the island.
Bermuda athletes will be in action in the first day of competition roday, with the Bermuda women's hockey team taking on Trinidad & Tobago, while swimmers Roy Allan Burch and Lisa Blackburn hit the pool in Veracruz, while Virginia McKey will compete in dressage in Xalapa.
Photo of the Opening Ceremony courtesy of the event organisers
The regional Games will see athletes from a host of nations competing including: Antigua & Barbuda, Aruba, Bahamas, Barbados, Belize, Bermuda, Colombia, Costa Rica, Cuba, Dominica, El Salvador, Guatemala, Guyana, Haiti, Honduras, Cayman Islands, US Virgin Islands, British Virgin Islands, Jamaica, Mexico, Nicaragua, Panama, Puerto Rico, Dominican Republic, Saint Kitts & Nevis, Saint Vincent & the Grenadines, Saint Lucia, Suriname, Trinidad & Tobago and Venezuela.
The following athletes will compete for Bermuda at the CAC Games:
Tyrone Smith Athletics
Shianne Smith Athletics
Nicole Mitchell Cycling
Dominique Maho Cycling
Zoenique Williams Cycling
Virginia McKey Equestrian – Dressage
Jillian Terceira Equestrian – Show Jumping
Patrick Nisbett Equestrian – Show Jumping
Cameron Pimentel Sailing
Cecilia Wollmann Sailing
Roy-Allan Burch Swimming
Julian Fletcher Swimming
Lisa Blackburn Swimming
Alexandra Wheatley Hockey
Azari Thomas Hockey
Francesca Cacace Hockey
Jennifer Beech Hockey
Jennifer Chisnall Hockey
Jessica Hollis Hockey
Katherine Masters Hockey
Keishae Robinson Hockey
Maya Palacio Hockey
Melanie Fullerton Hockey
Renee Greenslade Hockey
Ryce Trott Hockey
Selina Whitter Hockey
Tse Minors Hockey
Yvonna Osborne Hockey
Zuri Phillip Hockey
Andre Landy Rugby
Antonio Perinchief-Leader Rugby
Darren Richardson Rugby
Jahan Cedenio Rugby
Joshua DeAllie Rugby
Kamel Easton Rugby
Neville Zuill Rugby
Patrick Richardson Rugby
Somers Brewin Rugby
Steven Husbands Rugby
Tashon DeSilva Rugby
Thomas Edwards Rugby
Read More About