HSBC, in partnership with The Centre on Philanthropy, hosted its first annual Charity Golf Classic fundraiser in an effort to further strengthen and support the Bermuda community.
The tournament was held at the Port Royal Golf Course on October 31st and hosted 21 foursomes. $1,000 was donated by each foursome to the local registered charity of their choice, with HSBC matching all donations made and generating a total of $42,000 in support of the Bermuda community and its third sector.
HSBC Bermuda CEO, Richard Moseley and The Centre on Philanthropy, Executive Director, Elaine Butterfield with L&F Indemnity Ltd, second place winners of the HSBC Charity Golf Classic.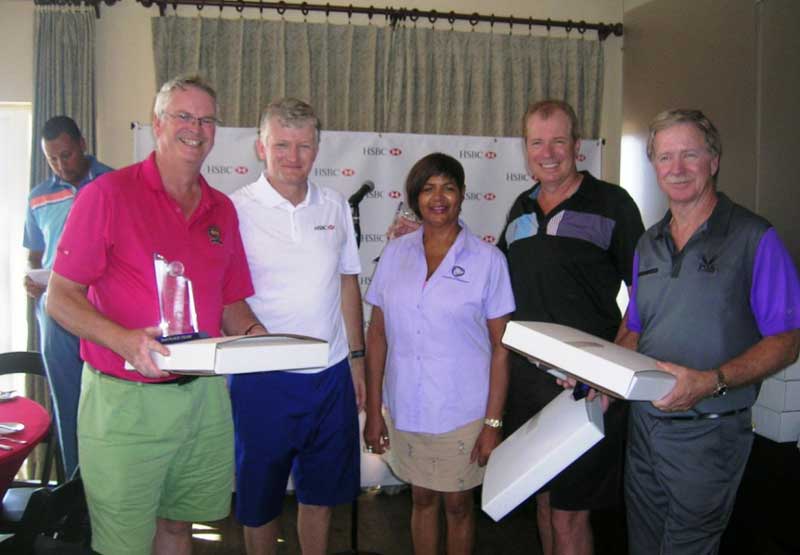 The sixteen local registered charities that directly benefited from the fundraiser were The Bermuda Stroke and Family Support, Friends of Hospice, The Centre on Philanthropy, Age Concern, The Bermuda Sloop Foundation, Teen Services/Teen Haven, YouthNet, Action on Alzheimers & Dementia, Bermuda Education Network, Bermuda Cancer & Health, Salvation Army, Big Brothers & Sisters, LCCA, PALS, Coalition for the Protection of Children and The Sunshine League.
HSBC CEO Richard Moseley stated, "This event was an opportunity for all local corporate organisations and the Bermuda public to collaborate, with the objective of raising funds in support of our local community and to have some fun. Each of the 16 charities benefitting from this fundraiser is diverse and unique in the services they provide.
"We firmly believe supporting the non-profit sector not only improves the societal health of our country but also demonstrates our understanding for the need of such services. Thank you to all members of the community, local charities, community organisations, our customers and HSBC staff, for your continued support and commitment. Individually the impact may seem insignificant; however, through continuous collaboration and partnerships, collectively we can make a substantial step towards a better Bermuda for all."
Elaine Butterfield, Executive Director, The Centre on Philanthropy states, "We were delighted to partner with HSBC for this wonderful event. HSBC is a champion and model of corporate social responsibility and this event demonstrates their commitment and support for the third sector.
"Their continued contributions will go a long way in the effectiveness and sustainability of the services provided through our charities. Corporate giving initiatives such as this will ultimately change our community for the better."
Read More About