Marshals have been authorised to seize America's Cup champion Oracle Team USA's prototype boat in response to a lien filed by New Zealand sailor Joe Spooner, the Associated Press reports.
The warrant was issued late Friday by the US District Court in San Francisco, and the boat hadn't been seized as of mid-day Saturday, Oracle Team USA spokesman Peter Rusch told the AP.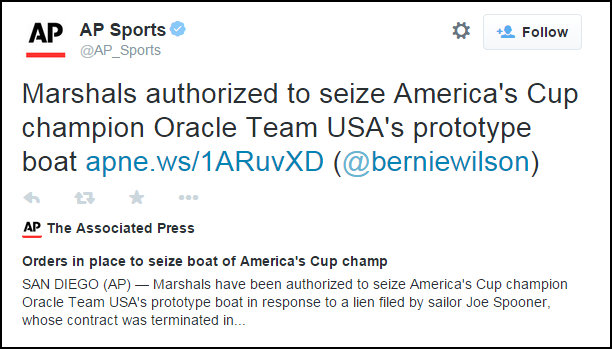 The New Zealander sued Oracle Team USA saying that his contract for US$25,000 a month was terminated without cause.
The Chief Magistrate denied Spooner's initial complaint on February 23, but said he could file an amended complaint, and Spooner's attorney, Patricia Barlow filed an amended complaint Friday, the AP's Bernie Wilson reported.
"Spooner's complaint alleges that Oracle Team USA retaliated against him for asking if his monthly salary could be raised to US$38,000 to cover the expense of relocating to Bermuda," the report said.
"Spooner was offered a US$4,000 a month relocation housing allowance, but said it would cost around US$7,500 a month for suitable housing for his family, as well as other expenses to live on the island for the America's Cup cycle."
Oracle Team USA, the defending champion, is one of six teams set to compete for the 35th America's Cup, alongside Artemis Racing from Sweden, Ben Ainslie Racing from Great Britain, Emirates Team from New Zealand, Luna Rossa Challenge from Italy and Team France.
Oracle — owned by software billionaire Larry Ellison — are setting up a base in Bermuda in advance of the 2017 finals, and a planning application has already been submitted, calling for four new buildings and two floating docks to be built in Dockyard.
Read the full story on the authorization of the boat seizure here on the AP's website.

Read More About