Recently, Saltus students from all three departments participated in a grub day and raised $6,362.64 for the Red Cross' relief effort in Nepal.
Executive Director of the Bermuda Red Cross, Mrs. Ann Spencer-Arscott, accepted the cheque from Head of School, Mrs. Claire Charlemagne, along with student representatives from Lower Primary, Upper Primary and Secondary.
Mrs. Ann Spencer-Arscott, Bermuda's Red Cross Executive Director, commented: "We are so pleased to accept this wonderful donation from Saltus Grammar School. It is heartwarming to see how communities such as schools come together to help those in need in such a generous way.
"When disasters strike such as what occurred in Nepal, we are reminded how fragile life is and that we in Bermuda have much to give. Each person doesn't have to give a lot, but when a lot of people give just a little, it makes such a big difference to those affected by these natural disasters.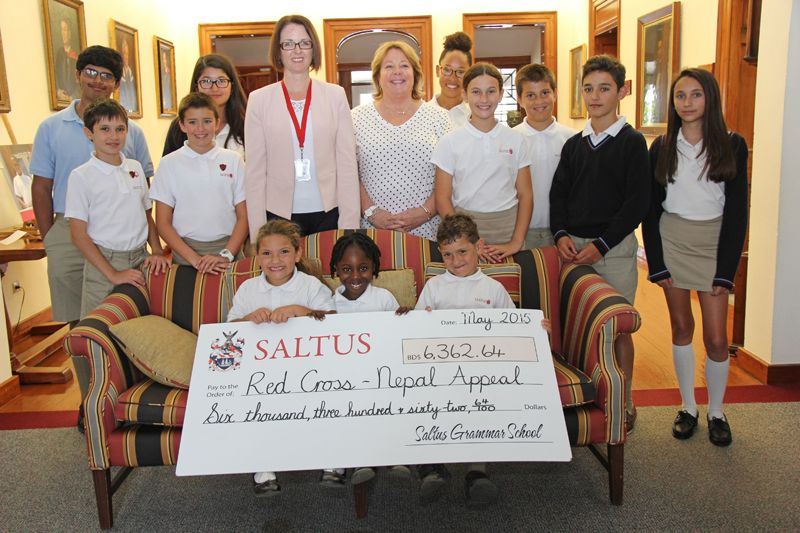 "Immediately after both earthquakes, Nepal's Red Cross responded through mobilising their volunteers in delivering first aid, psychosocial support, ambulance services, as well as assistance to search and rescue teams," the Bermuda Red Cross said.
"They have also distributed much needed supplies including: 42,630 tarps, 1,858 family tents, 11,704 blankets, 4,026 hygiene kits, 405,950 water purification tablets, and many more items.
"According to statistics from the United Nations, 8,000,000 have been affected with 2,800,000 people displaced. Reports also state that 8,249 people died, 17,838 people sustained injuries, 529,905 houses were totally damaged and 307,785 houses were partially damaged.
"From these figures you can see that the funds collected from Red Cross and Red Crescent Societies around the world, will go a long way to provide some form of relief to the survivors."
Read More About