The 2015 Alpha Beautillion is set to take place on Sunday, June 7 at the Ruth Seaton James Centre for the Performing Arts.
The seven young men competing in this year's Beautillion are Zaren Sean Anthony Bennett, Dylan Wilson, Evin Scott Mosley, Marcus Anthony Henschke, Tahj Nicholas Roderick Cox, Tariq Anthony Brown, and David Darrell.
Hosted by the Alpha Phi Alpha Fraternity, this year's event will see the seven young men competing for a chance to boost their education funds in a "male rite of passage ceremony where top high school male students demonstrate their oratorical ability, talent, and community service activities as they compete for scholarships."
Photo by Anthony Wade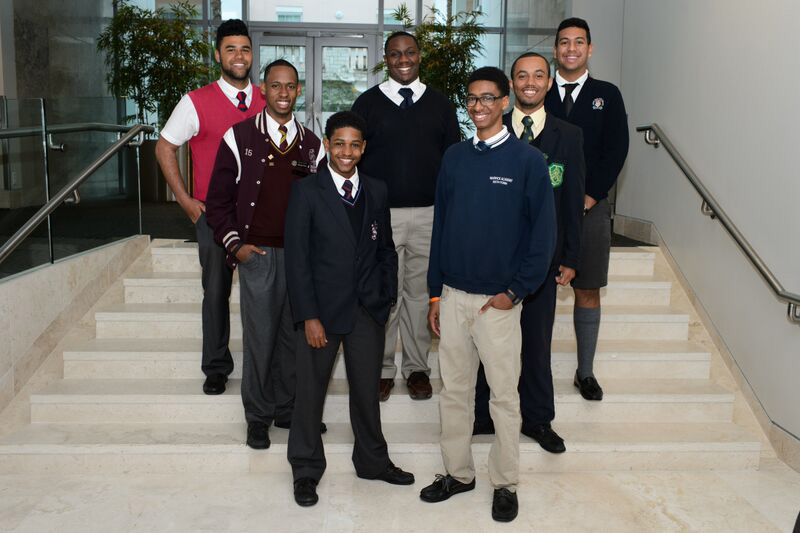 This program began in January and included weekly volunteer work at the Matilda-Smith Rest Home, attendance at the annual Black and Gold Ball held at the Fairmont Southampton on March 21, monthly mentoring meetings with brothers of the Fraternity, Personal Development seminars conducted by CableVision, Digicel, XL Catlin, Bermuda Toastmaster Club, and Deloitte, and various other mentoring programs and team building activities.
The program culminates with the Alpha Beautillion competition, with the cumulative scores of the pre-judging for the six-month period prior and the tally of the scores from the final night added to decide the winner.
In addition to the education awards, all of the Beaus are flown to the Fraternity's Leadership Development Institute [LDI] in New York where they undergo a 4-day workshop.
Participation in the LDI is an opportunity to reach out to the brightest and best and instill leadership qualities and skills that will assist them in becoming tomorrow's leaders today.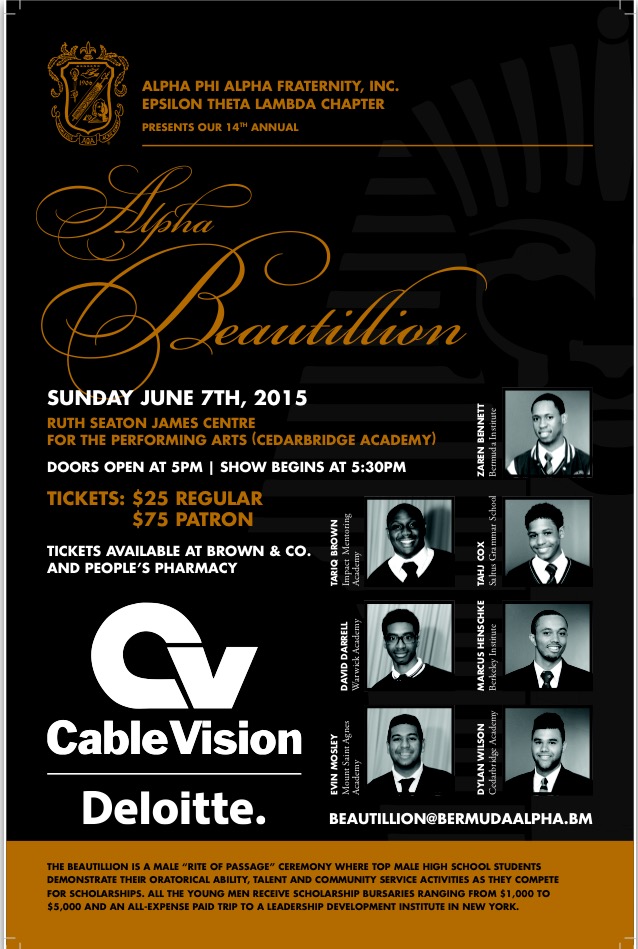 All participating students will receive a monetary award, while the winner will receive a $5,000 bursary prize. The 2015 Beautillion Committee includes Dantae Williams [Co-Chairman], Zuri Darrell [Co Chairman], Jonathan Tankard, John Duncan, Matthew Sinclair, Lloyd Holder, C. Michael Wellman, and Michael Pearman.
Last year's Beautillion saw Berkeley's Ryan Robinson Perinchief named the winner, with CedarBridge's Marcus Bean winning in 2013, while Trae Trott won the 2012 Beautillion, and Vashon Williams won the 2011 event.
The 2015 Alpha Beautillion will take place at the Ruth Seaton James Centre on June 7, 2014. Tickets to the event cost $25 at regular price and $75 for patrons, and can be purchased at Brown & Co. and People's Pharmacy.
Biographies of the seven Beaus follow below:
Zaren Sean Anthony Bennett
Zaren Sean Antony Bennett was born on June 19, 1997 in Paget, Bermuda. He attended Prospect Primary, and then Bermuda Institute. He has attended Bermuda Institute since 2008 and is currently in his senior year and planning to graduate soon. Zaren shows good leadership qualities, being nominated for both head boy and prefect positions at both primary school as well as high school. Zaren has served as the class pastor 3 times throughout his high school tenure. This year, he was also nominated for two Teen Service Awards for community service and spiritual leadership. He is also a member of both the National Junior Honour Society and National Honour Society.

As a third year Candy Striper at the Bermuda Hospital Auxiliary, Zaren has had the opportunity to work in several of the departments and has gained a bit more knowledge in the areas of the King Edward Memorial Hospital. He has also been volunteering at the Hospital for work release every Wednesday for his last semester, where he has had the opportunity to shadow a Hospitalist to see what her daily requirements include.

He has had multiple encounters with the patients and has gotten closer insight on how the Hospital is managed and how everybody needs everybody in order for the hospital to run efficiently. He states "when he was assigned to the Continuing Care Unit [CCU] he really had a heart-warming experience. Being as most of the patients are elderly, they are just left in CCU with barely any family or visitors. Just by them seeing young people doing something constructive with their time, such as volunteering, really brought a smile to their faces and it definitely put a smile on his. Just for him to be able to share an experience so small, yet as meaningful as this really made what I do an enjoyable activity. This same sense of joy came from volunteering at Matilda Smith Williams Rest Home every Sunday with the other Beaus.

In his free time, Zaren loves to play one of the six musical instruments, namely: piano, drums, guitar, bass, trombone, or steel pan. He mostly enjoys playing with his band, In Time, who he just recently joined and has performed at various events, including the bands greatest performance to date, the Cablevision Banquet.

Zaren's future goal is to become an Obstetrician and to return to Bermuda as a doctor to serve in the community. Zaren states that "more than anything, our community needs people, specifically young people, to care enough to give back." Giving back to the community is very important to him.

Zaren believes that with God's help, he will fulfil God's purpose for his life. He has already seen God's blessings in his journey thus far and he knows that he will be with him in everything he does.
-
Dylan Wilson
Dylan Wilson was born October 8th 1996, to Blane and Madalena Wilson. He has attended Gilbert Institute, Star Academy which was a homeschool and CedarBridge Academy. Through his effort and dedication at CedarBridge he received Deputy Head Boy. He is a determined individual and believes in success at any cost. He states that life is full of obstacles, complicated ones, easy ones and even some to which none can understand. He has been looking for his purpose in life and it became clear to him over the summer of 2014. He wishes to pursue a career in business; someday he hopes to own his own. Dylan is currently networking to get a broader perspective of the business world.

Growing up, Dylan played sports and thoroughly enjoyed it. He feels this allowed him to do something productive, while also spending time with new people. He has had the opportunity to play many sports such as: baseball, basketball, cricket, soccer and volleyball. The sport that he enjoyed the most was baseball, which he played for 6 years. He was eventually awarded Captain due to his competence, support, and determination in the sport. This helped to transform Dylan into a leader. As captain he was required to be a role model to his fellow teammates.

Dylan feels that community service is essential. Over the years he has participated in many community service activities. These include: Hands of Love, a tour guide at the new acute wing at King Edward Memorial, Matilda Smith Rest Home, Hamilton Princess, and Red Laser. All of his volunteer work gave him a great experience and an abundance of new skills.

Dylan enjoys learning. He feels that a desire to learn is a valuable characteristic that encourages one to expand their horizons. He is on a quest to achieve greatness.
-
Evin Scott Mosley
Evin Scott Mosley was born in July 6th 1997 and he is currently the Student Council President at Mount Saint Agnes Academy. Since he was ten years old, his goal has been to become a lawyer. In school, he excels in disciplines that come natural to him such as English Language Arts, Psychology and Social Studies. He loves to be in these classes because he is able to use writing and speaking skills and he is challenged to use his critical and analytical thinking. Aptitude in these classes has affirmed Evin's dream of becoming a lawyer and is the reason why he is so persistent in chasing that dream.

Outside of school, Evin has had work experience at the Bermuda Zoo as a summer volunteer, worked as an intern at the Bank of Butterfield, and as a summer camp counsellor at MSA's Li'l Saints Summer Camp. Evin enjoys to spend time with kids of younger ages which has guided him to becoming a tutor as well a YouthNet mentor. Through his extensive community service projects, Evin was awarded the Outstanding Teen Award for Community Service in March 2015. He has also received several other awards in regards of his social conscience such as school leadership, young citizenship, being chosen to travel to the United Nations, and the Police Commissioner's Vision Award.

Sports are significant interests of Evin's and he devotes much of his time towards them. He has participated in his school teams since middle-school to present as a captain and has travelled overseas to represent Bermuda on the national teams for both Volleyball and Basketball. Evin has also won the gold medal in singles during the interschool badminton tournament two years in a row and has received a gold and silver medal in doubles. He has also receive the Duke of Edinburgh Award Bronze and Silver. Evin says "When it comes to athletics, I try to interpret what I learn in sports and relate them into my daily life. Sports have always taught me discipline and to always focus on the task at hand even if the odds are against me. Athletics has inspired in me passion and determination as well as the ability to learn from my mistakes and improve myself from my past experiences."

Evin loves to socialize and spend time with his friends. He enjoys watching Netflix, and on sunny days he likes to go kayaking. Evin plans to attend university in the UK to study law.
-
Marcus Anthony Henschke
Marcus Anthony Henschke was born January first 1997. He was raised in Somerset, Sandys, Bermuda with his family which consists of his mother, father, and two brothers. He attended Somerset Primary School where I was deputy head boy, while also winning numerous annual math and spelling competitions held by the school before graduating with the M. Kent Mathematics Ward and The Luella Douglas General Proficiency Award.

After primary school, Marcus transitioned into Sandys Secondary Middle school where he continued his educational Journey. There he was also a prefect. In addition to that he had the grand opportunities of taking his mathematics GCSE 3 years early [Passing with a C] and becoming a member of the Sandys Ac Mathematics Program, a program in which advanced students could learn high school and college mathematics beforehand. He also had the pleasure of being a member of the Showtime Drum line, from its conception in his M1 year up until about S2. At the end of his final year at Sandys Secondary Middle School he was the Master of Ceremony at the graduation ceremony, a celebration in which he received various awards such as the Honors Cup, the 100+ hours of community service award and many more including Music and the Physical Education Award as well.

The Berkeley Institute is one of the two schools Marcus attends today. Whilst at Berkeley he has been able to successfully pass various exams as he continues his education. He has taken part in internships at HSBC & Montpellier Re through the Berkeley Institute whilst Networking through BFIS & on his own. He has taken part in Berkeley's cycling club, softball and volley ball teams and he also received the prestigious honor of being The Berkeley Institute's Head Boy.

Marcus was able to successfully complete the Bermuda College Placement becoming a dual enrollment student, a student taking high school classes whilst also taking college courses for credits. He currently attends the college pursing a degree in either Actuarial Science or Insurance & Risk Management. In August, he anticipates attending St. John's University. Having received scholarships from St. Johns, he hopes to commence his second year of post high school education in the Fall.

Growing up, Marcus has been able to take part in various activities such as baseball, drumline, rugby, volleyball and golf and he has also been able to take part in various community service activities such as helping out at Sandys 360 as a volunteer counselor, various tag days, innumerable walks for causes such as the breast cancer walk and the Catlin middle to end as well. He is also a BYSP baseball coach during the season.

Lastly, he states that "being a member of this year's Alpha Phi Alpha Beautillion has given me the chance to help out at the Matilda Smith Rest Home. This program has given me the chance to grow as a young man and work to perfect who I am whilst showing Bermuda that our islands young males have much to offer."
-
Tahj Nicholas Roderick Cox
Tahj Nicholas Roderick Cox was born March 7, 1998. He is the proud child of Dwayne and Gizella [Nickey] Cox. He was a birthday gift to his mother as he was born three days before her birthday. Tahj weighed 8 lbs 4oz. He has one older brother, name Kaelin Cox.

Tahj has always carried himself with confidence. He has a very calm, quiet spirit that observes the world around him. Tahj's first schooling was at Stepping Stone Preschool. His first teacher was Teacher Fiona. His teacher was concerned about him because of how quiet he was. However, what Teacher Fiona didn't realize was Tahj made up all his talking when he came home from school. His parents knew about everything that took place while in school. Tahj moved from preschool to Harrington Sound Primary School in 2003. His favorite teacher was Miss Ming in Primary Five. Because Tahj was so quiet, she encouraged him to express himself through his writings. She also encouraged him to speak about his writings and projects in class. While in Primary five, he won a Mother's Day Writing competition. In Primary six, Tahj was voted to be Head Boy by his peers. He also traveled to Costa Rica to enhance his Spanish speaking skill which he had been learning while at Harrington Sound. Throughout his Primary years, Tahj always received High Honors and graduated on top of his class. Striving for excellence was and still is his purpose.

From September 2009 to June 2014, Tahj attended the Bermuda Institute. While attending Bermuda institute, Tahj was blessed with a Christian education. He was baptized in 2011, along with his brother. He played the saxophone and drums in the school band for two years. He became a member of the National Junior Honor Society in 2013 and held the position of Class Treasure in grade 9 and Class Vice President in grade 10. He often made Honor roll throughout his years at Bermuda Institute.

Tahj started out practicing Kung Fu at the age of five, however soon after; he realized that Kung Fu was not for him. His interest was in music. At the age of seven, he told his father he wanted to learn how to play the piano. His father soon after bought him one. Tahj would be heard practicing songs of interest by air, faithfully every day. This was before he knew how to read music. After two years of practicing music on his own, he started to take lessons from Mr. Kenneth Paul for three years. Mr. Paul taught Tahj how to read music. This skill was also reinforced while attending Harrington Sound Primary school. Tahj also took piano lessons with Mr. Daniel Hill for two years who took him to the next level in Music Theory. He is currently taking lessons from Mr. Zhang at Saltus Grammar School. Once Tahj learned how to read music, he started to print off sheet music of some of his favorite songs. Tahj has performed at various events. He participated in a fund raising solo concert that raised money for Zambia in 2014. He played a love ballot for his Godma Carmelita's wedding in 2013. He was the entertainment for his brother Banquet 2014. He has played at church functions and on some Sunday evening, he would be found playing in the Jasmine Lodge at the Fairmont Southampton Princess. His most recent solo recital was performed at Saltus Grammar School, in April 2015.

In September 2014, Tahj transferred to Saltus Grammar School to take Advance Placement classes. While attending Saltus, Tahj became a Youthnet mentor. He is currently a mentor at West Pembroke Primary School. It is with great honor for him to be selected to participate in 2015 Alpha Beautillion Competition as a new student at Saltus Grammar School.

Tahj's ambition is to become a Medical Doctor, specifically an Anesthesiologist. During the summer of 2012, Tahj had the privilege to shadow doctors at KEMH under the supervision of Dr. Clyde Wilson. He shadowed various surgeons and doctors. He currently volunteers for the Bermuda Hospital Board and St. John's Ambulance Brigade. This year he became CPR and First aid certified.

With Tahj's balanced approach to his life and career, he is set to be successful and most important be an inspiration to other young men. He is most proud of the support of his parents who he credits for his successes. He looks forward to giving back to his community and to be a role model to others.
-
Tariq Anthony Brown
Tariq Anthony Brown is 17 years old and an Honor Student and Student Leader at Impact Mentoring Academy. During his time at IMA he has been the recipient of several awards including Student of the Year, leadership awards, the Centurion award and the Sports award. He attended the West End Primary School and during that time he played several sports including soccer, cricket, tennis and rugby. Tariq was nominated for the Denton Hurdle Sports award and was also the recipient of the Eugene Cox Science award and the male Academic and Athletic award.

Tariq is an avid sportsman having played soccer and cricket for the Somerset Cricket Club. In 2014 he received the team's outstanding player of the year award. Currently he plays cricket for Warwick Workmen's Club and soccer for the Somerset Trojans. As a member of the National Youth Cricket program he has represented Bermuda throughout the Caribbean and United Kingdom.

Tariq's interest in current events and issues related to our community, lead him to spend two years as a member of Bermuda's Youth Parliament where he was appointed Shadow Minister of Culture Affairs. In 2014 he travelled with students and staff of Impact Mentoring Academy to Costa Rica where he helped to rebuild a home for an underprivileged family. This past summer he was given the opportunity to complete an eight day Leadership Development voyage on board The Spirit of Bermuda. The voyage took them from Bermuda to Prince Edward Island in Nova Scotia.

After banging on mom's pots and pans during his younger years, Tariq began playing the drums at the age of eight. In 2013, he attended a two week summer workshop in Cuba with drum and percussion instructor Professor Eddie Ming. While attending Sandys Secondary Middle School he was also a member of the Showtime Drumline.

Tariq volunteers for the Spirit of Bermuda Foundation and he has volunteered at Spicelands and the Onion Patch Academy. Before its untimely closure, he was a regular volunteer at Sandys 360 coaching junior basketball and helping during camps and special events.

Tariq has spent the past five months participating in the Alpha Phi Alpha 2015 Alpha Beautillion. He states that "this has been an invaluable experience that has given me the opportunity to further my knowledge and skill as I continue my journey into manhood."
-
David Darrell
David Darrell is 17 years old and attends Warwick Academy. David was raised in a family of six, and is one of 4 sons. As such he was often overlooked. If this has taught him anything, it is to make a good impression, to stand out and most importantly, to make the most of any and all opportunities presented to him.

David has been offered many opportunities and has gladly taken them all to make self improvements as he continues through life. The Alpha Beautillion Program this year has definitely taught him many lessons that will indeed help him as he prepares for life after high school, as well as the many lessons he has learned from family, friends, school and many other people he works with.

Since Year 1 at Purvis Primary, David started to pan out in a positive direction. He achieved 1st honors in his first year and every year since then he has always been present to receive an honors for his academics. At Purvis, he learned how right he can be, how very wrong he can be, how to humble his self and how to achieve excellence in everything that he does. In Year 6, he was privileged to receive the Head Boy position and to be nominated and win the Denton Hurdle award in my last year. After that, he was gracious enough to then receive a full scholarship to Warwick Academy for his academic achievements, willing him to maintain high scholastic achievements. As a result he is still enrolled at Warwick Academy, with 8 out of 9 GCSE exam passes last year and on his way to more academic success. In May, just after the Year 13s left the school to go on study leave, he entered his name in to hold a leadership position at the school in my final year. David received a leadership position and next year he will be representing Warwick Academy as their new Head Boy, one of the highest achievements in his life so far, and one for which he is truly thankful.

David has obtained success in his academics and shows just as much potential in his sporting backgrounds. Throughout primary school, he participated in many sports like football, cricket, rugby and softball to name a few, but track and field saw the most effort and success in his early school career. Numerous first places and great praise have gone his way in his early career. In his final year at Purvis he was introduced to the Pacers Track Club and from there his running career took off. What followed saw 6 out of 6 podium finishes at the Invitational Front Street Mile, Cross Country Series and Championships titles, May 24th Heritage Day Race honors and qualifications to many overseas meets, including the Carifta Games in Martinique on 2014 and St. Kitts and Nevis in 2015. David hopes that in the future he will be able to represent Bermuda on big levels and important and famous sporting meets like the Olympic Games and World Championships. Sports, especially Track and Field, are very important to him, as they can lead him very far in his life as he trains harder and improves to become the best.
-
Read More About