Two charity volunteers with a combined service of more than 120 years have been recognised for their outstanding service.
Jean Howes, and Abuwi Rasool, who were founding members of the Beacon Club, a forerunner of the Bermuda Society for the Blind, and who have both been on the charity's board of directors, have been honoured for their work with Certificates of Appreciation.
Amanda Marshall, Board President of the BSFB, said: "Their dedication and work for the organisation since 1954 is too innumerable to list, frankly.
"Mrs Howes served as the secretary of the Beacon Club for many years and Mr Rasool worked and taught others in the Beacon House workshop for many years.
"Both have been examples of how to live a full and interesting life regardless of vision loss. They do not volunteer to organize events anymore but still attend activities and events when they can."
Marty Davis, Amanda Marshall and William Ridley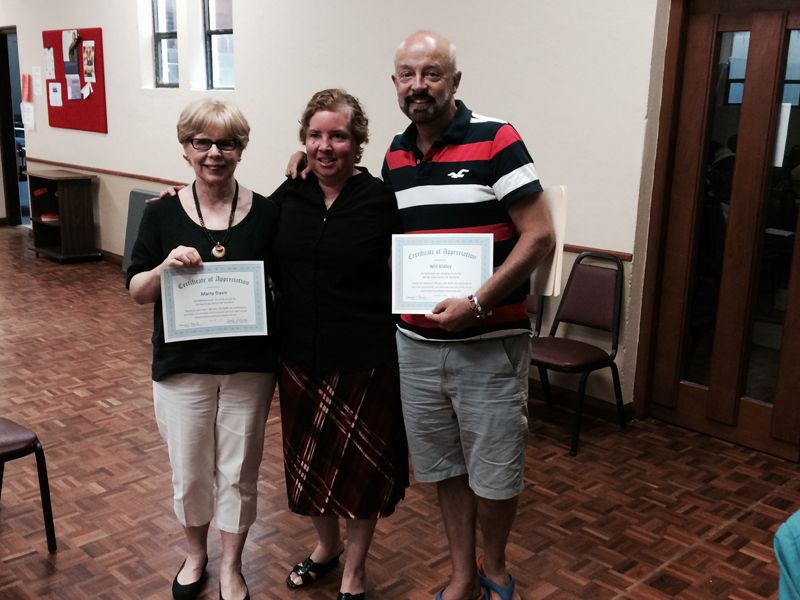 Also receiving Certificates of Appreciation were Albert Thompson, Marty Davis and William Ridley.
Mr Thompson volunteered for the Bermuda Society for the Blind for many years and joined the Board of Directors in 1991, serving in different capacities until 2014 and still occasionally volunteers.
Dr Marshall said: "He was especially helpful with respect to Beacon House maintenance and related matters and he assisted with fundraising by organising charity golf tournaments.
"He is dedicated to assisting people who are blind or have low vision by providing transportation; organising bus trips to sites like Carter House, in St David's, that are well narrated social and
educational opportunities for blind and vision impaired members of the Society.
"He also initiated the idea of 'Hear Comes the Parade' for blind and vision impaired members and seniors to attend the May 24 Parade, arranging for narration of the parade as it passed the Beacon House.
Amanda Marshall with Jean Howes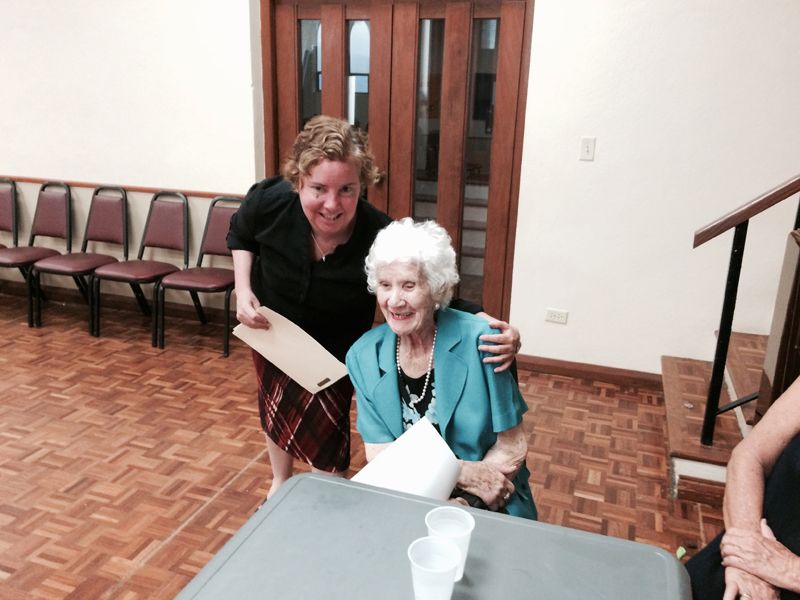 "He and his family have also raised money towards the purchase of equipment for children who required it to help accommodate their vision loss. I could go on, such have been his efforts on behalf of the Society."
Mrs Davis worked as a teacher for the vision impaired and later as a learning support teacher at the Ministry of Education.
"Marty has served as an ex-officio member of the Board of Directors for more than seven years, sharing her expertise and knowledge of vision health and rehabilitation matters with the board, said Dr Marshall.
"She has also served on the Society's Strategic Planning Committee and was instrumental in assisting with transitioning the BSFB from a sheltered employment workshop to an organisation that provides a wide range of Vision Rehabilitation Therapy Programmes.
"She is a source of wise counsel both systemically for the organisation and regarding individual needs of blind and vision impaired people in Bermuda."
Amanda Marshall and Albert Thompson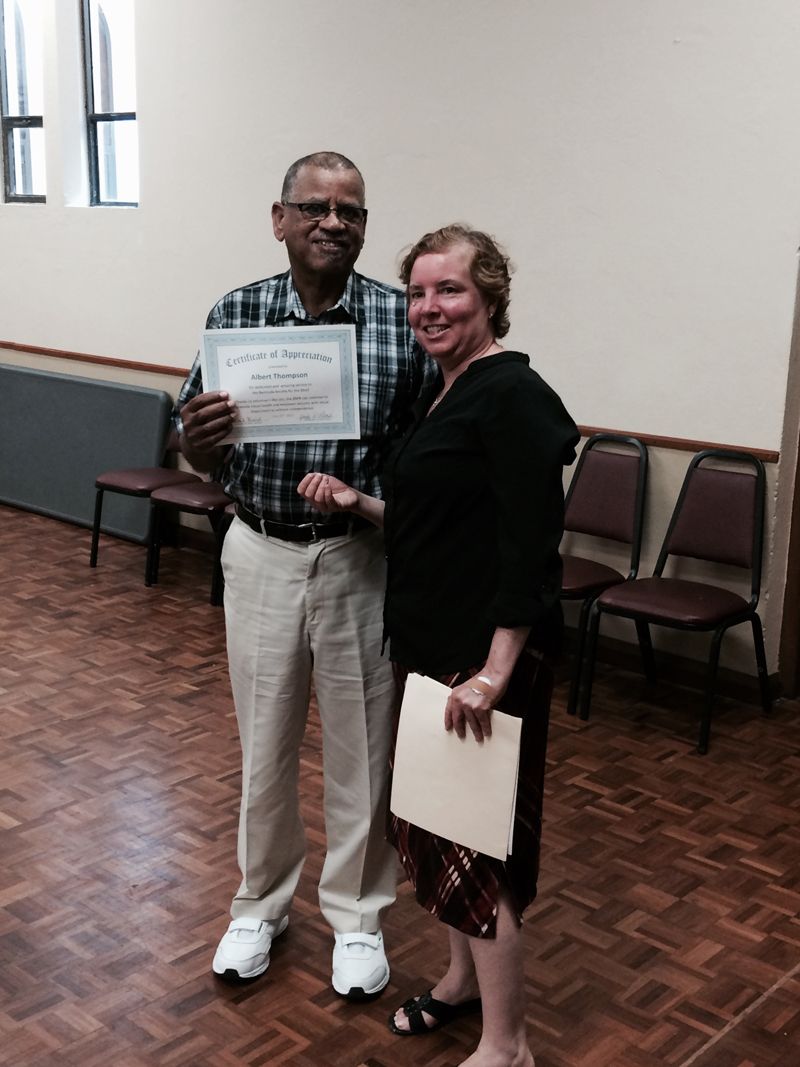 William Ridley, who is moving to California to Stockton California, near San Francisco, came to Bermuda six years ago as the only Teacher for the Vision Impaired [TVI] at the Ministry of Education, the post having been vacant or under filled for several years .
In conjunction with Sylvia Munro, the grandmother of a visually impaired [VI] student, he spearheaded a pilot programme for a small group of VI students called Project Fingertips, initially, and later the Busy Bee Programme.
"Because of Will's efforts more students with vision concerns were identified and there are now three TVI's in the Ministry as well as a number of dedicated para-educators in the area of assisting students with vision problems," said Dr Marshall.
"Will has served on the Board of the BSFB for the past two years and his input and the breadth and depth of his expertise has been invaluable.
"He also has served on the Strategic Planning Committee and given input into BSFB's creating and establishing Vision Rehabilitation Therapy Programmes. California's gain will be Bermuda's loss."
Read More About