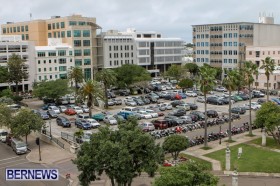 Plans to make City Hall car park all-day parking effective Monday [July 20] have been averted, with the Corporation saying motorists can park there as usual, as a "solution has been agreed."
"Changes to the way City Hall Car Park would operate, have been averted and motorists can park there as usual, paying only for the time they need, effective immediately," the City said.
"A change was due to take effect from 8.00am tomorrow, Monday July 20th, to address the issue of most motorists parking for free, illegally.
"Based on discussions the City of Hamilton has had with the Minister of Home Affairs, Michael Fahy, and the talks he has undertaken with other Ministries on the City's behalf, a solution has been agreed.
"City of Hamilton Mayor Charles Gosling is pleased to announce that City Hall Car Park will revert to its prior manner of operations rather than be closed off to all day parking.
"The driving public is reminded that as the car park is intended for short term parking, the maximum parking duration within the car park remains at three hours. Any car not showing payment or having stayed beyond the maximum period will be ticketed by traffic wardens, effective immediately.
Mayor Gosling said; "We recognize the challenges facing the traffic wardens and scheduling for a reduced work team and we are grateful that ticketing in the city car parks will resume.
"This episode shows that neither the city nor the country can work in isolation of each other and together we can meet our challenges."
"Motorists in need of all day parking are encouraged to use Bull's Head Car Park for only $5.00 per day," the City added.
Read More About