[Updated] Bermudian Dennis Rahiim Watson was recently welcomed to Tampa, Florida by Attorney General Pam Bondi as he served as the Keynote Youth Luncheon Speaker during the 30th National Conference on Preventing Crime in the Black Community.
The conference is sponsored by Florida's Office of the Attorney General and the Consortium of Florida National Urban League Affiliates. Mr. Watson's theme was 'Black Love in the Afternoon: Getting Black Males to Respect Black Females and Each Other in Order to End Petty Beefs, Conflicts and Senseless Gun Violence Now.'
"It's been an amazing life," said Mr. Watson. "All the successes and achievements that I've had in four decades feel like a big dream and it all brings me back to my childhood and youth growing up in Bermuda.
"No one could have imagined that a former employee of Belmont Hotel, Inverurie Hamilton Princess, Southampton Princess, Palmetto Bay, Holiday Inn, The Reefs, The Jungle Room, Forty Thieves Club, Henry the 8th, The Harbor Front, both Hamilton and Southampton Post Office and having worked at Eve's Cycles', Master's and the English Sportsman Shop that I would become one of the most sought after Motivational Speakers, Youth Activist and Lecturers with expertise in Black youth, gangs and gun violence.
"I was so blessed to be given a major platform as Keynote Speaker to offer solutions and strategies to address the myriad of problems faced by youth, particularly among angry, young fatherless black males in need of attention, guidance and supervision."
During the 30th National Conference on Preventing Crime in the Black Community Luncheon, Mr. Watson was presented a Proclamation from State Representative, Alan B. Williams.
"The tribute stated, 'We hereby award this Proclamation to Dennis Rahiim Watson and due applaud him for the devotion and leadership he exhibited on behalf of Black Youth. His exemplary record of service as CEO for the Center for Black Student Achievement and the Chair of the Black Men against Gun Violence Task force has earned him the well-deserved respect and admiration of the community at large."
"Throughout my four decades as a Motivational Speaker, I have never ever forgotten to give God the praise, the thanks and the glory and to lift up my mother, Eula Watson-Stewart, for her encouragement and for the many, many, many life lessons of success, survival and achievement," said Mr. Watson. "I have come full circle and I am forever thankful to my mentor, teacher, and big brother Dr. Pauulu Kamarakafego [Dr. Roosevelt Brown] for opening up so many doors of opportunity in New York City for me back in the day."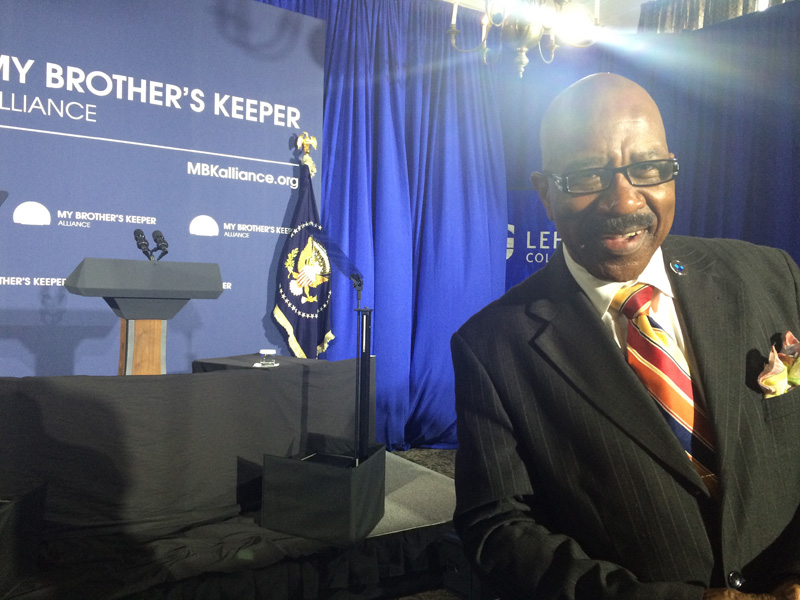 "It's been an amazing journey," added Mr. Watson. "Each day when I wake up I count my blessings and I sing the song this little light of mine-I'm gonna let it shine because God is good all the time.
"I am alive today and in good health because Bermudian men back in my rebellious youth kept me in check, gave me licks every now and then and kept me out of harm's way from Somerset to St. George's.
"I have identified over 500 hundred Bermudian men who have been positive influences on me. Men like Ivan Clarke, Albert Jackson, Quentin "Tiny" Burgess, Earl Furbert, Robert Trew, Julian Hall, McNeil Warner, John W. Swan, "Big Daddy" Gates, Lionel Pearman, Slim Ingham, Ray Todd, Donald Dane, Alfred Williams, Robert Samuels, "Froggie" Simmons, Lee Harvey, Alex Crawford, Sayeed Ramadan, David Tucker, Bervin Dears, Arnold Francis, Walter Robinson, Mansfield Brock, Earl Gabby Hart, Clifford Burgess, "Speedy" Ming, Leonard "Fluffy" Daniels, Alvin Daniels, Frankie Roberts, Carlyle Crockwell, Mickey Caines, Lionel and Richard Thompson, William and Apples Richardson, Dennis Ramsey, "Socky" Adams, Austin Thomas, Freddy Wade, Ray Todd, Earl Iris and Super Lottimore."
"As I reflect upon my long journey from Paget Glebe School to the Ord Road School to the Southampton Glebe School and on to Prospect School for Boys to being a caddy at Belmont Mid-Ocean at Riddle's Bay Golf Courses I get tearful." stated Mr Watson, "because I've lived long enough to create a phenomenal legacy for my four children and for future generations of Bermudians."
"I was highly honored a month ago to be among 50 community leaders and educators to meet in person with President Barack Obama at the My Brother's Keeper Alliance roll out at Lehman College in Bronx, New York, a program designed to encourage mentorship and academic excellence of young black males," stated Mr. Watson.
"I am so thankful that bunches and bunches of Black mature men took an interest in me and put me back on track whenever I fell down or whenever I started acting rebellious, hardheaded, stupid and dopey."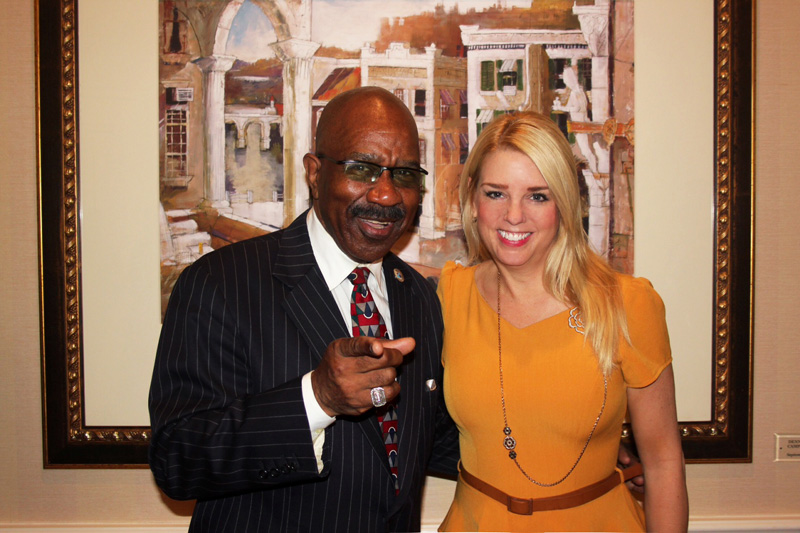 "For as long as I live", stated Mr Watson, "I will praise and thank both men and women that God placed in my path to give me knowledge, support, instruction and some strong words of disapproval when I acted out.
"My life has been enriched by wonderful Bermudian men who went out of their way to keep me safe. Men like Milton Hill, Chesley Trott, David Raine, Rupert Holdipp, Johnny Lambert, Paul Monday, Pastor Charles Fubler, Felipe Bascombe, Webster Tucker, Walter Brangman, Lance Furbert, Quinton Edness, Walter "Spanky" Lister, Bill Burchall, Rick and Clevie Richardson, Freddy Yearwood, Dickey Greene, Dr. Cyril Packwood, Murray Brown, Austin Thomas, Freddie Thomas, Byron and Ira Phillip, Keith Gordon, E.T. Richards, Ennis Looby, Dale Butler, Glen Fubler, Chester Ray, Sam Lightbourne, and Arthur "Food" Daniels, among so many others.
"One of my fondest wishes and desires as a Son of the Soil before I leave this Earth is to be invited home to Bermuda to meet with stakeholders to share my expertise, inspire and to empower this generation of knuckleheads and future success stories to get busy with purpose in life and to discover their calling.
"It would behoove this hip hop generation to pay close attention to the wisdom, the sayings, admonitions and life lessons that come from the mouths of their mothers and fathers, aunts and uncles. And as my mother would say, 'I'm only telling you this for your own good.'
"The bottom line is that life is very short and you only have so much time to make your dreams, goals and plans happen. This generation has to learn to forgo all the social media distractions in order for them to become the doctors, lawyers, teachers, bankers, engineers, accountants, nurses and leaders in the 21st century and beyond.
"Therefore, all youth have been challenged by the sage wisdom of their mothers and fathers to do three things: one, put on their thinking caps; two, think long and hard; and three, shine.
"And after four decades of international travel to places such as Jamaica, Barbados, the Bahamas, Nigeria, Ghana, Senegal, South Africa, France, Great Britain, Canada and the beautiful state of Alaska, I am still shining because I've come this far by faith and my soul looks back and wonders 24/7 as to how I got over."
Update July 6, 4.44pm: For more information on Mr. Watson and his endeavors, he can be contacted on 347-849-6259 or by email at black.success@yahoo.com.
The full Florida Proclamation follows below [PDF here]:
Read More About