[Updated with video] October is Breast Cancer Awareness Month and there are a number of events scheduled designed to raise funds and provide valuable information about breast cancer.
The Bermuda Cancer and Health Centre said, "October is Breast Cancer Awareness Month, and Bermuda Cancer and Health Centre, under the patronage of Mrs. Margaret Fergusson, is "making strides" in the fight against the disease that affects 1 in 8 women.
"Every year, the campaign is the same: to educate the community and raise awareness about the importance of screening and early detection in the hope of reducing the incidence of breast cancer."
"Education about breast health is a yearlong goal of ours, however as this month is recognized by so many, it gives us the opportunity to really make an impact on the community." says Tara Soares, Executive Director at Bermuda Cancer and Health Centre.
"Many women do not realize that 80% of those diagnosed have no genetic history of breast cancer in their family. It is very important for all women to take the necessary preventative measures and encourage others to do the same."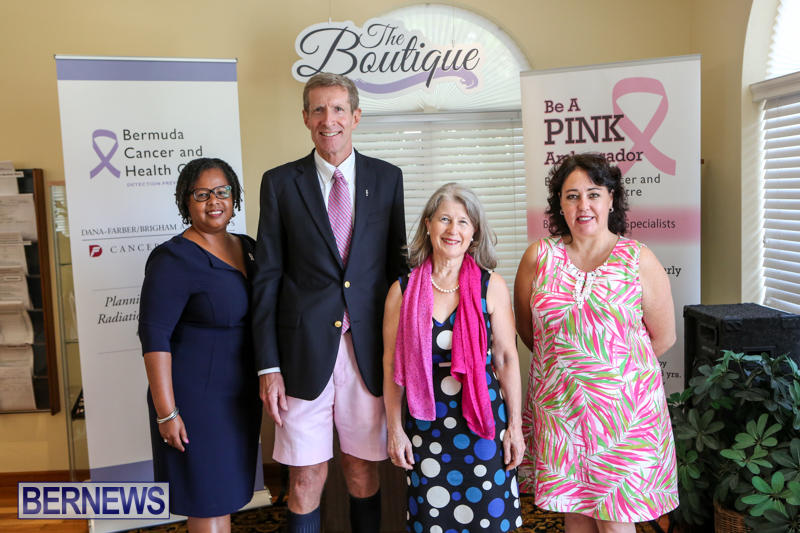 "This year, Bermuda Cancer and Health Centre will host a number of events and initiatives and are urging the community to get involved.
"Whether you are a breast cancer survivor, a family member or a friend of someone impacted, you can get involved by creating your own event or participating in one of the many events taking place throughout the month of October in Bermuda.
"These initiatives are to raise funds and empower women and their families with valuable information about breast health and breast cancer.
The events scheduled for Breast Cancer Awareness Month include:
Fri, October 2: Wear It Pink Denim Day – Get your organization or school involved by wearing pink or denim and make a donation. To participate, BCAMarketing@chc.bm.
Wed, October 6: Gorham's Think Pink Ladies Night – Shop from 6:30-9:00pm for a store-wide savings of 20%. $10 donation entry fee.
October 7-11 A.S. Coopers Pink Sale - Four day shopping event, save 20% when you purchase a shopping pass with a minimum donation of $5. On October 8th from 6-8pm patrons are invited for special one-time savings throughout the store.
Wed, October 21: BF&M Annual Breast Cancer Awareness Walk – Rain date is October 26.  Health Fair at Barr's Park begins at 5pm, walk starts at 6pm. The registration fee of $30 can be processed via www.racedayworld.com, or at BF&M, Bermuda Cancer and Health Centre or The Sportseller. Walk packs will be available while supplies last. Schools should participate through School Spirit.
Thurs, October 29: Gibbons Company Shop & Give – make a cash donation at the door and enjoy 20% discount storewide for the entire day.
Fri, October 30: Annual Friday Fish Fry – Take out or eat in at Christ Church in Warwick from 4:30-8:30pm for $20 per dinner. Tickets can be purchased in advance from Keith's Kitchen, BAA Parking Lot, Bermuda Cancer and Health Centre or online at www.chc.bm.
"Bermuda Cancer and Health Centre is grateful for the partnerships and the ongoing support from the community. Several individuals, groups and companies have come forward and will be hosting events open to the public, which will raise valuable funds for Breast Cancer Awareness. For a full list of events visit www.chc.bm.
"All funds raised will support our charitable outreach initiatives which include our Equal Access Fund, our Education and Awareness Programmes.
"The Equal Access Fund provides financial support for uninsured and underinsured men and women to receive recommended cancer screening and diagnostic services available at Bermuda Cancer and Health Centre. Our Education and Awareness programmes provide free cancer prevention information to the community.
"For more information about Breast Cancer Awareness Month, please visit Bermuda Cancer and Health Centre's web site at www.chc.bm and follow them on Facebook."
The formal proclamation by Junior Minister of Health, Senator Lynne Woolridge is below:
Every October, we reaffirm our commitment to reduce the affliction of breast cancer. After lung cancer, breast cancer accounts for the majority of deaths in women worldwide. Today we stand in solidarity with those fighting for their lives, and remember those who have lost their lives to this disease.

Each day, Bermuda Cancer and Health Centre is a leading advocate, and partner in the battle against cancer. Awarded the Breast Imaging Centre of Excellence in 2013 and the Bermuda National Standards Certification in 2014, Bermuda Cancer and Health Centre continues its commitment to education and the early detection of breast cancer through state-of-the-art digital mammography available at their facility. Digital Mammography is one of the best available methods of detecting most breast cancers long before physical symptoms can be seen or felt.

Breast cancer continues to affect 1 in 8 women. While the causes of breast cancer are still unknown, we do know that some women are more at risk than others. Understanding these risks, such as family history, are important, in addition to the knowledge that early detection can save lives.

According to The Bermuda National Tumour Registry, 58 cases of breast cancer were reported for 2014. Breast cancer continues to be the principal cause of cancer for women in Bermuda.

As we observe Breast Cancer Awareness Month, I urge all mothers, sisters, aunts, wives and friends to protect their health and longevity from breast cancer. Bermuda Cancer and Health Centre is committed to equal opportunity and access, and therefore provides free mammograms, for women who do not have health insurance, not only during the month of October but throughout the year, as part of their Equal Access Fund. We encourage awareness and prevention through regular screening in consultation with one's physician.

I, Senator Lynne Woolridge, hereby proclaim the month of October 2015 as Breast Cancer Awareness Month in Bermuda this 1st day of October, 2015.

Read More About