[Opinion column written by Jeremy Deacon]
We have now had two [more] damning reports by the Auditor General on the handling of public funds. I have deliberately highlighted the word public – and will come back to that.
The two most recent reports [and those before them] paint a picture where it seems that those in authority simply did not care about spending – it was a 'splash the cash' attitude, 'don't worry, there's always more where that came from'.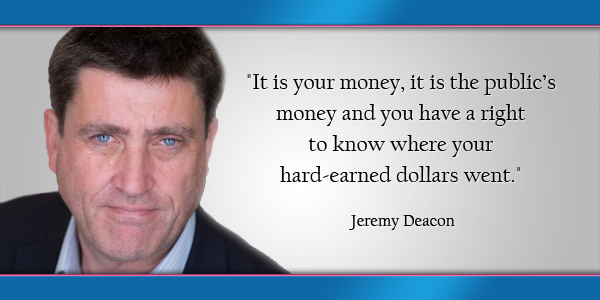 They paint of picture of a complete dereliction of duty – to the Government and its Financial Instructions and to the public. They paint a picture of arrogance mixed with ineptitude.
We've been to school and we've sat through history lessons that seemed interminable and irrelevant – why do I care how many wives Henry VIII had? But by examining history – even our personal history – we learn lessons, we see where things have gone wrong and as a result we are able to make the necessary fixes.
So what will history make of the Auditor General's report? Well, it will record that the Auditor General reported some astonishing findings and that nothing was done about them. It will not, sadly, record that people were actually held to account.
In a podcast interview on Bernews, the Premier, Michael Dunkley, says that he has no appetite for a witch hunt into past administrations. I pushed him on that and said it was not a witch hunt, it was an investigation.
When you see charity after charity saying they are threatened with closure, when we see a youth unemployment rate of 23 percent, when we see the austerity measures being put in place by Government; when we see an increased demand for financial help for such basic things as school uniforms, we should be asking questions into why and how many millions of dollars was misspent.
So if the Premier will not do it, will the Governor? There will be predictable protestations about the Governor getting involved, but if there is nothing to fear, there is nothing to protest, right?
If neither the Governor nor the Premier will do it, the people should demand it. It is your money, it is the public's money and you have a right to know where your hard-earned dollars went.
MPs serve their constituents – you – and if they do not listen they should be damned to exist in political purgatory.
At least let history record that even if those in authority do not possess the testicular fortitude to do anything, the public did.
Jeremy Deacon is a 30-year veteran of the media industry in Bermuda and the UK. He runs award-winning public relations company, Deep Blue Communications, and also engages in freelance journalism for publications in Bermuda and overseas. He is also the Executive Officer of the Media Council of Bermuda.

20 Most Recent Opinion Columns

Opinion columns reflect the views of the writer, and not those of Bernews Ltd. To submit an Opinion Column/Letter to the Editor, please email info@bernews.com. Bernews welcomes submissions, and while there are no length restrictions, all columns must be signed by the writer's real name.
-
Read More About