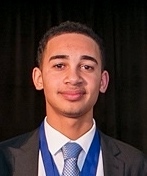 [Opinion column written by Ryan Robinson Perinchief]
As a student in the UK, I recently attended the Bermuda-London Office student networking event where Premier Dunkley, Finance Minister Bob Richards, Tourism Authority CEO Bill Hanbury and other senior officials were present. During the reception, the Premier greeted everyone and opened up the floor to questions.
After hearing Minister Richards refer to the current issue of accountability and civil servants, I asked a question on the dangers of a division being created by the government's public attacks on government workers, and challenged the Minister's justification for doing so in the midst of the government's own criticisms on being held accountable.
Minister Richards diverged into government budget figures and responded by saying that 'there was no time for pussy-footing around'. He then went on to suggest that he and the Premier 'had a good cop – bad cop act going on', and concluded by saying that the civil servants didn't have to like what he was doing because 'the people that work and pay taxes do like it'.
When another student expressed concern to Premier Dunkley about the government's reduction of scholarship funds, the Premier's response was equally appalling.
In the room full of students, he began by stating that the issue of scholarships was "a talking point that people like to harp on" and suggested that there were loads of scholarships that nobody applies for.
He finished by stating that if students were really willing to 'knock on doors' and 'not make excuses', people would give it to them, and declared to the audience that, until people pick them up, '…we don't have that problem that you think we might have'.
In 2013, the Government cut government further education awards from nearly $900,000 to a cap of $280,000 per year – and it was only four months ago at the Bermuda Government Scholarship Presentation Ceremony that the Minister of Education noted a 'marked increase' in applications, at nearly two hundred and thirty. Minister Richards later closed the session by stating that nothing would be "handed to you on a silver platter anymore".
For many present, the diversionary tactics used by our Premier and Deputy Premier in justifying the government's neglect of its fundamental duty to engage and invest in its young people and develop intellectual capital were quite disconcerting.
As a result, I later asked Minister Richards aside to express my disappointment with what I found to be condescending and patronising remarks. The Minister retorted that his style of leadership comes from the private sector and as such, he would 'tell it like it is' and 'do what needed to be done'.
I made a point that in the private sector, the core objective was money and profit; and when I began to remind the Minister that the primary duty of the Bermuda government should always be to the people, I was hastily cut off:
"Our priority is money- not people…," the Minister said, before attempting to justify his remark by asserting that without the money, the people don't matter.
Overall, I was disappointed with the attitude of the people who claim to represent our interests. The Minister's response provided a quite telling insight into how the government truly feels.
As Bermuda continues to experience constant controversy in its education system, a "brain drain" with many students not returning home after completing their studies, and many other issues affecting our young people, there is no wonder as to why there has been little focus on addressing them.
Young people would like to see a government that does not simply interact with them for photo-ops, but is also committed to prioritising their concerns in an effective and receptive manner.
But the government's message is loud and clear: their priority right now is money- not the youth, or the people. It seems we will have to wait.
Update 1.27pm: Regarding the Bermuda Reception hosted in London, a Cabinet Office spokesperson said today, "We were pleased by the turnout, and thoroughly enjoyed the engagement with a group of talented and knowledgeable young people who, although far away, remain connected and committed to their home.
"Premier Michael Dunkley, Minister of Finance Bob Richards and CEO of the Bermuda Tourism Authority Bill Hanbury met and engaged with young Bermudians working and studying in a wide range of disciplines, from the traditional professions of law, accounting, insurance and medicine, to arts, crafts, music promotion and agriculture. The forum is an opportunity for the next generation of Bermuda to have frank and candid discussions with Bermuda's Leaders.
Premier Dunkley said, "We will continue to provide a platform for Bermudians living in the UK to engage directly with Bermuda's leading figures."
- Ryan Robinson Perinchief is studying law at Durham University in the UK. He graduated with honours from the Berkeley Institute where he served as Head Boy, Student Council Treasurer and a Peer Mediator. A former Youth Premier of the island's Youth Parliament, he won the Alpha Beautillion, an Outstanding Teen Award, and the best youth submission to the SAGE Commission.

20 Most Recent Opinion Columns

Opinion columns reflect the views of the writer, and not those of Bernews Ltd. To submit an Opinion Column/Letter to the Editor, please email info@bernews.com. Bernews welcomes submissions, and while there are no length restrictions, all columns must be signed by the writer's real name.
-
Read More About