[Opinion column written by Larry Burchall]
The recent Auditor General's Report covers the Financial Years [FY] 2009/10, 2010/11 and 2011/12. It is 305 pages long. I have read and digested that report.
Within those 305 pages there are many examples and references, by the Auditor General, to financial mis-management, uncorrected errors in payments, and breaches, by Government financial managers, of Government's own Financial Instructions.
This report appears to have no direct evidence of 'corruption' that would merit immediate criminal prosecution. But there is ample direct evidence of a general and high level of incompetence in the handling of Bermuda's national funds.
The direct evidence of incompetence comes not solely in this report on the FY's ending 2010, 2011, and 2012. This report's findings are complemented and supported by the compendium of past AG reports and also the yet-to-be-reported-on Financial Statements of the Consolidated Fund for 2012/13 and 2013/14.
Further, by looking at the whole picture that emerges from the long overview and by then singling out one clear, easy to understand, and consistent measure; the whole matter of the style and quality of the overall management of Government funds lays itself out the way a rolled carpet unfolds.
The one item to look at is the report on Government's "Cash and cash equivalents, end of year". This string of figures flows from before 2002/03 right through to 2013/14. Table ONE shows those numbers and points to the managing of Government's cash and cash flow.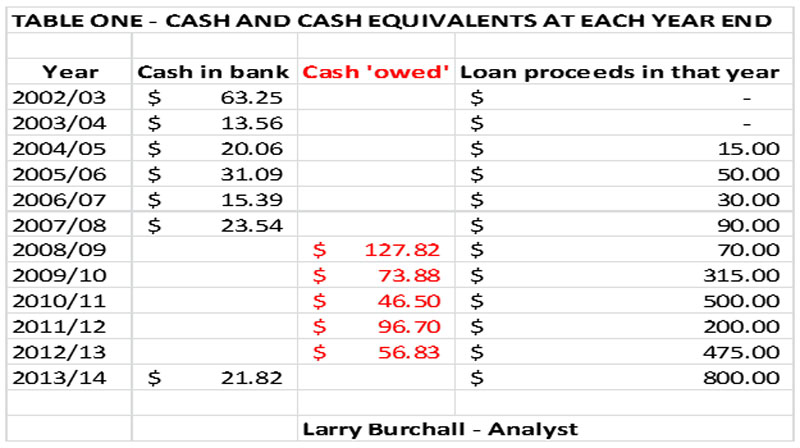 In simple layman's terms, this line item tells us just how much actual 'cash' or securities that Government actually held in bank accounts or in safes at the end of each FY. So the item identifies the "cash-in-the-bank" that Government had on March 31st of every year. This is what is set out in Table ONE. Positive means actual cash or deposits 'in-the-bank'. Negative means no cash or deposits 'in-the-bank' but cash that is "owed".
The numbers show sudden massive change in FY 2008/09. Between 2007/08 and 2008/09, Government fell from having 'cash-in-the-bank' at YE to actually owing $127 million at YE. Despite the string of big loans, this end of year 'owing cash' situation applied from 2007 right up until 2012/13.
However, the positive position at YE 2013/14 was only possible because the eighth Minister for Finance had leftover dollars from his December 2013 borrowing of $800 million. The YE 'cash' position in 2013/14 happened only because all those 'cash-in-the-bank' dollars were foreign dollars which had just been borrowed – and which we owe to foreigners.
Precisely, on 1st April 2008, Government had $23.5m 'cash-in-the-bank'. On 31st March 2009, Government had burned through that $23.5m and was $127.8m in the hole. Altogether, between 1st April 2008 and 31st March 2009, Government had burned through a total of $151.3 million.
That fast burn-through was likely not a 'corruption' problem. It was and is a worse problem. It screams out to us that at the top, there was bad-handling of Government's finances. That kind of one year burn-through can only happen if top financial managers are bad, lazy, not competent enough, or just plain incompetent – or an amalgam of all four.
'Corruption' it probably wasn't. If 'corruption' was the cause of that fast burn-through we would have seen trucks and shifty-eyed people loading up that $151 million and carting it off to other places!
The fact that Government's top financial managers were performing badly is set out in this report. Their continuing incompetence is verified as late as February 2015.
In February 2015, the eighth Minister for Finance told the House of Assembly that the $800 million that Bermuda had borrowed in December 2013 was "running out" and that there was "only $95m left".
That means that in the fourteen months between December 2013 and February 2015, Government's top financial managers had burned through about $705 million. That is bad financial management.
Sniff and prod for corruption all you like. Even if corruption is there, it pales beside the infinitely worse problem of high level incompetence.
If you read the AG's report as the clinical analysis – diagnosis? – that it really is, you'll see the killer virus of continuing high-level incompetence.
- Larry Burchall

20 Most Recent Opinion Columns

Opinion columns reflect the views of the writer, and not those of Bernews Ltd. To submit an Opinion Column/Letter to the Editor, please email info@bernews.com. Bernews welcomes submissions, and while there are no length restrictions, all columns must be signed by the writer's real name.
-
Read More About