Lieutenant Colonel David Curley took over command of the Royal Bermuda Regiment at the weekend.
British Army career soldier Lieutenant Colonel Michael Foster-Brown, who will return to a post with the Army in Britain, handed over the sword of command at a ceremony at Warwick Camp on Saturday.
Col Curley told the troops and guests, who included the RBR's Commander-in-Chief Governor George Fergusson and Premier Michael Dunkley: "My vision for the Royal Bermuda Regiment is to continue to build and maintain an operationally effective military organisation with the present missions and tasks and with the potential of an expanded marine role which will work closely in supporting the Bermuda Police Service."
He added it had been a pleasure to take part in the first all-volunteer recruit camp in January and to see the trainee soldiers become the first to train exclusively with the new British Army-issue SA-80 rifles.
And Col Curley, the 16th commanding officer of the Regiment, paid tribute to his predecessor for "his hard work and dedication to the Royal Bermuda Regiment for almost three years."
He added: "He arrived, got stuck in and accomplished many feats during his tenure. I also take this opportunity to publicly thank him for steering me past the company command kingdom and having the utmost confidence and positive influence on me to take over command from him."
[l to r] New RBR CO Lt Col David Curley lines up alongside Colonel Nick Lock, the assistant military attaché at the British Embassy in Washington and outgoing CO Lt Col Michael Foster-Brown after the change of command ceremony at Warwick Camp.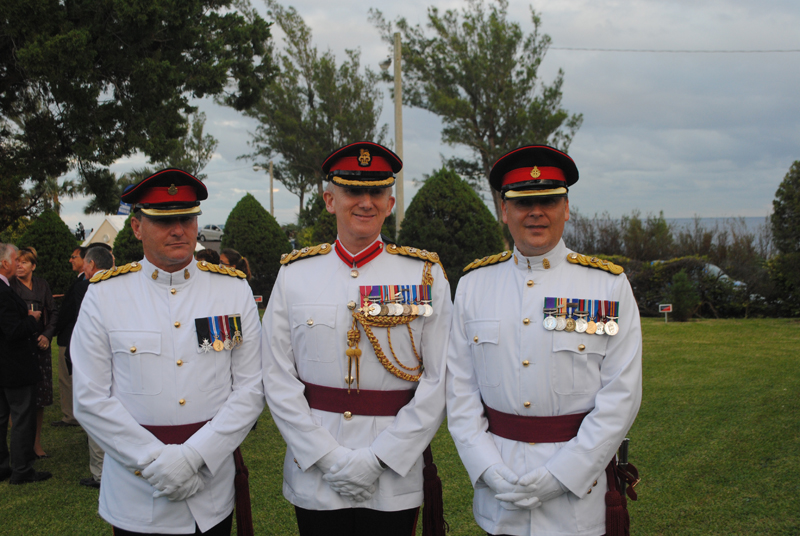 Col Curley said: "The Regiment is facing some interesting, challenging and busy times going forward, but it is well placed to seize the opportunities that lie ahead.
"All of us ultimately have a role to play in helping shape that future, whether it be as a currently serving soldier, policy maker, advisor, supportive employer, member of the public or an understanding spouse – I am very proud of all the men and women of all ranks within the Royal Bermuda Regiment."
Col Foster-Brown, who will take up a post at the Joint Services Command headquarters at Northwood, near London, said that the RBR's role in the back-to-back hurricanes of 2014 had underlined its importance to the island.
And he added that training soldiers as Special Constables and an expanded joint services explosive ordnance disposal unit, as well as plans to take the lead in maritime security, would make the Regiment even more valuable.
He added that retention rates were at an all-time high, with 77 per cent of the RBR strength now volunteer.
Col Foster-Brown said: "We have also reminded Bermudians – if indeed the silent majority needed reminding – of our enduring relevance, value and significance."
New RBR commanding officer Lieutenant Colonel David Curley accepts the ceremonial sword of command from Governor George Fergusson as outgoing CO Lieutenant Colonel Michael Foster-Brown looks on.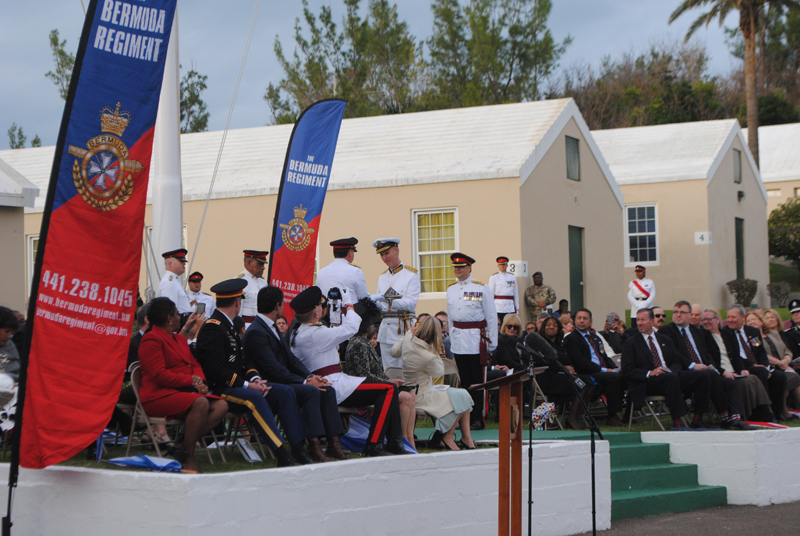 Governor George Fergusson said that the "Royal" designation awarded to the Regiment for its 50th anniversary last year was not an automatic honour or granted lightly.
And he added he had "absolute confidence" that Col Curley would "manage the Regiment well during his time of command."
In addition to the traditional planting of a cedar tree on the lawn of the Officers' Mess by the outgoing CO, another tree was planted by the family of Major Chris Wheddon, who died on duty in Britain in 2012 and who had been due to take over command of the RBR.
British Army Colonel Nick Lock, the assistant military attaché at the British Embassy in Washington, said after the change of command ceremony: "It was fantastic – this regiment has such a warm feeling with everybody working hard together to achieve a good result.
"I am sure it was a very proud day for Colonel Mike and for Colonel David taking over. From the embassy in Washington, we will continue to support the Regiment where we can."

Read More About