SwimMac Carolina is bringing some of the world's most accomplished swimmers to the island for spring training at the National Sports Centre [NSC] pool.
American Olympic gold medallist Cullen Jones, Zimbabwean Olympic gold medallist Kirsty Coventry, Bahamian Olympian Arianna Vanderpool-Wallace, and Bermuda's own Olympian Roy Allan-Burch are among those in the travelling group.
"We are ecstatic to be working with a team of this calibre to come to Bermuda for a training camp, particularly in an Olympic year," said Bill Hanbury, CEO of the Bermuda Tourism Authority [BTA].
"In the first quarter of this year we've had the Danish National Swim Team and now SwimMac Carolina on the Island, which validates what we have been saying to athletes around the world: Bermuda's proximity and world-class facilities make it a premier destination for sports tourism."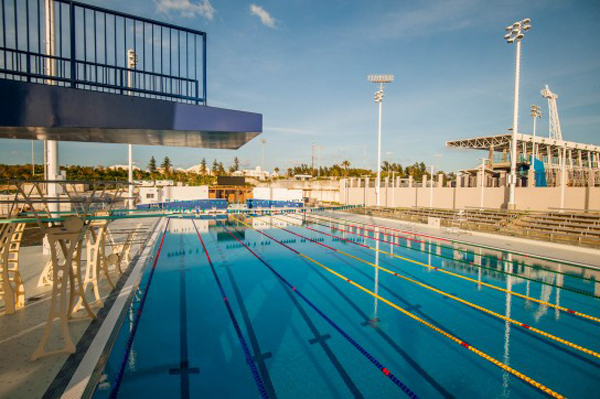 The swim team from Denmark said they were attracted to Bermuda's time zone and climate which matched well with Rio, the venue for the summer Olympics this year. Many of the SwimMac athletes are expected to compete in the summer Olympic Games as well.
A total of 15 swimmers and coaches are arriving in Bermuda this week to participate in the camp, which is expected to last until the end of the month. Some are travelling with family members.
A 2015 partnership between the BTA and NSC has paved the way for these world-class swim teams to use the aquatics facilities.
Amy Fox, NSC Aquatics & Fitness Manager, said: "We see this as another vote of confidence in the facilities we can offer at the National Sports Centre, coming as it does after the pool was used by the Danish national team as part of their preparation for the Olympics in Rio.
"It is brilliant to see so many top swimmers coming to Bermuda and using the Island's facilities. We hope this will put us firmly on the map and encourage more athletes to come."
In addition to training sessions at the National Sports Centre pool, SwimMac will utilise pool facilities at Warwick Academy.
The highly decorated contingent of swimmers is expected to host a clinic for local young swimmers while they are in Bermuda.

Read More About