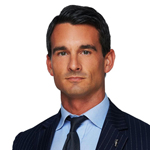 Premier Michael Dunkley announced today [April 24] that Senator Jeff Baron will step down as Special Advisor to the Premier.
Senator Baron submitted his notice on April 1st and it will take effect on May 1st. He will continue as Senator and Junior Minister of National Security.
A spokesperson said, "As a result, Ms Jannell Ford will be seconded from the Department of Communications as Special Aide to the Premier, responsible for logistical support."
In accepting Senator Baron's resignation with regret, the Premier said: "Jeff has been an important presence in the Cabinet Office in multiple ways. He has carried out the important and consuming job with professionalism and dedication.
"He will continue with his Senate and National Security responsibilities, and I will continue to ask for his views and perspectives on the challenges and opportunities we face across the community.
"Jeff is one of Bermuda's next generation leaders, and I am impressed by his deep commitment to public service and the well being of the Island."
"Senator Baron's resignation will enable him to focus more time on his responsibilities in the private sector, in the Senate and as Junior Minister of National Security", the spokesperson said.
In his letter of resignation, the Senator thanked the Premier "for the tremendous opportunity and thoughtful guidance you have offered me with this role, which commenced two years ago.
"I hope my advice, counsel and logistical assistance to the Office of the Premier was an asset to you and the Government of Bermuda.
"It is a true honour and privilege to serve my community in this way and I look forward to continuing my public service as a Senator and the various roles within the Ministry for National Security."
Read More About