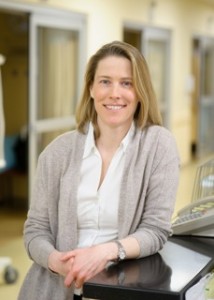 Dr. Naina Rastalsky [pictured] has joined the staff of Northshore Medical and Aesthetic Center as their second Rheumatology Expert.
Dr. Rastalsky completed a fellowship in Rheumatology at the Massachusetts General Hospital in Boston where she was the first fellow to receive specialized training in musculoskeletal ultrasound.
After joining the staff at Massachusetts General Hospital her research focused on vascular ultrasound in the diagnosis of large vessel vasculitis.
She participated in the first international workshop on ultrasound in large vessel vasculitis and polymyalgia rheumatica in Kristiansand, Norway, in 2013, and spent time to fine-tune her skills with Wolfgang Schmidt MD, who pioneered this field, in Berlin, Germany.
She remains actively involved in an international taskforce that develops consensus definitions for ultrasound in large vessel vasculitis.
Dr. Rastalsky is originally from Germany where she acquired her medical degree at the University of Cologne.
She trained in internal medicine at the University of Cologne, at the University of Basel in Switzerland, and completed a residency at Albert Einstein College of Medicine/ Jacobi Medical Center in New York.
Dr. Rastalsky is now an Assistant Professor in Medicine at Tufts University School of Medicine and practices Rheumatology at the Bone and Joint Center at St. Elizabeth's Medical Center in Boston where she joined the medical staff in July 2015.
She is actively involved in teaching residents and medical students and is a fellow of the American College of Rheumatology and a member of the American Institute of Ultrasound in Medicine.
Dr. Rastalsky treats the spectrum of rheumatologic diseases, including rheumatoid and psoriatic arthritis, spondyloarthritis, giant cell arteritis and polymyalgia rheumatica, ANCA associated and other small vessel vasculitis, systemic lupus erythematosus, Sjogren's syndrome, scleroderma, dermatomyositis, auto-inflammatory diseases, gout and pseudogout, and regional musculoskeletal disorders [tendinitis, bursitis, osteoarthritis]. She has expertise in diagnostic musculoskeletal ultrasound and ultrasound guided procedures.
Specialist July – November 2016 Schedule
| | | | |
| --- | --- | --- | --- |
| Month | Days | Specialty | Physician |
| May | 11- 12am | Cardiology | Ofer Sagiv |
| | 21-22 | Rheumatology | Viviane Bunin |
| June | 25-28 | Rheumatology | Viviane Bunin |
| | 12-14 | Pulmonology | Ervin Anaya |
| | 17 – 18am | Cardiology | Ofer Sagiv |
| July | 18 -19am | Cardiology | Ofer Sagiv |
| | 14-17 | Rheumatology | Naina Rastalsky |
| August | 15 – 16am | Cardiology | Ofer Sagiv |
| | 2-7am | Rheumatology | Viviane Bunin |
| | 25-27 | Pulmonology | Ervin Anaya |
| September | 19 – 20am | Cardiology | Ofer Sagiv |
| | 2-5 | Rheumatology | Naina Rastalsky |
| October | 7-10 | Rheumatology | Naina Rastalsky |
| | 24 -25am | Cardiology | Ofer Sagiv |
| | 27-29 | Pulmonology | Ervin Anaya |
| November | 24-27 | Rheumatology | Naina Rastalsky |
| | 28 -29am | Cardiology | Ofer Sagiv |

Read More About
Category: All