Warwick Gas Station recently partnered with Bermuda Autism Support and Education [BASE] to host the second annual RUBiS Warwick 5k Family Fun Run, attracting over three hundred registrants and raising $12,270 for BASE.
While turnout was hampered by inclement weather on the day, many men, women, and children walked and ran the 5-kilometre route, which featured a long section on the scenic railway trail and began and ended at Warwick Gas Station.
Teddy Terceira, General Manager of Warwick Gas, said, "We are thrilled to have been able to host this event for the second time and we were glad to move it to April as that is Autism Awareness Month. Autism is a tremendous concern for our future generations and affects many families in Bermuda.
"The folks at BASE were great to work with; I'd like to give special thanks to their President, Mr. Peets, as well as to the team at RUBiS Energy Bermuda, our title sponsor. It was rewarding to work with RUBiS on a charitable project as a change from our everyday business efforts.
"I would also like to send thanks to DJ Rusty G, who donated his time and energy to help give the event a great atmosphere."
President of BASE, Anthony Peets, with his children; Simona and Teddy Terceira, with their daughter Lee; Michael Terceira; and Angel Smith, Sales and Marketing Representative for RUBiS Energy Bermuda: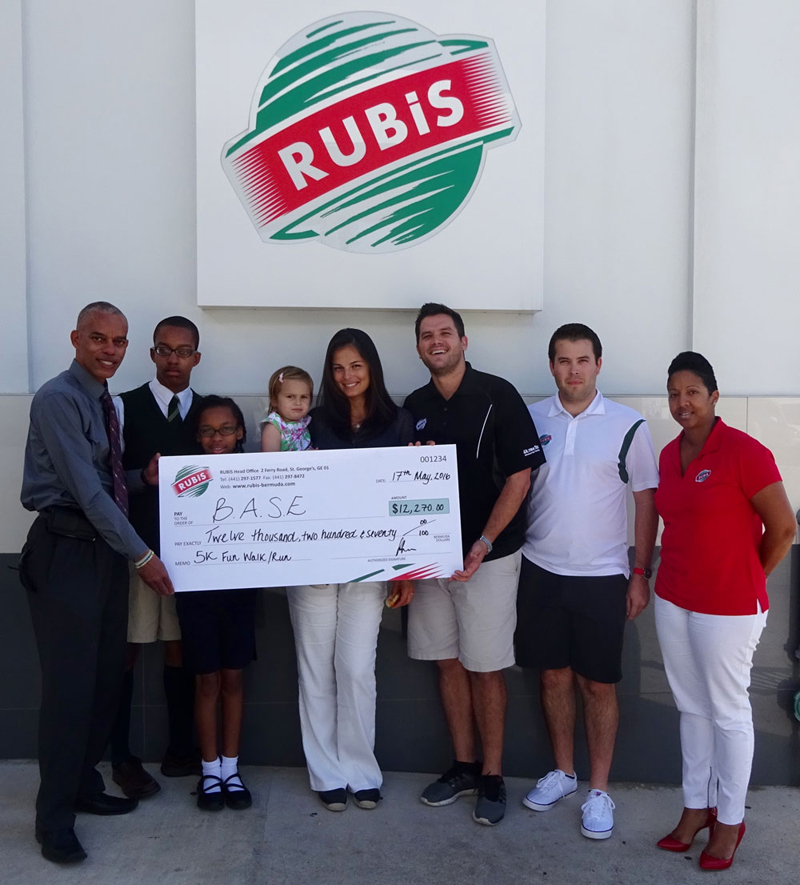 Graham Redford, Managing Director of RUBiS Energy Bermuda, said, "RUBiS was very happy to be able to once again partner with the Terceira family, operators of the RUBiS Warwick Service Station, to help support this neighbourhood initiative and BASE.
"Autism is estimated to occur in as many as 1 in 150 individuals, is four times more prevalent in boys than girls and know no racial, ethnic, or social boundaries. Since 2001 BASE has been dedicated to providing autism-related information, referral, advocacy, training, and support to families, professionals, and community members, and it is our distinct pleasure to be able to support their worthy goals."
Anthony Peets, President of BASE, said, "The Executive of BASE extends sincere thanks to all in our community who participated and gave support to the RUBiS Warwick 5k Family Fun Run for Autism. We work daily to provide the necessary awareness and education to impact our world's leading pediatric concern."
Mr. Terceira said, "This event promised to be even better that the first edition in 2014, but the weather really let us down. With any luck our third edition will be the best yet. The community has been very enthusiastic about getting involved each time. It's great to see."
A spokesperson said, "The event and associated raffle draw raised $12,270 for BASE and would not have been possible without the support of RUBiS Energy Bermuda, the BGA Group, Barritt's, and raffle prize donors too numerous to mention; Warwick Gas wishes to thank them for their generous support."
Read More About