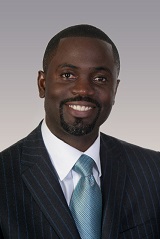 Well known businessman Wayne Caines has agreed to chair a committee tasked with finding a use for nine acres of new land, with the former Digicel CEO set to chair the Cross Island Legacy Committee, set up to engage with the community to get ideas for the use of the land once it has finished being used as the America's Cup village.
"This whole consultation is about getting ideas from everyone because, in Bermuda terms, this is a huge piece of land and therefore a huge opportunity. Put simply, it is nine acres of opportunity," said Mr Caines.
The West End Development Corporation recently brought in Deloitte to support the Cross Island Committee's consultation and decision-making over the future of Cross Island.
Each submission will be judged according to a set matrix and a final recommendation will be made to WEDCo. The committee wants to be in a position to make a recommendation even though there might be the possibility that Bermuda could again host the America's Cup.
Mr Caines said key stakeholders will be consulted either privately or through a series of meetings – the first is due to take place on Wednesday, June 15, at the Deloitte offices.
People can also fill in an online form available at this link. It also going to available in paper form at the Corporation of Hamilton and the WEDCo offices which can be submitted in person or via crossisland@deloitte.com. Information can also be found at the Cross Island Facebook page.
Mr Caines urges people to submit ideas for Cross Island, saying it is "nine acres of opportunity"
"The committee will engage with as many people on as many different levels as we can because we want to be engaging and as consultative over this vastly important project as we can.
"When it comes to looking at ideas, we will be sensitive to the marine environment and historic nature of Royal Naval Dockyard," added Mr Caines.
"In addition, we will try and ensure that any use provides social and economic benefits to Bermuda and that its end use is connected to Bermuda's heritage and culture. Of course, it must also be financially viable.
"One day, I want to look back and tell people how I and the committee worked to make sure this left a lasting legacy."
Aerial footage of the infill at Cross Island early in the construction phase
The committee members are: Chairman, Wayne Caines, of SENIAC Consulting, Andy Burrows from the Bermuda Tourism Authority, Joanna Cranfield, the Business Development Manager at WEDCo, Kirk Outerbridge from the Department of Works and Engineering, Aideen Ratteray-Pryse, from the Department of Planning, Philip Seaman, of Pj Designs and a member of the WEDCo board, and Elena Strong from the National Museum of Bermuda.
Read More About