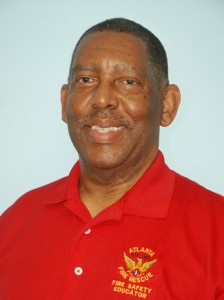 Bermudian Arthur Raynor [pictured], a Senior Fire Safety Education Specialist for the City of Atlanta Fire Department, has been invited to present fire safety workshops for a conference of The American Association of Service Coordinators [AASC] being held from August 21 to August 24 at The Atlanta Omni CNN Center Hotel.
The AASC is a national not-for-profit member association representing the resident service coordinator profession. Their 3,200+ members serve seniors, people with disabilities and low-income families living within affordable rental housing and the surrounding community.
Service coordinators assist senior and disabled residents in identifying, locating and acquiring the services necessary for them to remain independent and help families achieve self-sufficiency and economic independence.
Mr. Raynor said, "I was pleasantly surprised when I received the invitation to be one of the presenters at the conference. The invitation from AASC stated that during their research for conference presenters, my name was submitted as a potential presenter.
"I was asked to give two ninety-minute presentations".
Registrations numbers on Wednesday, August 17 showed 1,125 service coordinators and other affordable housing professionals from across the country were registered to attend.
Members consist of individual service coordinators, public housing authorities, state housing finance agencies, community action agencies, housing providers, owners, developers, property management companies as well as for-profit and not-for-profit organizations and companies who provide products and or services to residents.
AASC supports its members and the affordable housing industry by developing workforce training and by advocating on behalf of the profession with local, state and federal agencies and legislative representatives. They seek collaborative partnerships with other organizations that can provide value to their members.
Mr. Raynor said, "During my fire safety class presentations, I always try to think outside the box and avoid the 'Death by PowerPoint' style of presentations.
"Since the member registration costs for attending the 3 day conference ranges from $640 – $765 per person, I plan to pull out all the stops and give them one of my best ever presentations.
"As part of my Fire Safety presentation entitled 'Fire Safety at Work & Home,' I will also include a segment on the island of Bermuda. Who knows – maybe they will consider Bermuda as a future conference location."
Read More About
Category: Accidents and fires, All