Twenty-five firefighters were called out last night [Dec 19] after a blaze broke out at the old Canadian Hotel on Reid Street. The fire initially began with smoke emanating from the building, but about 1 hour after the fire started flames became visible after the fire broke through the roof.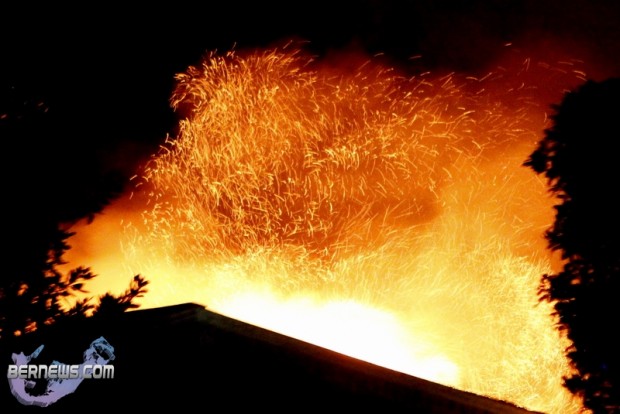 Acting Deputy Chief Lloyd Burchall from the Bermuda Fire & Rescue Service said the fire had "elements of difficulty" as it was a derelict building and access became a problem as well as the fact there are old wooden floors.
"Some of the floors are burnt through, so at this time we are being very cautious with any entrances into the building," said Mr Burchall. "We will be conducting a search very shortly."
The Canadian Hotel was opened in 1918 by James "Dick" Richards, with its opening marking the first time a black man in Bermuda owned a hotel licence. The Richards' family sold the property in 1984, and it became a rooming house for men. In 2008 the new owners acquired a Special Development Order [SDO] to develop the property, but that never came to fruition.
Click to enlarge photos:
Read More About
Category: Accidents and fires, Accidents/Fires, All, News, Photos