[Updated with video] A fire broke out on the 17th tee at the Belmont Golf Course this evening [Nov 29], and firefighters are presently on scene extinguishing the blaze.
Smoke is pouring out into the night sky, and there are at least three fire vehicles and a number of personnel on scene. It appears the fire started in a pile of vegetation debris, and as of 7.45pm the fire appears to be contained with firefighters now wetting down the hot spots.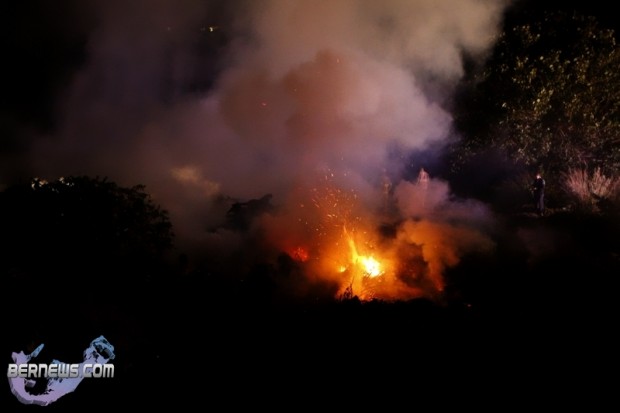 Update: A Bermuda Fire & Rescue Service spokesperson said: "BFRS responded to Belmont Golf Course for a report of a brush fire. 3 vehicles and 10 personnel responded to fight the blaze. A large pile of horticultural waste was well involved when the first responding vehicle arrived.
"The blaze took approximately 3 hours to bring under control and dense smoke consumed the nearby neighborhood. The lack of water initially caused some concern however a nearby neighbor provided water to assist the firefighters in combating the blaze, for which the Fire Service is extremely grateful. At this time the cause of the blaze is unknown. There were no injuries reported.
Click to enlarge images:
Read More About
Category: Accidents and fires, Accidents/Fires, All, News, Photos