Bermuda Cancer and Health Centre this week honoured the island's top fundraisers from the BF&M 20th Annual Breast Cancer Awareness Walk.
Tara Curtis, the charity's executive director, thanked a number of local schools, organisations and individuals at a private reception held in the Aon building in Hamilton.
Special guests included Pamela Dunkley, wife of Premier Michael Dunkley; Senator Lynn Woolridge, Junior Minister of Health and Seniors; and Holly Flook, Vice President of Health at BF&M.
CedarBridge Academy was named the second place winner of BF&M School Spirit Award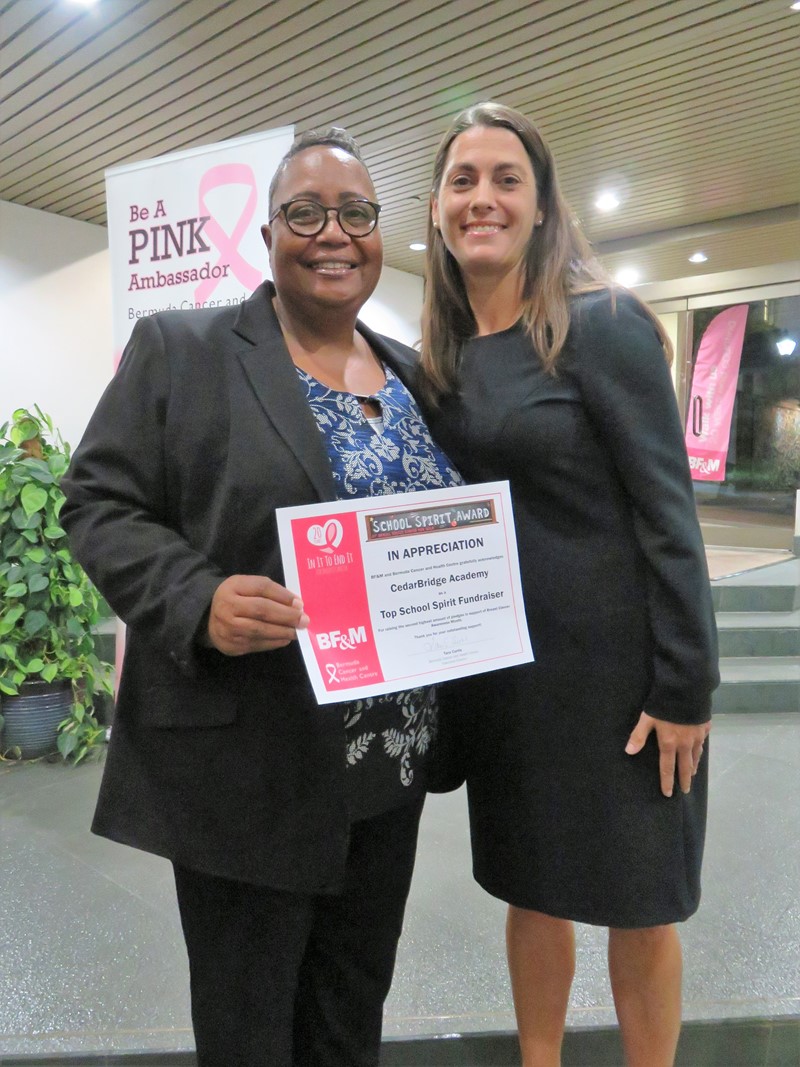 Although weather wasn't ideal for this year's walk on Thursday, October 20, BCHC saw record numbers of women, men and children come out to show their support.
Thanks largely in part to their participation, BCHC managed to collect $220,000 of its $250,000 fundraising goal for October's Breast Cancer Awareness Month. They expect the remaining funds to trickle in over the next few weeks.
"This year we had as our goal to raise $250,000 to go to our Equal Access Fund and our Radiation Therapy Facility, in which the progress is going amazingly well," explained Ms. Curtis. "We are on target and on time with the facility and the plan is to open by mid 2017.
"So far we have raised $220,000 of our goal and funds are still coming in from around the island. We are very confident with the amazing support of our community we will achieve this goal for 2016."
Speaking at the presentation, Mrs. Flook said BF&M championed initiatives that empowered people to take control of their health and promoted wellness in the community.
"This walk targets both of those ideals," she said. "This has been a special year for us marking the 20th anniversary of BF&M's support of the Breast Cancer Awareness walk. In this milestone year, it was gratifying to see a significant increase in the numbers of walkers registering – over 500 more than last year, the most we have ever seen in the history of the walk.
Senator Lynne Woolridge and Pamela Dunkley hand an award to Patricia Trott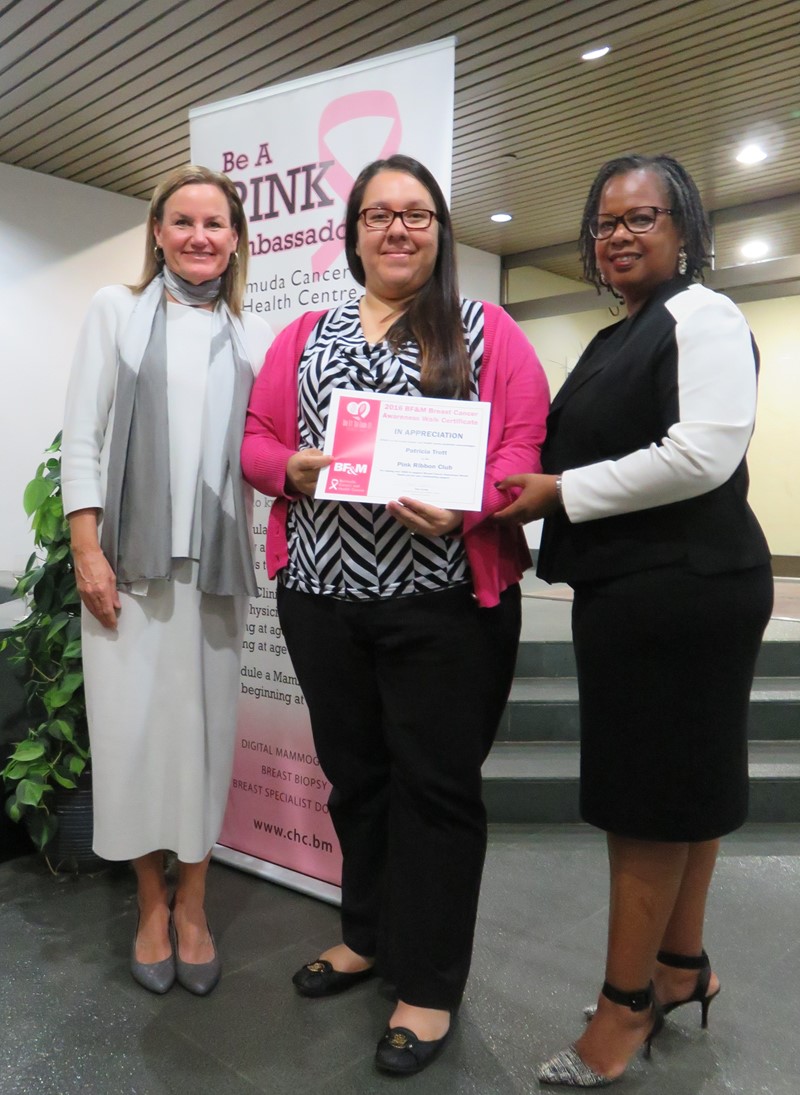 "The funds are not only going to the equal access fund, but also Bermuda Cancer and Health Centre's radiation therapy initiative, which means thanks to your participation and support, diagnostic imaging can be made available to Bermuda residents who otherwise wouldn't be able to afford it."
Seven of the island's schools were applauded this past Wednesday for taking part in the recent event – with Saltus Grammar School and Cedarbridge Academy awarded as the respective first and second place winners of BF&M's School Spirit Award.
The top individual fundraisers for 2016 were Judith Doidge and Zilda Moniz.
Others who raised more than $500 and became part of the 'Pink Ribbon Club' included: Patricia Trott, Ann Ross, James Wolete, Alexis Haynes, Holly & Heidi Roque and Coleen DeSilva.
Mrs. Trott has been lending her support to the worthy cause over the past seven years, in honor of her mother-in-law, a breast cancer survivor.
Senator Lynne Woolridge and Pamela Dunkley thank Ann Ross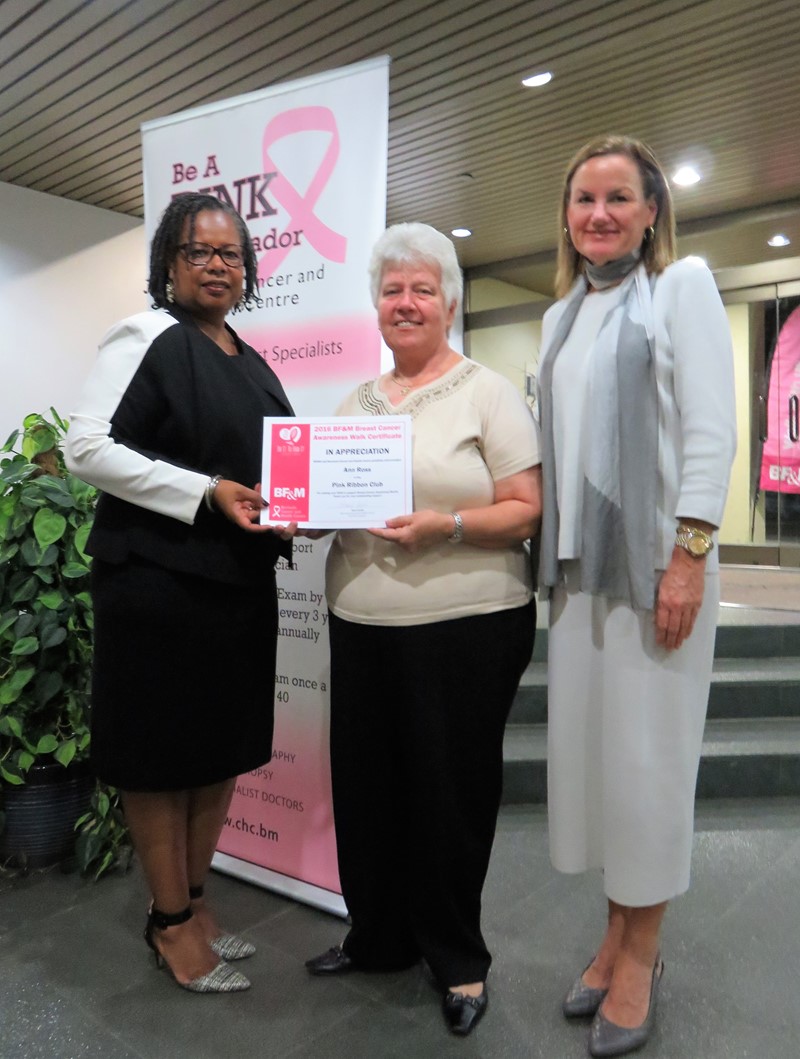 "I typically go to my company, Harbour International Trust, and my various directors and colleagues and I'm grateful they do what they can to help me raise money," Mrs. Trott said.
"It feels nice to be able to offer support to people who wouldn't ordinarily be able to afford to get checked for breast cancer. I feel like I'm doing something small to save someone's life."
Fellow fundraiser Ms. Ross has been recognized a number of times for her support of the BF&M Annual Breast Cancer Awareness Walk.
She admits she got her philanthropic spirit from her dad, who started fundraising for the Bermuda TB, Cancer and Health Association shortly after arriving to the island in 1943.
Saltus Grammar School was honoured as the winner of BF&M's School Spirit Award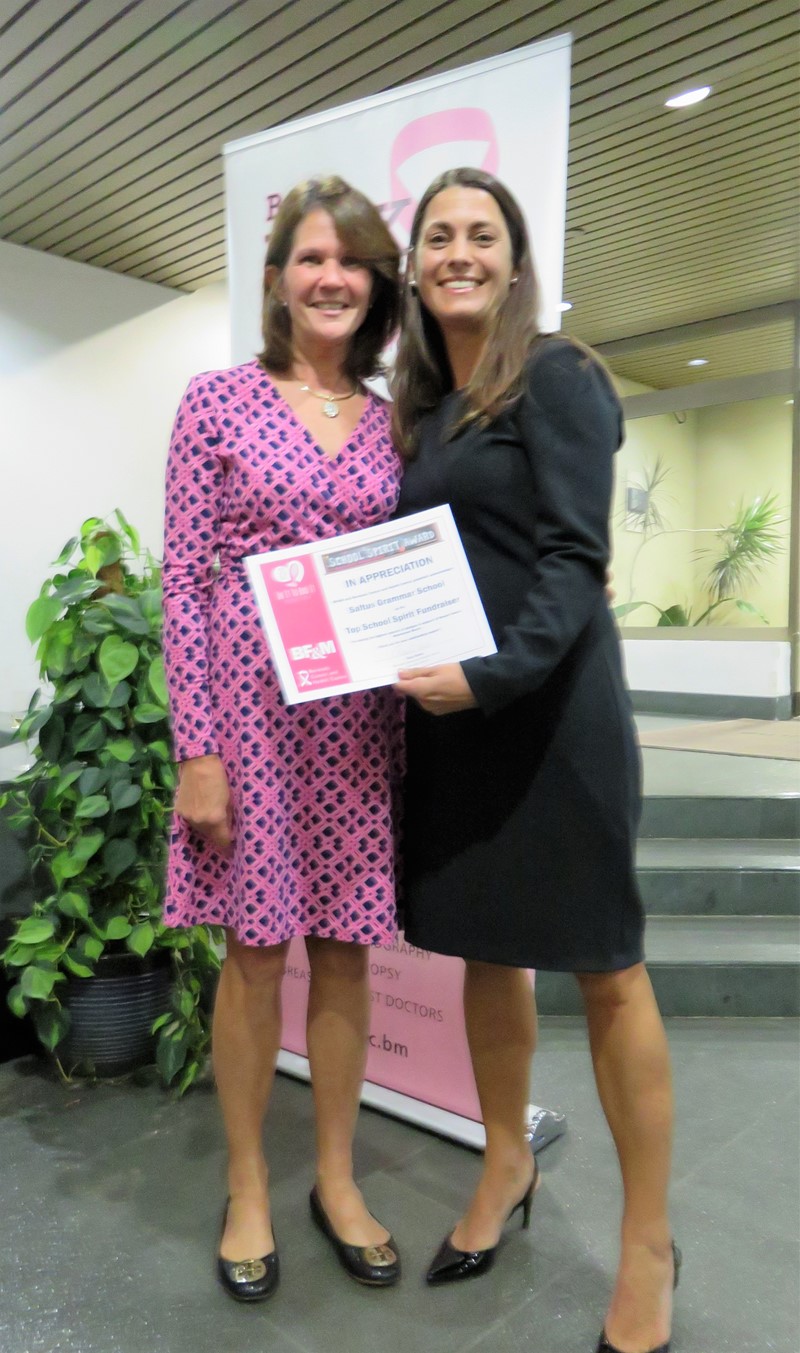 "Two of my sisters had cancer and my mom had breast cancer so I do it in their honor," Ms. Ross explained. "I also do it because the people we are helping, especially those who can't afford their medical insurance, I think it's wonderful they are being supported and aided.
"I don't do it for the recognition. It's to help out others in the community."
Senator Woolridge congratulated those involved for their dedication and generosity at last month's fundraising event.
She said, "It was not the best day for a walk. The rain was coming down and conditions were far from ideal, but as one woman was heard saying 'What is this compared to what a woman with breast cancer must deal with every day? People are counting on me so I have no problem walking in the rain'.
"That's the attitude that BF&M, Bermuda Cancer and Health Centre, and all you dedicated walkers embody. It's the spirit of 'In it to end it'."
For more information visit www.chc.bm.

Read More About