QuoVadis and LinkBermuda are partnering to provide cloud services on the island, with the Centre On Philanthropy set to take advantage of the offering.
A spokesperson said, "The Bermuda Centre On Philanthropy has the same critical reliance on its software systems and electronic data as most active businesses and charities.
"The charity needs a robust system that is always available for access; it needs to ensure its data is secure and properly protected; and it needs to know that is it safe from the ever growing underworld of Cyber threats and attacks.
"Elaine Butterfield, Executive Director of The Centre On Philanthropy, was faced with meeting these core business needs whilst having to balance them with the reality of a fixed budget that struggled to accommodate the combined costs of IT infrastructure refresh cycles with ongoing support and maintenance.
"The Centre's team made the decision to embrace a Bermuda computer cloud-based solution rather than continue to own and operate on-premise computer servers and security systems.
Gavin Dent, Managing Director of QuoVadis Services; Elaine Butterfield, Executive Director of The Centre on Philanthropy; and Edgar Dill, Country Manager for LinkBermuda: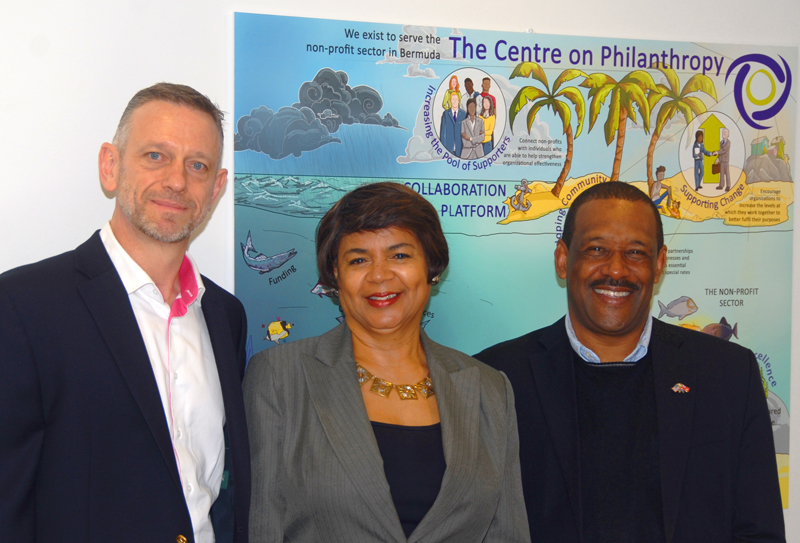 "QuoVadis Services was selected to provide The Centre with a state-of-the-art hosting platform wrapped with essential services including cloud computing, managed security, offsite data backup, and internet services."
Gavin Dent, CEO of QuoVadis Services, said, "We provided The Centre On Philanthropy with our technical innovation and expertise to ensure the peace of mind that their computer systems and private data are properly cared for in a secure and robust IT environment."
"QuoVadis owns and operates a Tier-3 datacentre in Bermuda and has long been a pioneer in introducing cloud computing services for both local and international companies on the Island.
"QuoVadis also partnered with LinkBermuda to provide state of the art telecoms to connect The Centre's office with the QuoVadis primary datacentre in Hamilton and QuoVadis remote backup services located in the LinkBermuda datacentre in Devonshire."
Edgar Dill, country manager for LinkBermuda, said, "Recognising the fast growing needs of Bermuda's charitable sector, we were delighted to be able to offer The Centre On Philanthropy the essential telecoms required for their new cloud-based computing and backup solution."
Elaine Butterfield said, "The end result is that we now have a high speed and secure IT platform that accommodates our budget with predictable and affordable monthly costs. We no longer need to purchase expensive onsite infrastructure and, with QuoVadis, we have a team of experts who can advise us on our future technology needs at no additional cost.
"This is a benefit for The Centre and ultimately for the Bermudian charitable sector we serve."

Read More About
Category: All, Business, technology