Professional football team New York Cosmos will travel to Bermuda in March 2017 for preseason training, the BFA and BTA announced today.
"Over the past two years, the Bermuda Tourism Authority has aggressively pursued sports teams, emphasising the island's temperate climate from November through March and leveraging high quality training facilities at the National Sports Centre [NSC]," the BTA said.
"Those attributes helped land the New York Cosmos, bringing a team of 35 to the island March 16-19, 2017, just days before the start of its pro season on March 25.
Jack Gaeta [NY Cosmos], James Davis [BFA], Daniel Johnson [BTA], Randy Horton [former Cosmos MVP]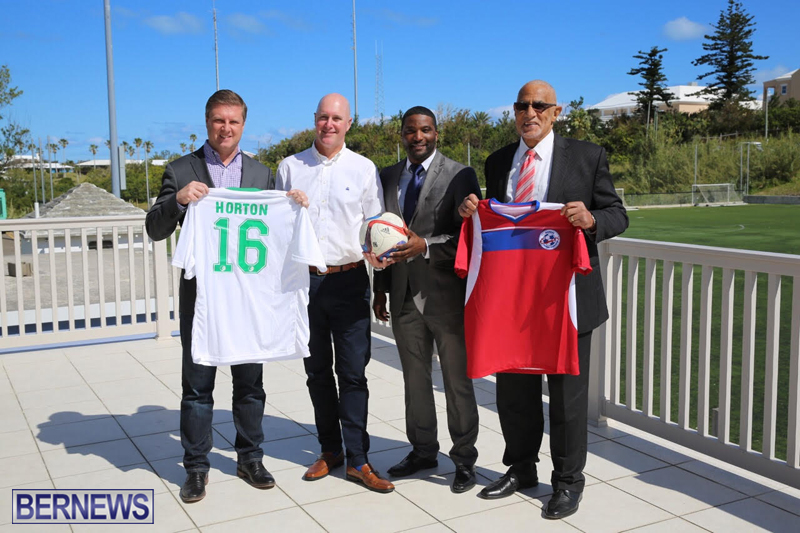 "We are happy to continue our preseason work, this time by travelling to Bermuda, where the Cosmos had a presence 40 years ago," said Cosmos Head Coach and Sporting Director, Giovanni Savarese.
"The team is looking forward to starting the season strong and playing international matches that allow us to rotate players is very helpful."
The Bermuda Football Association [BFA] and the Department of Youth and Sport partnered with the Bermuda Tourism Authority to make the training trip a reality. The New York Cosmos will train and play a match against a BFA National Select Team, which will be open to the public.
Additionally, Cosmos coaches will host a combine in Bermuda where one player is expected to be chosen and offered a contract to join the organisation's B-team in New York.
"Our primary role is to bring visitors to Bermuda yet we're also looking to add extra benefits for our community as a result of the work we're doing in tourism," said Pat Phillip-Fairn, chief product and experiences development officer for the Bermuda Tourism Authority.
"Staff in New York and Bermuda worked diligently to bring together the required partners and arrange the necessary logistics."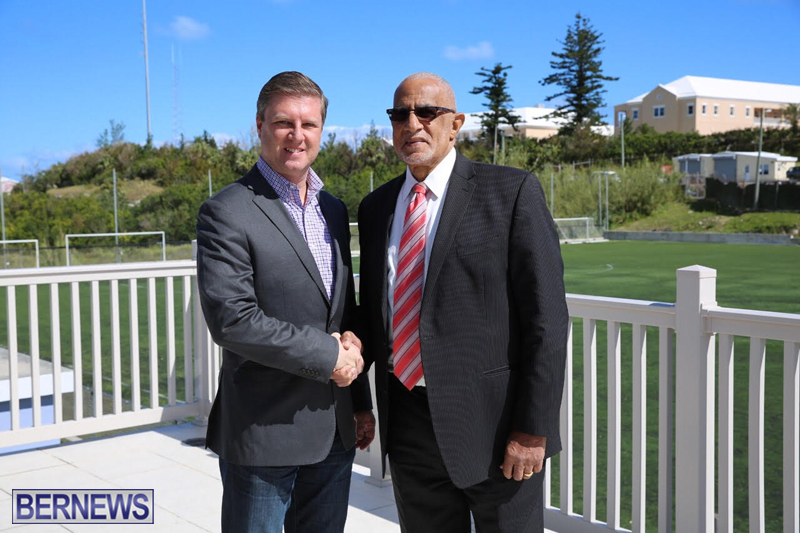 "The New York Cosmos training camp is the fourteenth sports event on our tourism calendar for the first quarter of this year. That's more than any other quarter. Whether it's golf or sailing, rugby or soccer – sports is once again proving a formidable force to attract volume to Bermuda during the winter months," Ms Phillip-Fairn said.
"The Bermuda Tourism Authority and NSC signed a partnership agreement in 2015 which allows visiting teams to use sports centre facilities at reduced costs if the team provides an adequate economic impact for the Island," the BTA said.
"This strategy is ushering in a wave of teams for swimming, lacrosse, rugby and other sports. The New York Cosmos is the first professional team to take advantage of the benefits since the advent of the partnership.
The North American Soccer League team has strong Bermuda ties. Forty years ago, in 1977, the Cosmos visited Bermuda for preseason training and came back again in 1978. Prior to that, in 1972, a Championship season for the Cosmos, Bermudian Randolph Horton was the team's most valuable player and top goal scorer. He is expected to visit with players later this month while they're in Bermuda.
16-minute live video replay of the full press conference
"We are very excited to play these matches versus the New York Cosmos," said BFA Technical Director Maurice Lowe. "Many of us grew up hearing of Randy Horton's playing time there.
"We look forward to a competitive series of matches and to possibly unearth some talent to follow in Mr. Horton's footsteps. We'll look to be organised in our play while expressing ourselves creatively to be competitive."
The New York Cosmos match versus a Bermuda National Select Team is scheduled for March 19, 2017 with a 3:00pm start time. This is the second match in the Bermuda International Match Series. During the game, the Cosmos will reveal its combine player selection.

Read More About