The Bermuda boccia team of Omar Hayward, Steve Wilson and Yushae Desilva-Andrade began competition in the BISFed 2017 Regional Open Championships in Montreal today [April 29], recording three victories from six games in their first day of action.
Bermuda's team: Yushae Desilva-Andrade, Omar Hayward, and Steve Wilson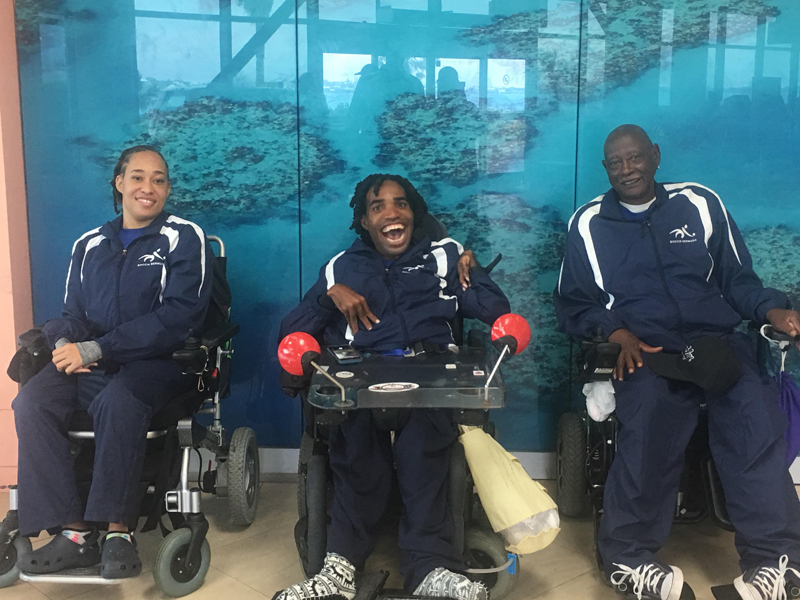 Omar Hayward started strong, winning his first match 13 – 0 against the USA's Brigid Mason and then defeating Canada's Lois Martin by a score of 5 -1. His last match was against world number 18 Eduardo Sanchez from Mexico he lost 4-2.
Yushae Desilva-Andrade played Canadian Michael Mercer and lost 7-1, while Steve Wilson won his first game against Karla Manuel from Mexico 5-0, and then then went down 5-3 to Adam Burnett from the USA.
Mr Hayward has progressed to the semi-finals tomorrow, while Mr Wilson and Ms Desilva-Andrade both have one pool game, with both possibly able to progress through to to the semi-finals, depending on the results tomorrow.
Coach Troy Farnsworth has accompanied the team to the competition, which marks the first competition that counts towards qualification for the 2020 Tokyo Paralympics.

Read More About