[Opinion column written by Jeremy Deacon]
In every election we seem to pose the same question: is this the year for a 'rise of the independents', the time when a decent proportion of the backbench will be made up of MPs with no party allegiances?
We usually see some candidates but how many have we seen succeed? Some MPs have chosen to later become independents, but as far as I can tell only Stuart Hayward has succeeded in being actually elected as an independent.
They face considerable obstacles, not least being the entrenched voting patterns which support the existence of the status quo [a two party system]. Then there is the noise created by the political machines of the OBA and PLP, drowning out those independent voices.
A mistrust of the political system discourages some, the 'well what difference can I make anyway' feeling stops others. Apathy also plays a large part and talking is much easier than taking action.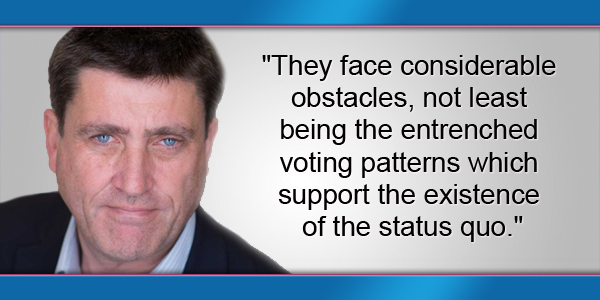 This year, though, I genuinely sense a change. I'm on the edge of the political periphery yet even I can sense something.
I'm not at the stage where I would call it a movement, but I have been picking up sign after sign that some concerned people have been meeting to consider what options might be employed to help modify political behaviour and one of those options is putting themselves forward as independent candidates.
My understanding is that some are already out there canvassing, considering running, and assessing what voters in those constituencies think. I am told that one of those is former MP John Barritt, another is Thad Hollis, a former OBA Chairman.
I am hearing a growing consensus among those I have been in touch with that there needs to be independent input into the way politics is practiced, on governance and the ways in which Parliament and Government operates.
Those I have spoken to want to implement practices designed to make collaboration on issues a requirement not an option.
They are being driven by a belief in the necessity of challenging the status quo, that it has been proven time and time again that what we currently have is not serving the community well.
This group is encouraging a shift towards individual integrity and accountability; empowering candidates to run on integrity, action and involvement within their community.
They believe there is a pressing need to transform what they believe is a divisive system into a viable alternative that encourages inclusive discussion and problem solving, leading to solutions that are well thought out and truly benefit the whole community.
As one of them told me: "It is not necessary to attack and vilify for the sake of Party and not respect our Island home and each other. We believe that cooperation and putting the needs of the voters before a Party agenda is the only way forward."
- Jeremy Deacon is a 30-year veteran of the media industry in Bermuda and the UK. He runs award-winning public relations company, Deep Blue Communications, and also engages in freelance journalism for publications in Bermuda and overseas. 

20 Most Recent Opinion Columns

Opinion columns reflect the views of the writer, and not those of Bernews Ltd. To submit an Opinion Column/Letter to the Editor, please email info@bernews.com. Bernews welcomes submissions, and while there are no length restrictions, all columns must be signed by the writer's real name.
-
Read More About
Category: All