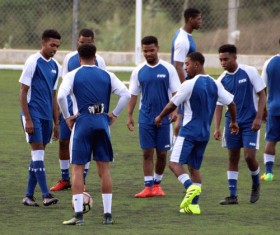 Bermuda and Grenada played to a 2-2 draw last night during their training match in Grenada.
Grenada looked to catch Bermuda off guard with a fast start that resulted in the Bermuda goalkeeper making a save.
Grenada continued dominating possession early, but it was Bermuda who went ahead in the 8th minute when a cross from Reggie Lambe to Tre Ming resulting in a goal for Bermuda.
As the half wore on, Grenada had the majority of the possession.
In the 39th minute the score was level as Aaron Pierre headed the equalizer, and the two teams went to the break level at 1-1.
The Bermuda coaching staff made three changes at the break introducing Zeiko White, Jahquil Hill, and Eli Smith into the game.
Bermuda would retake the lead in the 53rd minute when Willie Clemons found the back of the net after a pass by Lambe.
Bermuda made further substitutes as Mazyhe Burchall, Tehvan Tyrell, Dante Brangman and Razir Smith Jones all made their way onto the pitch.
Bermuda introduced more players to the match as Darren Usher and Jordan Darrell came on, however in the 73rd minute Kwasim Theadore would equalize for the host, resulting in the match ending in a 2-2 draw.

Read More About