The only Asian team in the 2017 Red Bull Youth America's Cup, Kaijin Team Japan was formed in late November 2015 with the support of America's Cup contender SoftBank Team Japan.
Members of the team traveled to Italy, Spain, France, and Bermuda to sail the GC32 before having the opportunity to become the first Red Bull Youth America's Cup team to fly on the AC45F after the Louis Vuitton America's Cup World Series in Fukuoka.
Sailing is a growing sport in Japan but still lacks widespread popularity, so it is the ultimate goal of Kaijin Team Japan to win the Red Bull Youth America's Cup and bring Japanese youth sailors to the world stage.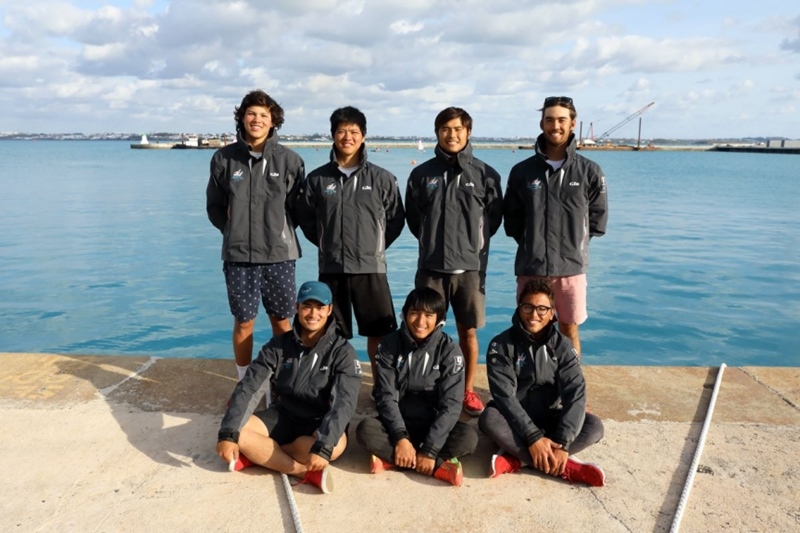 Ibuki Koizumi [skipper]
As a member of Japan's national sailing team, Kaijin Team Japan skipper and team captain Ibuki Koizumi is working in the 49er class on a campaign toward the 2020 Olympics. The 20-year-old has earned the Bronze medal at the 2014 ISAF Youth World Championship [420 class], fourth place at the 2013 ISAF Youth World Championship [420 class], third place in the Japanese edition of Red Bull Foiling Generation, and fifth place in the World Sailing Youth Match Racing World Championship. Ibu is majoring in environmental studies and currently resides in New Zealand.
Hajime Kokumai
Twenty-two-year-old Hajime Kokumai of Tokyo is a student of sports science and international culture at Hosei University. Born in Hawaii to parents who are a sailor and a boat engineer, he has been sailing since early childhood and is currently a specialist in the Melges class. A highlight of his career so far was winning the All-Japan Melges 32 tournament and placing second in the intercollegiate All-Japan Laser category. He was also selected for the SoftBank trials.
Timothy Morishima
Timothy Morishima is the trimmer for Kaijin Team Japan. The 20-year-old lives in Australia and has been sailing since childhood, first in the Laser and more recently in the Moth, Flying Phantom and GC32 and training on the AC45F. His achievements include second place in the 2010 Youth Tasar Nationals, and third in the State Youth Match Racing. In 2015 Tim was selected to trial for Softbank Team Japan. Tim is also a multi-time rowing champion. He balances his sailing with law studies at Macquarie University and work as a forensic accountant assistant, as well as an English and math tutor. Until recently he has been competing in the 18-footers Australian League.
Federico Sampei
Federico Sampei, 20, has experience sailing a variety of boats including the Laser, GC32, Flying Phantom and Nacra 17. In October 2016 he placed first in the second race at the Marseille One Design and earned third overall. Fede, who lives in Zushi, Kanagawa, was chosen to Trial with SoftBank Team Japan and dreams of someday sailing around the globe.
Simon Suzuki
Tokyo resident Simon Suzuki was born in France, raised in Japan, and studied in England and America. The 24-year-old started sailing two years ago and has experience with the Beneteau First 40, Melges 20, and Laser, RS and Quba dinghies. He is the shore team manager and safety officer for Kaijin Team Japan.
Leonard Takahashi
Based in Auckland, New Zealand, Leonard Takahashi participates in match racing as he works toward the Tokyo Olympics at the 49er level. While the 18-year-old wing trimmer and tactician is the youngest member of Kaijin Team Japan, he has been a member of the Japanese National Team since 2015. His accomplishments have included fifth place in the Governor's Cup Match Race and in the World Sailing Youth Match Racing World Championships, 10th place in the OP World Championships, and 14th place in the 49er Junior World Championships. Lenny is also a sailing coach.
Mikiya Tsuji
Twenty-two-year-old Mikiya Tsuji of Chiba brings to his position of grinder for Kaijin Team Japan his physical power and stamina as a successful athlete in rugby, a sport he recently had to give up due to injuries. He also has the benefit of his father's prior experience as a sailor for the Nippon Challenge in the America's Cup.
Shota Usami
Kaijin Team Japan grinder Shota Usami was born in Osaka in 1995 and progressed from sailing the Laser to high-speed boats including the Moth, Nacra 17, Flying Phantom, and GC32. He advanced to the final round in the Japanese edition of Red Bull Foiling Generation, and it was that experience that sparked his strong interest in foiling. In parallel with his sailing career, Shota studies law and politics at the University of Tokyo.

Read More About