Justin Mathias — the Chairperson of the OBA Youth Wing, the Future Bermuda Alliance — sat down with Bernews this week for a live interview on our Facebook page, discussing a wide range of topics with guest interviewer Jeremy Deacon.
Asked why he joined the OBA, the 25-year-old said, "That's more of my ideology, I'm more of a right center when it comes ideology.
"Low tax, a smaller government, efficiency, more of those ideologies are where I find myself. Naturally there's only two political parties in Bermuda, so you have to make that choice."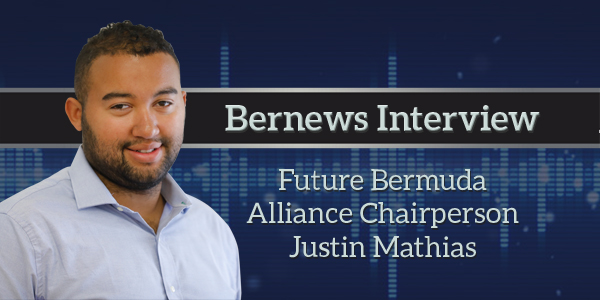 On the role of FBA, Mr. Mathias said that their focus is "more of a listening and engaging", holding fireside chats discussing the issues such as "how the election was held, who did what, the social media aspect, and misinformation."
"Then in September we did helped a back to school initiative, hosted by the Devil's Hole family. We helped give back to the community, got school supplies and school bags."
When asked what feedback he gets from younger people about politics and if they are engaged, Mr. Mathias said, "I think a lot of young people say that they're not engaged, but they are. You have these fireside discussions and you sit there for three hours, and they know all of the issues, but it's one of those things where it's not the hot topic.
"People would rather talk about reality shows, people would rather talk about music. People would rather talk about that salacious stuff, than actually talk about the stuff that matters in their own country, which is a great concern for me.
Asked about his recent column, Mr. Mathias said, "It was more of condemnation of what was actually happening."
Saying "there were serious issues that were being discussed within the House," he said it was "political point scoring, and that's why I wrote the article because I'm like…why if you've won the biggest election in history, you're still trying to score political points when there's actually real issues."
"That's where it came to me that I have to write that piece, because we're going into the old style of politics, where it's more about scoring political points than governing."
He added, "That's why I think there's disengagement from the youth, because they're just tired of listening to the same old rhetoric, and not seeing action."
Asked about the OBA's future following their heavy loss in the General Election earlier this year, "For me, it's a bit different because the OBA to me, that's the party that I joined.
"So I'm not connected to all the stuff that happened before, how it was formed. But the actual values, the principles that are within the Constitution, all that start up work within the OBA is something that we're still fighting for. "
He said, "A lot of the focus and values and principles that we built on about diversity and about listening to people, some of that wasn't taken into consideration. So I think now it's just the community has spoken, our supporters have spoken, the Bermudian electorate has spoken, and we have to just continue the work that we started in 2011 and 2012.
"We did suffer a huge loss and to some people, they think that was our death notice. It wasn't our death notice, we just know that the work that we did in 2011, 2012 we need to get back to doing that work."
Saying the voters can swing, Mr. Mathias said, "We're living in a new era. We just had the biggest election win, in 2012 you had a party that just formed win Government. So there might be history whenever we have an election the next time.
Asked about the perception some have that the OBA is the UBP, Mr. Mathias said, "You know you can't really control what other people's narratives are going to be.
"I think the perception of casting us as a UBP party is a perception that's been fed to us by the PLP," he said, adding, "They have UBP members also. They don't like to acknowledge that…you have former UBP leaders within the PLP."
Mr. Mathias added that if anyone is interested in learning more or attending any FBA events, they can look them up on Facebook or e-mail fba@oba.bm.
If you want to listen 'on the go', you can also access the audio only version of this interview, and all our past interviews, in the podcast section of the Bernews app.
Read More About