[Updated] A press conference was held this afternoon [Nov 21] to provide information on the World Triathlon Series event which will be held in Bermuda next April, with those making remarks including Senator Crystal Caesar, the BTA's Pat Phillip Fairn, members of the organizing committee, and triathlete Flora Duffy, who is expected to compete in the event, giving locals a chance to see our own world champion compete here on home soil.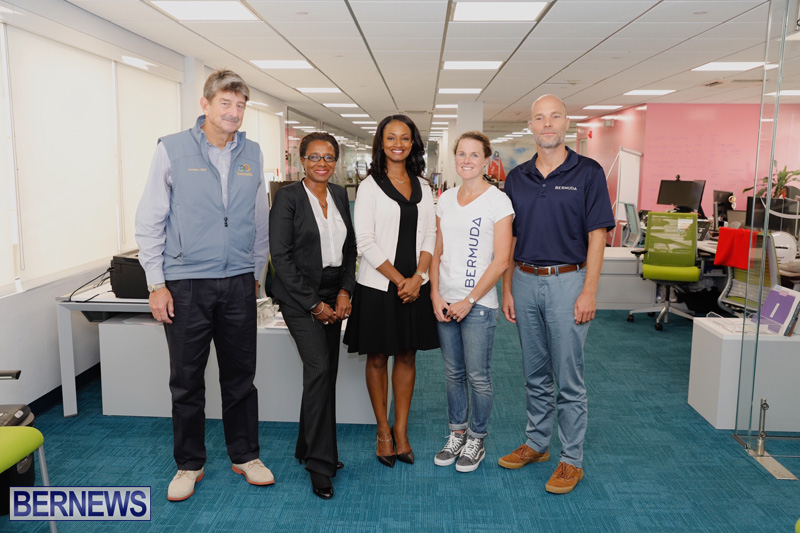 The press conference, which provided details on the race course, has just concluded and we will have additional information later on, and in the meantime the 18-minute live video replay is below.
Update 5.15pm: A BTA spokesperson said, "The global triathlon spotlight will shine on Bermuda in April when it hosts the ITU World Triathlon Bermuda, showcasing the island and proudly supporting two-time reigning World Champion, Bermudian Flora Duffy.
"The Local Organising Committee of the international sporting spectacle, revealed the race courses today for both the Elite and Age Group races within the event. Both races will take place on Saturday April 28th during the Bermuda Triathlon Festival Weekend [Thursday April 26thto Sunday April 29th].
"Both courses start and end in Hamilton. Competitors will first swim in the waters of Hamilton Harbour, then bike through city streets and finish with the run along colourful Front Street. The central location offers great viewing for spectators, and several significant technical challenges for athletes.
"One of the highlights of the bike courses will be hundreds of athletes pumping their way up Corkscrew Hill in a gruelling steep effort.
"Front Street will be the focus of all racing. Athletes will line up for a spectacular swim start at Number 1 car park, where free public grandstands and VIP seating will be positioned for a great viewing advantage. The Elite race will transition onto bikes and the run right in front of spectators on Front Street.
"It is anticipated that hundreds of people will participate in the Age Group event, including locals doing a triathlon for the first time. Organisers welcome sportspeople of other disciplines to register and train for the April event, which does not require a qualifying time. Not often can you do a first triathlon in a World Series event right at home!
"Due to the large numbers of participants, the transition area to start the bike and run for the Age Group course is at City Hall car park.
Minister for Tourism and Economic Development Jamahl Simmons expressed his thanks to the Local Organising Committee for their collaborative work in helping all agencies agree on a course that is safe and practical, while showcasing some of Bermuda's best scenery.
He said, "Bermuda is the second stop on the 2018 World Triathlon Series circuit and with Bermuda's own Flora Duffy defending her World Championship title, Bermuda proudly supports our national sporting hero. We will offer our renowned hospitality to international visitors, and first-class television coverage, during the 2018 event. We will ensure that the event has a lasting positive impact for Bermuda."
Bermuda Tourism Authority Chief Product & Experiences Development Officer, Pat Phillip-Fairn said: "The courses are the result of a close collaboration between the City of Hamilton, the Bermuda Police Service, government departments such as the Department of Public Transportation and Works & Engineering, the Bermuda Triathlon Association, the International Triathlon Union [ITU] and the Local Organising Committee. We truly appreciate this huge cooperative effort.
"While several road closures and traffic diversions will be in place through Hamilton during the Bermuda Triathlon Festival Weekend, mostly on Saturday April 28th, the course is designed for maximum viewing potential and additional economic benefit to City businesses, with minimum disruption to residents."
"Hamilton shops, restaurants and businesses will be open as usual. Hamilton will be buzzing with additional entertainment and unique vending opportunities during the Bermuda Triathlon Festival Weekend and details of those events and Fan Zone locations will be released shortly.
"City of Hamilton Mayor, Charles Gosling said: "We welcome the ITU's World Triathlon Series to Hamilton, it's an honour to host an international sporting event of this scale and we look forward to the positive impact it will have on Hamilton businesses and residents.
"We are particularly proud of Flora Duffy, Bermudian born and bred, who has represented Bermuda in the Olympics and is the ITU World Triathlon Champion for two years running. We look forward to all of Hamilton and Bermuda coming out to support her on home soil."
"The Local Organising Committee is also working with Bermuda Police Service, Emergency and Health and Safety Services on a comprehensive safety plan and with Works & Engineering on aspects including road closures and resurfacing of some roads.
"The Local Organising Committee will invite residents, businesses and other community groups along the course in coming weeks to see race route details and plans to minimize disruption. Hosting an international event of this magnitude undoubtedly brings some changes to residents' daily routines and organisers are grateful for the public's patience and participation.
Steven Petty, President of the Bermuda Triathlon Association said: "The arrival of the World Triathlon Series in Bermuda represents a fantastic opportunity for the island and a chance to inspire many more people to take up this great sport, just as Flora Duffy was inspired watching triathlon races here as a young girl. We can't wait to watch Flora race before her home crowd and we hope that the Bermuda public will embrace this event and make it a vibrant show that will be seen around the world."
Flora Duffy said at today's announcement that she's looking forward to racing in Bermuda: "The course being along Front Street is very special for me. This is where I started, in the Front Street Mile at nine-years-old, and I was inspired to compete internationally. To be competing as the World Champion on home soil, is a feeling that's hard to express."
"Flora has also called for residents who wish to volunteer during the Bermuda Triathlon Festival Weekend, to register their interest online from today: "The online registration is open at www.tribermuda.com/volunteer. I encourage anyone who is not racing to register as a volunteer now. These events take enormous effort to organise. As athletes, we can't appreciate enough the support of those who give their time and become involved."
"The Local Organising Committee will contact registered parties with details and allocate areas that fit volunteer interests and skills."
The full WTS race course follows below [PDF here]

Read More About