[Updated] Jeanne Atherden was officially sworn in as the new Opposition Leader at a ceremony at Government House.
The swearing in follows after her victory at the Party Conference this weekend, when she was elected the new leader of the OBA winning 90 votes [37.3%] to defeat Patricia Gordon-Pamplin who won 82 votes [34%] and Craig Cannonier who won 69 votes [28.6%].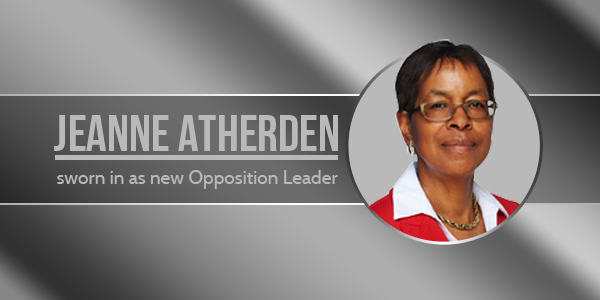 Speaking after the election this weekend, Ms Atherden said, "We can get on with building our team and becoming the Opposition that Bermuda needs. Because going forward, you want us to be a viable, robust Opposition because that helps the Government stay focused on its job, and it makes sure that Bermuda gets the type of Government that it needs."
"Together, we will be able to rebuild the party and make people appreciate the fact that we want to do things for Bermuda. We all, when we came together from the very beginning, it was one Bermuda working for all Bermudians. And that's still our vision. That's still the values that we hold."
Asked about the next election in a few years, Ms Atherden said, "We have to get started right away because there's no time to waste.
"We have to reconnect, and we have to turn around and build the structure and get the people to come back into the room and then turn around, work on making sure that we listen, that's a big thing that has to happen, we have to listen to what the people of Bermuda are telling us.
"And then we have to explain to them what we're going to try and do about it, because it's a two way street. It's never a one way street, it's a two way street."
"Going forward, we're going to get more people in the room, and keep them in the room because we want them to help us formulate our policy and platforms.
"If you get more people in the room then it means that you turn around, and then you change the dynamics, the age of the people that are in the room, and the diversity.
"We are going to put a lot of emphasis on our diversity, whether it be gender diversity, whether it be racial diversity, or whether it be age diversity. All of those things, we have to focus on."
Ms Atherden, who represents Constituency #19 Pembroke West, previously served as the Minister of Health and Seniors.
Update 8.21am: Speaking at the swearing-in, Ms Jeanne Atherden said, "I would like to thanks his Excellency the Governor for my appointment to hold the office of the Opposition Leader. This a continuation of my life and dedication to serving the Bermudian people, and you can be assured that I will be fully committed to fulfilling my role.
"I come from humble beginnings – both of my parents went straight out to work to support their families – going to high school was not an option, but my father went to Life's School and came out with His Masters. A master by learning from what he saw successful people doing, improving on what he observed and being visionary to use these ideas in other areas.
"My parents made sure their children got the education they never had – I am a Chartered Professional Accountant and last week-end I was honoured by the Bermuda Institute to become a Fellow. My mother was the Brother in my parents business, Adderley Brothers Limited, and together they made us work in their business many times on a Sunday to make us understand that whatever we had came from hard work and we should appreciate that this influenced the route to success.
"Everything to date has shaped how I have pursued my goals in life. It has taught me that as a good leader I must work to develop my team, I must have a vision of how to achieve the team goals but most importantly, I must have a belief that the goals are achievable.
It's about initiating a concerted effort to support and mentor our younger members in order to assist and prepare them to play diverse and important OBA roles. [I know of no job were you expect the applicant to perform well on the job without some training.]
It's about getting more women involved in politics. [There are many benefits to looking at issues from a different perspective as we develop positions on platform or legislation.]
It's about being a voice of the community and acting as a government watchdog
It's about raising public consciousness about important issues
It's about championing causes and tabling legislation which reflect the interest of the electorate. [We cannot respond to the concerns of constituents unless we are in the field and listening to what is causing pain and suffering to our fellow Bermudians.]
"So I look forward to the work that my team and I must do to hold this Government account, and they will be reassured that I will handle this task with dedication and commitment that is necessary to get the job done.
"I am reminded of a quote from Mitchell Freeway: 'We all have many theories and ideals about life and to bring these to the test of your current reality can be a challenge. It takes courage, new mindsets and fresh vision but it is possible to achieve, with the right desire fuelling the change."
"Thank you your Excellency, Colleagues, Friends and Family that are here in attendance I look forward to advancing the peoples work! "
Read More About