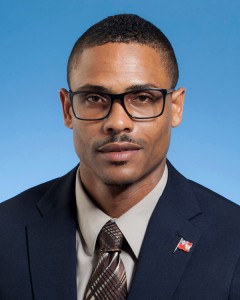 Dennis Lister III — the elected MP for Constituency 28 Warwick West — has been appointed chairman of the Bermuda Road Safety Council.
"He will work with new members but also with the past chairman, Ali Bardgett, who remains on the Council as his Deputy Chair," the Ministry said.
Deputy Premier and Minister of Transport and Regulatory Affairs Walter Roban said, "Mr. Lister brings a vibrancy to the leadership and comes with five years' experience already on the Council. He understands the need to change road safety perspectives in Bermuda.
"We're expecting that he will bring a fresh new approach to our road safety efforts. We need to have youth represented in the leadership of this effort as it is his age demographic from which we seem to have the greatest victims on the roads at this time.
"We thank Ms Bardgett for the service she has given and know that her continued presence on the Council will add to its effectiveness, going forward.
"This will be important because after a 2017 when we again lost lives to the carnage on our roads, I believe we will have to be more aggressive in our approach to dealing with road safety in Bermuda. Promoting safety for all people is a key transportation goal for the government this year.
"We need to address the issues of speeding, sobriety, common sense and common courtesy on our roads."
Read More About
Category: Accidents and fires, All, News