[Written by Angela Young]
Coral Wells, Darren Burchall, Det. Inspector Mark Clarke, Chris Eggen, and Phil Trott will be helping parents and guardians alike to "Decode Gen-Z" during the second panel discussion of KICS Live—The Conference.
KICS Live—The Conference is set to be held on September 1, 2018 at the Bermuda Underwater Exploration Institute, witih the guest panel to be featured at the event to include clinical psychologists, a psychiatrist, a former footballer, an accountant, a nurse and others.
KICS Live—The Conference will focus on the top five concerns facing parents today: Raising a BOSS, Decoding Gen-Z, Co-Parenting for Your Child's Success, Boys 2 Men and Daddy's Girl.
Due to the sensitivity of these topics, the conference is geared towards adults only. Doors open at 9:00 am and the panel discussions will kick off at 10:00 am through to 5:30 pm. No ticket sales at the door.
Tickets to KICS Live—The Conference can be purchased on the www.kicssystems.com as well as the full profiles of the event's guest panelists.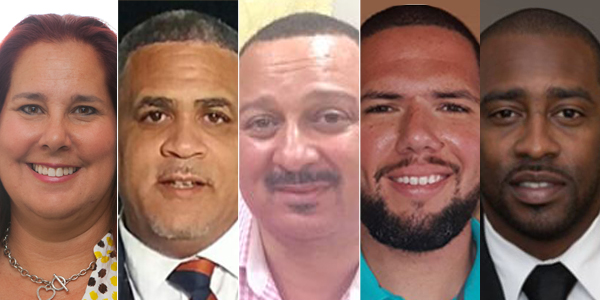 For our second panel reveal, we will highlight the guest panelists for the "Decoding Gen-Z" panel:
Coral Wells
Coral Wells is an active member of the technology and entrepreneurial community both locally and internationally. With over 20 years of experience as a web and marketing guru and corporate communications trail blazer, Coral has proven herself to be a lover of all things related to technology, education, and innovation. Coral has been the Managing Director and Senior Project Manager of W&W Solutions Ltd., a local software development and marketing firm for the past 15 years. In true entrepreneurial spirit, Coral is very hands on in all areas of the company working very closely alongside her team. Coral is also the founder of Bermuda's first technology incubator and training center, CONNECTECH. Coral's passion for inspiring youth in technology and entrepreneurship let her to launch CONNECTECH in the Winter of 2015. CONNECTECH promotes innovational thinking within the community through training courses and co-working collaboration space for startup and visionary entrepreneurs. Connectech focuses on teaching our youth coding, K-12 and beyond.
Darren Burchall
When it comes to 'changing the game', very few do it like Bermudian Darren Burchall. With over three decades of experience in IT, this educator's expertise has carried him from Bermuda's shores to international classrooms where he has taught in exotic places such as Brazil, Beijing, Ghana and the English town of Grimsby, just to name a few. Committed to elevating how technology is perceived by educators, students and parents alike, Darren's professional pedagogy states it best: "I believe that due to advances of the internet and technology, educators no longer have the monopoly on information. Therefore, we should embrace new technologies to create an atmosphere where learning is accessible anywhere—at any time. [Technology] is engaging, enjoyable and personalized so that young people and their families are empowered to play a role in how and what they learn." This global mindset inspired the entrepreneur in January 2014 to launch Great 4 Learning, an organization that helps teachers, school leaders, children and parents use new technologies for learning.
Det. Inspector Mark Clarke
As a member of the Bermuda Police Service Unit, Det. Inspector Mark Clarke began his career in 1981 and over these past three decades, he has played a critical role in The Vulnerable Persons Unit. Here, he has led major investigations on crimes against vulnerable children. Inspector Clarke's community involvement includes: Interpol Crime Against Children, Board of Director at Coalition for the Protection of Children, Government Child Safeguarding Committee and SCARS Facilitator. He is also the former Deputy Chair of the Child Online Protection Committee where he assisted in developing the 2008 Criminal Code Amendment regarding Child Online Legislation. The Inspector's vast experiences has allowed him to present both locally and overseas on Crimes Against Children, Child Safe Guarding as well as Online Offences.
Chris Eggen
Chris Eggen is an alum of Georgia State University and has over a decade of IT experience. Chris is a Certified Computer Forensics Examiner [CCFEi] and holds a variety of licenses in Ethics and Legal Issues, the Investigation Process, Computer Forensic Tools Hard Disk Evidence Recovery, and Integrity Digital Device Recovery, just to name a few. He is also an IBM Blockchain developer and a CompTIA A+ Certified Professional, 801 and 802. Chris commenced his career in IT in 2008 as a Dell Independent Contractor at BMC Solutions in Kennesaw, Georgia. Later, he transferred his analytical skills to S.A.L. Ltd. to direct and coordinate activities of business or departments concerned with production, pricing, sales or distribution of products. He also manages staff, prepares work schedules and assigns specific duties; including managing the movement of goods onto and out of production facilities. Chris is also the owner and operator of local company, NATS, where he refers major hardware and software problems or defective products to vendors and technicians for service. Other duties include installation of cables, operating systems, and software.
Phil Trott
Philip Trott has been a Science Teacher at Sandys Secondary Middle School since 2012. He is very passionate about using technology as an educational tool and is on a mission to get computer science education included as a core subject in the public school system. In addition to his education qualifications, he also has an extensive background in marketing and corporate design, social media management, and web applications. Mr. Trott enjoys sports, playing around with data, learning how to code, and volunteering his time for community initiatives. He is a proud member of Alpha Phi Alpha Fraternity, Inc., son to George and Dorothy, brother to Melissa, and most recently, husband to his lovely wife, Valisha.
Read More About