[Written by Angela Young]
Dr. Olaleke Fisayo, Chris Crumpler, Nevine Lewis, Kendra Mello, Nikita Robinson, and Mandy Ingham will break down the challenges of raising "Boys 2 Men", our fourth panel discussion, at KICS Live—The Conference.
KICS Live—The Conference will take place on Saturday, September 1, 2018 at the Bermuda Underwater Exploration Institute, witih the guest panel to be featured at the event to include clinical psychologists, an accountant, an EMT, and a senior underwriter and others.
KICS Live—The Conference will focus on the top five concerns facing parents today: Raising a BOSS, Decoding Gen-Z, Co-Parenting for Your Child's Success, Boys 2 Men and Daddy's Girl. Due to the sensitivity of these topics, the conference is geared towards adults only. Doors open at 9:00 am and the panel discussions will kick off at 10:00 am through to 5:30 pm. No ticket sales at the door.
Tickets to KICS Live—The Conference can be purchased on the www.kicssystems.com as well as the full profiles of the event's guest panelists.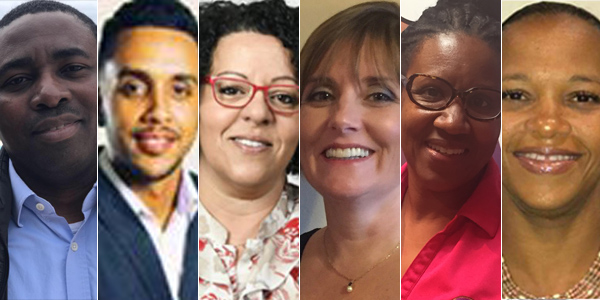 For our fourth panel reveal, we will highlight the guest panelists for the "Boys 2 Men" panel:
Dr. Olaleke Fisayo
Nigerian born, Dr. Olaleke Fisayo brings nearly three decades of experience in psychiatry to our "Boys 2 Men" panel at KICSTM Live—The Conference. The father of two young adult males is currently a consultant in general adult psychiatry at the Mid-Atlantic Wellness Institute [MWI]. He qualified as a doctor in 1990 and has trained and worked in psychiatry in both Nigeria and the United Kingdom. Dr. Fisayo also holds a Master's degree in mental law [LLM] and is a member of the Royal College of Psychiatry [MRCPsych]. In his current role at MWI, he works with the drug and alcohol services as well as the rehabilitation services.
Chris Crumpler
Chris Crumpler was born and raised in Florida. He was adopted at the age of three months and thanks God for his incredible parents Clarence and Earlene Crumpler. Chris started from humble beginnings as a child and later, enjoyed tremendous success from professional basketball to motivational speaking and teaching, to name a few. He attended Flagler College on a basketball scholarship where he earned his Bachelor's degree in Business Administration, with a minor in Economics. Chris has also held positions as an Educational Therapist and a Program Director at Cedarbridge Academy where he was awarded the most influential staff member two years in a row by the SGA. In addition, the former basketball professional has held several hats including: Residential Care Officer at the Bermuda boy's home, a volunteer at the boy's juvenile correction center, a mentor to inmates at the Westgate Prison Facility, and Executive Director for Team Street Safe, a gang intervention organization in Bermuda that focuses on black males who are deemed to be PRI's [proven risk individuals].
Currently, Chris is the Executive Director at IMPACT Mentoring Academy.
Nevine Lewis
Nevine was born in New York to Egyptian immigrants and later, relocated to Boston, Massachusetts to launch her career as a professionally trained executive recruiter in 1997. Much to her surprise, her career brought her to Bermuda in 2001 and she has made the island her second home ever since. While she studied classical arts and psychology and art at college, Nevine has developed a solid career in the employment industry; ranging from placements to career counselling. She is a caring individual and this compassion extends beyond her human resource profession. This senior executive is actively involved in several charitable initiatives and often times, provides personal and professional coaching to private individuals. She is also the proud mother of Bermudian-born 13-year-old Nevin who is a typical teen boy. He lives for his video games, hanging out with friends and eating pizza! Nevine knows first-hand the 'ups and downs' of raising a boy in this digital age and she'll bring these insights to our "Boys 2 Men" panel.
Kendra Mello
Kendra Mello is a Professional Consultant and a Mother of two. She holds a Bachelors of Commerce Degree with a Major in Marketing from Mount Allison University [Canada] and a Masters Degree in International Business and Management from Webster University. Kendra's career spans more than 20 years in the real estate industry and she has more recently branched out into the world of Consulting, primarily in sports and education. She brings skills in adult education, group facilitation, marketing research, coaching and project management to our "Boys 2 Men" panel. Kendra's children are Cassandra [age 14] and Benjamin [age 11]. She and Benjamin were introduced to the KICSTM programme in September 2017 and highly recommends the programme to help build confidence and organisational skills in young people. For inspiration on parenting, Kendra leans on the following quote: "Parenting is not easy, but you have to keep a single goal in mind. Your job is to raise well-rounded, productive members of society who ultimately don't need you. If you base all of your decisions on this goal you will succeed." [Friend/Co-worker/Single mother].
Nikita Robinson
Nikita is the mid-day radio personality on hott1075 FM. She is the host of the Ladies Room which airs Mondays through to Fridays from 10 am to 2 pm. Her MO—modus operandi—is UME: Uplifting, Motivating, and Encouraging you and me. This is done through the nugget of the day, volunteering with the Charity of the month and her favorite Brown & Company Book Club Hour. She ends her show by encouraging all to spread the nine fruits of the spirt: love, joy, peace, patience, kindness, goodness, faithfulness, gentleness, and self-control. You can listen to her online at www.hott1075Bermuda.com or follow her on Facebook or Twitter. Nikita is a wife and proud mother of two amazing boys. She loves the Lord, worships at RRCF, and dances in ministry with For God's Purpose.
Mandy Ingham
Sailing has always played a rich part of Bermuda's history, but little did one Bermudian Mom know, that her son would play a critical role in reigniting a keen interest in the sport amongst a new generation of young sailors. Very few imagined that Bermuda would enter a team in the 2017 America's Cup when it was first announced that our tiny island home would be the host four years ago. From calling it a "white man's sport" to "our children won't compete in that", skepticism was very high. But, all of that was erased when Bermuda entered a team in the Red Bull Youth America's Cup in 2017 featuring two young black males. One of them was Mandy Ingham's then 18-year-old son, Mustafa Ingham. The journey of this mother-son team is fascinating, to say the least. Mandy Ingham is a registered nurse of 23 years; 18 of those as a Community Health Nurse with the Department of Health's Child Health Program where she provides care to both families and children. In 2006, she had the opportunity to travel with Dr. Tuzo, and her team of professionals to volunteer with the AHEAD Program, to Tanzania to assist with community projects.
Read More About
Category: All