Bermudian footballer Aaliyah Nolan scored for her University of North Texas soccer team as they defeated Marshall 3-0.
The school's match report said, "The No. 24 ranked North Texas soccer team shut out its ninth opponent of the year in route to a 3-0 road victory over Marshall Sunday afternoon.
"Two of North Texas' three goals on Sunday were scored on set pieces, the first coming in the 36th minute when Lampe soared way above the Marshall [5-8-2, 3-5] defenders to head in a corner kick from Madeline Guderian.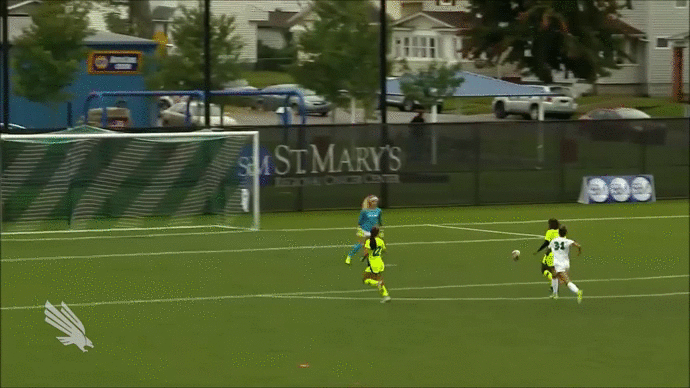 "North Texas took a 1-0 lead into the half but opened the flood gates in the second-half when another set piece led to another Mean Green goal.
"UNT sophomore Logan Bruffett's free kick into the box was deflected in the scrum of bodies and ended at the feet of fellow sophomore Berklee Peters who was able to strike a shot into the net for her sixth goal in conference play.
"North Texas' final goal came in the 81st minute when Bruffett cleared a ball near midfield to the offensive third where senior Aaliyah Nolan chased down the ball, beat the Marshall keeper and scored her sixth goal of the year.
"Last game really motivated me to score this weekend and get my goal tally up," said Nolan, who played a career-high 95 minutes on Friday at WKU and took a career-high six shots but didn't score a goal.
"I didn't just want to get the goal for me but I wanted to do it for the team. We all knew that we had to win this game and we came out and executed exactly what we needed to do to come away with this."

Read More About