"An economic recovery which started under the One Bermuda Alliance has stalled and Bermuda now risks going backwards," according to the Opposition Leader Craig Cannonier.
"All the economic impetus from projects like new hotel construction projects and the new airport and our drive towards balancing the budget has been lost," said Mr Cannonier, who was recently sworn in as Opposition Leader.
"The fact that we would be balancing the budget under an OBA Government this coming fiscal year speaks to the issues many have in the business community. That will not be a reality with this government.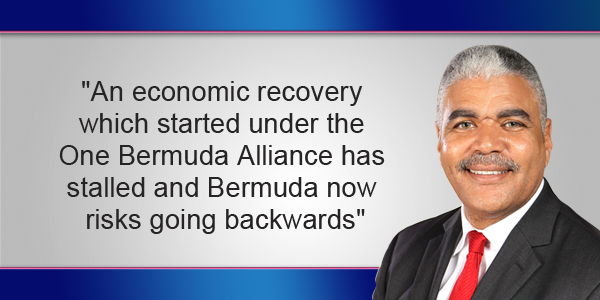 "In the last few weeks we have seen nothing but negative reports on the state of Bermuda's economy, income levels or the level of business confidence. All this while we still wait to see the hundreds of jobs the PLP promised in Fintech.
"We have just seen the Bermuda Business Confidence Index report which showed confidence fall by almost 20 points to 86.4. That was the first time the index had fallen below 100 and was the lowest level since the survey was started in 2014.
"The fact that immigration is one of the major concerns highlighted in this survey is telling especially after witnessing such anti-foreign rhetoric from the PLP.
"We recently saw a report on employment income falling by more than $15 million, GDP for the first quarter of this year has fallen by 0.4 percent and the volume of retail sales in June was down ten percent."
"Despite all the economic indicators we have seen a rise in health care costs, reversing a Government pledge to reduce them, we have seen new dividend taxes which will hit the small Bermudian businesses and we will see the introduction of the 50 percent Sugar Tax, which will rise to 75 percent.
"The OBA had a clear plan in place to encourage new construction work with the airport and new hotels, to reduce the burdens on small businesses and to build on the success of the America's Cup with things like new legislation paving the way to bring more superyachts here.
"It seems to me that Bermuda is on an economic knife-edge and the policies being pursued by this Government are not helping to stimulate our economy and help Mr and Mrs Bermuda."
While not in response to this particular statement, Premier and Minister of Finance David Burt recently stated, "The first quarter results show: Government revenues are up; Government spending is down; the deficit is down by 24%; Visitor air arrivals are up; and employment in the economy is up.
"Is everything perfect? No. We still have a long way to go," Premier said, adding, "This Government is committed to working with local and international companies to grow the economy and create jobs for Bermudians.
Read More About