Arbitrade has recently launched a full website which references a 'Bermuda Block Exchange,' the company released a statement criticizing an analyst who was a former supporter, the analyst is now strongly questioning the company's credibility and said he is working to block them getting a licence in Bermuda, and former Premier Michael Dunkley has met with the analyst.
That is an extremely oversimplified summary of the recent happenings regarding Arbitrade, and the latest developments involve a number of factors, and we have attempted to summarize some of them below, providing links to more comprehensive information.
More Extensive Website Unveiled, Bermuda Block Exchange
The company has now launched a more extensive website, which provides significantly more information on their plans, citing a 'Bermuda Block Exchange', which they said will "provide a transparent and trusted way for approximately 50,000 institutions to scurely trade regulated security token inventory to be issued by up to 88,000 publicly traded companies from 50 markets in 26 countries." They showcase Victoria Hall in Hamilton as their 'future home office.' You can view their full website here.
Screenshot from their newly designed website: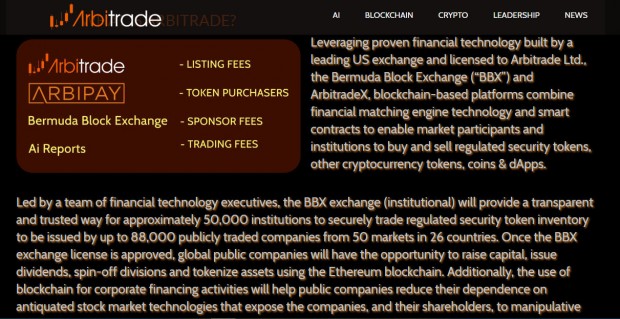 Analyst Ronnie Moas, A Prior Supporter, Strongly Criticizes Arbitrade
Mr Moas, the founder of Standpoint Research who often tweets about cryptocurrency, was previously a strong supporter of Arbitrade and their 'Dignity' coin, which is referred to as $DIG on Twitter.
He appeared to be a strong proponent of the company over the past few months, posting numerous tweets about the company to his 45,000 Twitter followers, and also apparently including information about the company to his paying subscribers at Standpoint Research.
Arbitrade previously cited his support, with their website stating, "Ronnie Moas, a well-known stock, and cryptocurrency analyst and a vocal supporter of Arbitrade's vision, was invited to meet Hayden Gill, CEO of CoinMiner and to personally tour the Atlanta mining facility today. It is clear that judging by his public profiles on social media had this expert very excited by what he saw." That page is no longer available on the company's redesigned website, however a cached version via Google is here.
Mr Moas previously raised eyebrows with some Bermudians on Twitter by posting a few tweets claiming he would build a "massive orphanage" in Bermuda, saying it will be a "five-star orphanage w/assistance from Dignity & Bermuda government" noting that it would be "close to the orphans in the Caribbean."
Mr Moas has now posted many strong tweets calling out Arbitrade, saying he is reporting them to the SEC, there are "red flags all around," he will "try to block this license in an effort to protect the public," saying he will "not keep this shocking and disturbing info that came my way in the last two weeks to myself."
He has also indicated that the company has apparently contacted him asking him to refrain from the negative comments, tweeting they can "shove the Cease & Desist letter" as they will not "silence or intimidate" him and he "will expose these characters."
He has also tweeted stating that people have apparently lost money due to the matter, and his tweets can be read here, and you can also watch a video interview Mr Moas recently did with the 'Wild West Crypto Show' on the matter here on Youtube.
Arbitrade Criticizes Ronnie Moas
An email sent out recently by the company claimed that Mr Moas has "sent out several updates to his subscribers recently discussing Arbitrade/DIG timelines being missed, as well as claiming instances of being 'misled' by Arbitrade executives and consultants."
"While some of his emails contain factual information pertaining to matters relating to crypto-mining, gold, Bermuda, etc., in connection with Arbitrade, the claims made by Mr. Moas being misled on timelines for delivery of certain items are rejected.
"It has chosen to domicile in Bermuda, a country which also holds companies to the rigorous standards of business and compliance under which all directors, officers, and consultants have been fully vetted prior to the company being approved to do business within the country.
"While it is true that the company has, for numerous reasons, experienced delays, it has been as open and transparent as possible with Mr. Moas on everything that the company is working on which could be publicly shared," the company said, adding that they are "legally bound by non-disclosure agreement." You can read a PDF created from the email they sent out here.
Last time we asked Arbitrade for comment, they said, "The Company is legally bound by non-disclosure and privacy obligations and is therefore not at liberty to comment any further on its transactions with third parties other than the content of any official press releases."
Premier Tweets 'Note'
Premier David Burt has waded in to the discussion in recent days, as on December 7th he tweeted that "Public comment for Arbitrade was regarding approval to purchase a building, which is wholly unrelated to any approvals which may be issued by the BMA to operate a Digital Asset Business in Bermuda."
He was responding to someone who tagged him saying "Arbitrade a company with background checks at highest level, according to @BermudaPremier, you can always ask him."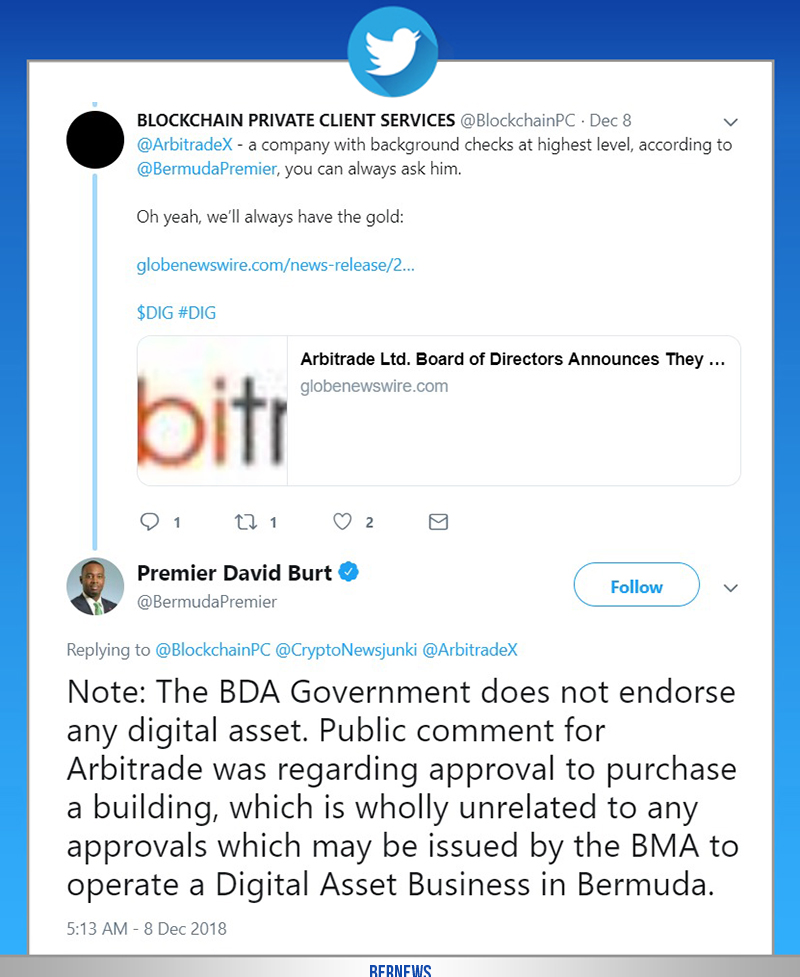 It was actually the second response on the matter from the Premier, who does not often post responses to individual tweets, as last month he tweeted a response saying, "Note: The Bermuda Government does not 'back' private companies or any digital asset.
"Public comment was regarding approval to purchase a building, which is wholly unrelated to any approvals issued by the Bermuda Monetary Authority to operate a Digital Asset Business in Bermuda."
Mr Moas Meets With Michael Dunkley
Former Premier and current MP Michael Dunkley has long expressed concerns about Arbitrade, and when Mr Moas was actively tweeting in support of Arbitrade, he tweeted some negative comments directed at Mr Dunkley.
However, Mr Moas has now tweeted his apologies to Mr Dunkley saying, "I have had a few very heated exchanges w/@BDAMilkman [Mr Dunkley's Twitter name] before, but in the last 2 wks I realize he was right about DIG & I was wrong. I'm sorry."
As Mr Dunkley was traveling in the United States, he met with Mr Moas earlier this week, where they had an "interesting two hour conversation."
Tweet posted by Mr Moas showing him meeting with Mr Dunkley: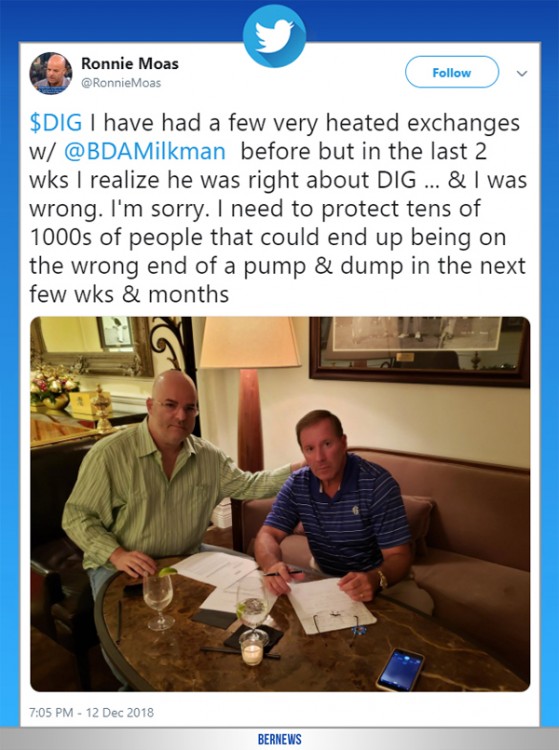 Mr Dunkley said, "For months I have researched and followed public announcements regarding Arbitrade. Sadly, Arbitrade and the Premier have not answered many questions and this astounding lack of transparency has resulted in a compounding of concerns and 'red flags' surrounding this venture.
"Numerous people have reached out to me to discuss this matter, both locally and overseas.
"A few days ago Mr. Moas contacted me and asked to talk. As I was traveling through his hometown, and had a layover, we met and had an interesting two hour conversation.
"I intend to continue my research on this matter and will also continue to speak publicly when appropriate.
"We all want Bermuda to progress and for opportunities to be created for Bermudians. In doing so we also need to maintain the good reputation that we have earned through the years. Any new business in Bermuda needs to be able to fully explain their operations and be open and transparent. If they are unable to then that in itself is a red flag that should be considered by the Government and regulatory authorities.
"In addition, cryptocurrencies and ICO's have a record which shows that over 90% of ICO's fail and over 80% are scams. As a jurisdiction we must also protect investors as required."
Links To Information
We attempted to summarize some of the recent developments and conversation surrounding the company above, and the links contained above to more comprehensive information are reprinted below.
Read More About
Category: All, Business, News, technology