[Opinion column written by OUTBermuda Directors Chen Foley & Zakiya Johnson Lord]
OUTBermuda has considered the judgment of the Court of Appeal relating to the right of gay and lesbian couples to marry. We believe the Court achieved the right outcome, and that its decision is legally sound. Furthermore, we do not believe an appeal to the Privy Council  is in the best interests of our country. We strongly urge Government instead to accept the result.
Contrary to Government's recent statements, the Court of Appeal's decision does not undermine Parliament. It was never right for this current Government, or the One Bermuda Alliance one before it, to allow itself to be bullied by Preserve Marriage into making laws that served no purpose other than to disadvantage gay and lesbian Bermudians. On that basis alone, the outcome in the Court of Appeal is justified.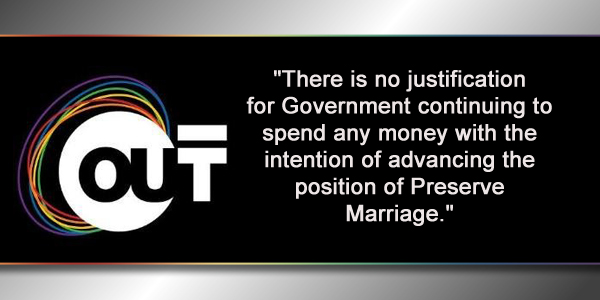 Anyone who has not yet read the Court of Appeal decision should do so. It is not too long [at least as far as court judgments go], and for the most part is written in fairly plain to understand language. The judgment is publicly available online [PDF], including on OUTBermuda's website.
Government's appeal was not actually concerned with determining whether a particular view on same-sex marriage is correct. The same will be true of any future appeal to the Privy Council. Rather, the case turned on a number of discreet legal points concerning the relationship between governments and the people. Those legal points have implications far beyond Bermuda's LGBTQ community.
Parliament was created by the Bermuda Constitution. Its law making powers are necessarily restricted to being exercised in accordance with the rule of law, which includes respecting constitutional principles. Where any government makes laws that infringe upon the constitutional rights of any person, that person has always had recourse to the courts even if they are in a minority.
Government lost both the initial trial and subsequent appeal because Parliament has acted outside the authority granted by the Constitution by not respecting the LGBTQ community's constitutional rights. Every Bermudian is protected under the Constitution, and is guaranteed the freedom of conscience, as well as the right to hold a chosen religious belief, or alternatively not to hold any religious belief at all. The courts found that Government unjustifiably interfered with those rights.
Prior to the last election the Progressive Labour Party made a promise to remove the right of gays and lesbians to marry if it was elected, a promise Government publicly admitted was made to appease opposition from Preserve Marriage to the Supreme Court's decision in Godwin. That promise was not one it could lawfully keep. Fulfilling that commitment meant that Government would have to infringe upon the protected constitutional rights of some Bermudians without any lawful or justifiable basis for doing so.
In the Supreme Court, Government accepted that we live in a secular democracy, not a theocracy. This means Government accepted that it cannot use its powers solely to give effect to the religious views of any one particular group. Government's admission on this point was crucial to the outcome of the recent appeal. This is because the only justification Government gave to the court for overriding the constitutional rights of gay and lesbian Bermudians was its desire to implement a legal framework for recognizing same-sex relationships that was acceptable to the religious views of Preserve Marriage.
Importantly, the Chief Justice went out of his way to invite Government to clarify its position by offering new evidence that could justify its actions. Government chose not to do so, or likely was unable to do so, because it was unable to identify another basis for banning marriages between same-sex couples given everything it had publicly stated on the issue. Against that background, the outcome of the appeal is not really all that surprising.
Marriage equality has been the law of Bermuda since Godwin in May 2017. Since that decision no one in Bermuda has been adversely impacted by the same-sex marriages that have taken place in these islands or aboard Bermuda-registered cruise ships. Importantly:
No minister of religion has been forced to perform a wedding for a same-sex couple;
No church has been forced to host a wedding or reception for a same-sex couple;
No individual who holds a religiously based view opposing marriages between same-sex couples has been forced to alter their beliefs;
No individual, organization, church or other group has been forced to amend their doctrine, or creed, or form of worship;
No heterosexual person has been forced into a marriage with someone of the same sex;
The earth has continued traversing its path around the sun, rising in the east over St. David's and setting in the west beyond Somerset.
The financial impact of prolonging the fight against marriage equality cannot be understated. The rule in Bermuda is that a losing party to a court case must pay the legal costs of the winner. Government is now responsible for the many hundreds of thousands of dollars spent by OUTBermuda and the other parties to the litigation.
A failed appeal to the Privy Council will result in Government not only paying its legal fees for another QC, but also those incurred by all other parties involved. These costs are in addition to the legal costs of all the parties involved in the Godwin litigation.
These are all on top of the costs incurred in relation to the meaningless referendum held in 2016 – lest we forget that the Referendum Act of 2012, an Act passed by a prior Progressive Labour Party Government, mandates that less than 50% of the electorate voting in a referendum renders the outcome invalid.
OUTBermuda is indebted to the financial, emotional and spiritual support provided by Bermuda's LGBTQ community and allies throughout the court process. We also acknowledge the work and dedication of Rod Attride-Stirling and his legal team.
In addition, OUTBermuda recognizes that the blind opposition of Preserve Marriage to the proposal for Civil Unions also played a key role in paving the way for full marriage equality in Bermuda today. Had Preserve Marriage not prevented the previous OBA Government from advancing legislation to create Civil Unions, there is a strong likelihood that the Supreme Court may not have ruled the way it did in Godwin.
As the Court of Appeal stated in its judgment, "Preserve Marriage has the right to believe, but it does not have the right to impose its beliefs on anyone else." To be very clear, marriage equality does not impact anyone other than those gay and lesbian couples intending to marry.
Preserve Marriage has continually repeated the incantation that the European Court of Human Rights has not established marriage as a right for all people; but they conveniently ignore the fact that the European Court has prescribed a positive duty on governments [including our own] to provide legal recognition in some shape or form for same-sex couples.
Where governments fail to do so because of fear of political fallout [which was the case in Bermuda] the courts can be asked to intervene; and as Bermuda's Supreme Court ruled, given marriage in Bermuda traces its roots to judge-made law, one option available to the court when considering how to grant legal recognition to same-sex relationships is to affirm full marriage equality.
There is no justification for Government continuing to spend any money with the intention of advancing the position of Preserve Marriage.
The argument over marriage equality has now been settled. A further appeal will not consider the rights and wrongs of whether two men or two women should be permitted to marry. The time for arguing over that has now passed. Instead, the appeal will focus on discreet legal principles and the question of whether the Bermuda Government should be permitted to ignore those principles.
Essentially, Government will be arguing that it is entitled to ignore constitutional protections afforded all Bermudians where it is politically expedient for it to do so. OUTBermuda believes it is wholly unacceptable for a democratic government to advance such an argument.
If Government chooses to appeal it should commit to publishing the advice given by its QC on its chances of doing so successfully. This is because the ultimate goal of any appeal will be to give this and successive governments [regardless of political persuasion] power to override the rights of all citizens as they please, and that argument will be made at tax payer expense.
- Chen Foley & Zakiya Johnson

20 Most Recent Opinion Columns

Opinion columns reflect the views of the writer, and not those of Bernews Ltd. To submit an Opinion Column/Letter to the Editor, please email info@bernews.com. Bernews welcomes submissions, and while there are no length restrictions, all columns must be signed by the writer's real name.
-


Read More About