[Written by Don Burgess]
Even though American Airlines has cut one of its New York flights to Bermuda, air visitor arrivals were up in 2018.
This from Skyport president Aaron Adderley. He pointed out that the reduction from AA was likely a response to JetBlue who had increased seats from both Boston and New York.
However, he declined to discuss whether Skyport believes in minimum revenue guarantees [MRG] or what his organization's responsibilities are for marketing Bermuda.
Mr Adderley told Bernews, "Airlines periodically re-calibrate their seat capacity in response to demand, costs and other route performance factors, by either adjusting the frequency of flights or the size of aircraft.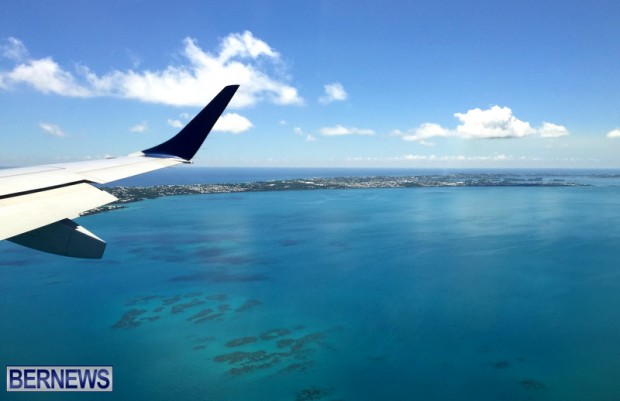 "Last year, JetBlue scheduled a significant 69 percent increase in seat capacity out of Boston and a 10 percent increase out of New York JFK. Later in August, American Airlines adjusted its seat capacity by reducing its frequency out of New York JFK from two flights per day during the busy summer period, to one flight per day in the winter."
He added that "Total air visitor arrivals were up out of New York JFK, Boston and across all markets in 2018. This is a testament to the efforts of the Bermuda Tourism Authority, and the close collaboration they, Skyport, the Bermuda Airport Authority and Government have when it comes to air service development.
"Each of us share in the common goal of increasing the number of air visitors, and to that end, Skyport has always and shall continue to invest its resources into realizing that important goal by supporting air service initiatives."
In a speech to the House of Assembly in November 2018, Tourism and Transport Minister Zane DeSilva was critical of Skyport's handling of minimum revenue guarantee agreements to ensure that there are more flights to Bermuda. Minister DeSilva said, "Skyport is content to have the authority but not the responsibility. The airport deal seems to have empowered Skyport to pass this burden on to the Bermudian taxpayer."

Read More About