Deloitte Ltd. announced that the 2019 Deloitte Scholarship recipient is Pria Lewis, with the scholarship award offering up to $20,000 per year for a maximum of three years and is available to Bermudians pursuing an undergraduate degree with an interest in accounting, actuarial or business related studies.
"The Deloitte scholarship committee selected Pria from a group of high-caliber shortlisted scholarship applicants where she stood out for for her drive and determination to succeed," the company said.
"Pria will join the Deloitte Internship Program [DEEP] for the summer months where she will gain a valuable internship experience within the Audit and Assurance practice.
"Pria graduated from The Berkeley Institute this year and has decided to pursue her Bachelor of Commerce degree with a Major in Accounting from the University of Guelph in August."
Ms Lewis commented, "I attended a Deloitte Insight Event and I was convinced that this was going to be my career path. I was also hoping that I would one day work there. I was informed about the scholarship and thought I would apply.
"When I received the successful call my first thoughts were: "I will spend the rest of my life reliving this moment! What a reward for years of hard work. I'm looking forward to the next chapter in my life!"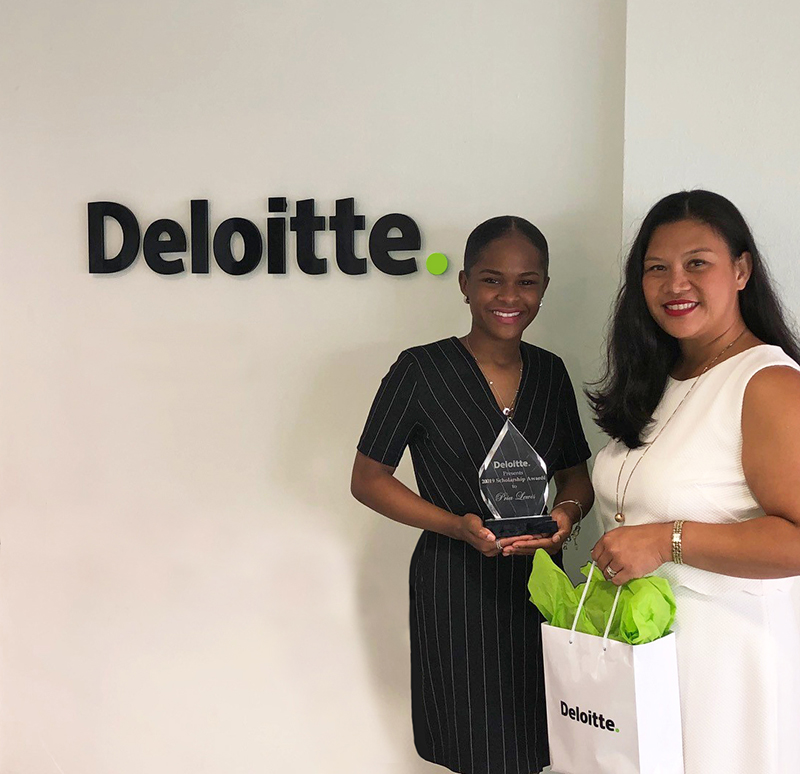 The company noted, "Leadership and time management skills have been important qualities that Pria developed during her involvement as part of her high school's netball and football teams and running clubs.
"Along with her impressive athletic achievements, Pria has been recognized as not only a consistent honor roll recipient throughout her high school career, but as a leader, being elected to join The National Junior Honor Society."
Rachelle Frisby, Partner in Financial Advisory and member of the scholarship selection committee, commented: "At Deloitte, we seek out individuals who are creative and passionate about making an impact every day through meaningful, value added work.
"I am pleased to present Pria with our 2019 Deloitte scholarship; as a Prefect, she is a well-rounded individual both in academics and athletics. She has also represented Bermuda as a member of the National Gymnastics team where she learnt valuable skills such as teamwork, resilience and communication techniques. We congratulate Pria on her hard work and wish her continued success in her studies."
A spokesperson added, "Deloitte Bermuda is keen to provide opportunities to ambitious students and graduates who are focused on developing experience in the financial and/or insurance services. We offer meaningful work placement, attractive benefits, continuing local and overseas training and development, educational support, sports and social events, corporate social initiatives, well-being programs and more.
"Student programs include: Highschool Work Experiences, the Deloitte Internship Program [DEEP], Co-op Placements, the Deloitte Scholarship and the Deloitte Graduate Program. These programs provide students with the opportunity to experience a broader global network, and be part of a vibrant and diverse organisation, where you get to work with forward thinking leadership and people who are committed to making a difference."
The Deloitte Scholarship application is available on the Bermuda Scholarships website only with a deadline of March 31 annually. Interested students, parents, guardians and teachers should visit www2.deloitte.com/bm/en/toptalent for more information including details on the upcoming student networking event 'Deloitte Invites Top Talent' on July 22, 2019 at Bungalow 56.
Read More About