Social media's "Bucket List Family" can now cross Bermuda off of the inventory of places that they would like to visit.
The family — who embarked on a round-the-world odyssey after father Garrett sold his start-up technology firm to Snapchat — posted photos of themselves on the island earlier this week.
"Bermuda! On our plans: sailing, street market Wednesday, snorkeling, free diving, volunteering @windreachbermuda and staying at @princessbermuda," they captioned one photo.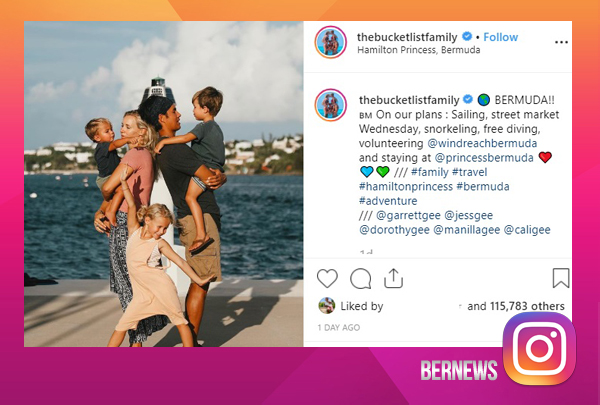 Garrett Gee, wife Jessica and their three children, Dorothy, Manilla and Calihan, became internet celebrities when they embarked on their journey in 2015. Their Instagram account has more 360,000 followers and the blog they keep to share their globe-trotting adventures has been read by millions of people.
"75 countries later. It's been 4 years since we made the life changing decision to sell everything and leave home for an adventure around the world," the family said.
Although Mr. Gee made millions of dollars selling his company Scan to Snapchat, he has not used any of that money to finance the family's travels.
Instead the family, known for their charitable work in the countries they visit, initially used the funds they raised selling practically all of their belongings to underwrite their travels. They now attract sponsorship dollars from companies who support them in exchange for promotions in their YouTube videos, Instagram posts and blog entries.
"We feel like we still have so much to learn about life and happiness before we can set up our future life and home," Mr. Gee has said of the family's seemingly never-ending global grand tour.
"That's why we started our family bucket list. We decided as a young family that now was the time to form healthy habits and create traditions that will hopefully shape us into better people the rest of our lives."
Read More About