[Written by Mikaela Ian Pearman]
Tempest Bistro will be ending January out on a healthy, but delicious note with its annual Veganuary dinner.
The event premiered last year and was completely sold out. The chefs presented such an innovative, delicious vegan feast that the restaurant knew they had to do it again.
Veganuary will be held on Friday, January 31 at Tempest Bistro in St. George's. The dinner is a five-course tasting menu.
"Our goal is to show that vegan food can be incredibly delicious when paired with the correct flavors. None of our vegan dishes are basic," Mr. Turner, the owner says.
The menu has interesting combinations with dishes such as Bermuda Carrot and Parsnip Soup with cashew cream, Cassava Pie with spiralized vegetables and puttanesca, Thai Curry Eggplant Stack, Beet and Coriander Cakes with glazed pomegranate and crispy butternut squash and finally, a chocolate surprise for dessert.
Mr Turner says: "The Chefs and I are extremely excited with this menu. We hope it will show creativity and flair with plant-based food. I would encourage those who are vegans and those who want to experience something different to book for an unforgettable dinner."
In addition to Veganuary, Tempest is offering vegan specials on its Restaurant Weeks menu and can accommodate vegans for lunch or dinner with its regular menus.
The vegan dinner will be held this Friday, January 31st, at 7pm for a 7:30pm sit down. The cost is $75 per person inclusive of gratuities. To make a reservation, please call 297-0861.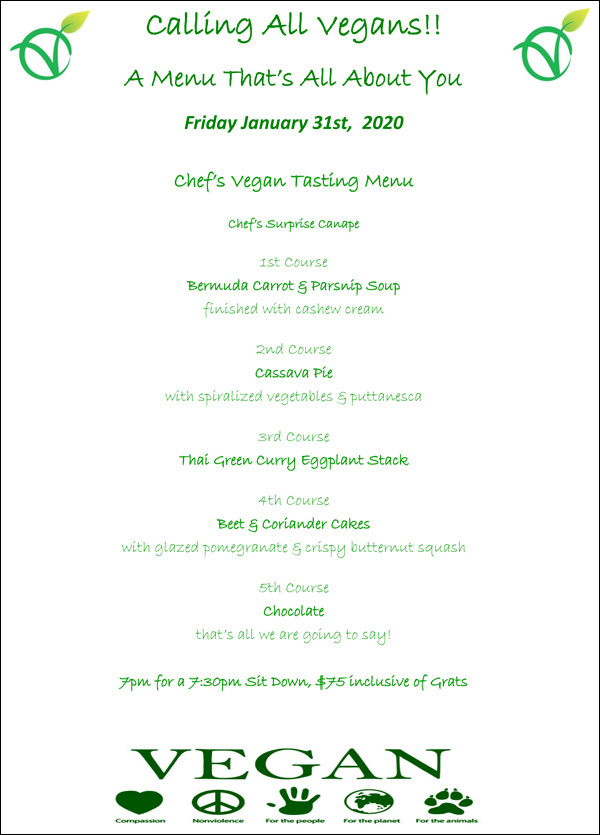 Read More About
Category: All, Entertainment