Alex Scott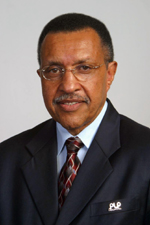 William Alexander Scott is a former Premier of Bermuda, having served from 2003- 2006 under the Progressive Labour Party [PLP].
Born in Bermuda in 1940, Mr. Scott is the son of Mr. Willard Scott and Mrs. Edith Lucille Scott of Khyber Pass, Warwick.
He grew up in Warwick and attended Purvis Primary, Berkeley Institute and Temple University in Philadelphia where he obtained a Bachelor of Fine Arts Degree. While at Temple University, Mr. Scott was member of the Varsity Soccer team and President of the International Club for Foreign Students.
Mr. Scott's political career began in 1985 when he was appointed to the Senate, where he was promoted to Opposition Leader in the Senate in 1989.
He was first elected to Parliament in the general election of October 1993, representing the Warwick South East constituency. He became Deputy Leader of the Opposition PLP on August 20, 1996.
After the PLP victory in 1998, he was appointed to Cabinet as the Minister of Works & Engineering. He was appointed Leader of the PLP and Premier in July 2003, serving until 2006. He took over from Dame Jennifer Smith, and was succeeded by Dr. Ewart Brown. As of 2010, Mr Scott continues to serve in the House of Assembly as a backbencher.
In 1978, Mr. Scott served as one of the five members of The Pitt Royal Commission that investigated the root causes of the 1977 riots. In 1983, he was a member of the House Regulations Committee.
Married to Olga since 1972, they have two children; Robyn and Lawrence.
The video below shows Mr Scott speaking prior to the 2007 election: