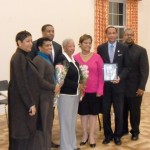 Dr. Lou Matthews was one of the featured speakers at a bookfair and panel discussion on Thursday February 25 at the St. Mary's Church Hall in Warwick.
Along with Dr. Matthews, guest speakers were Shawnette Somner, Dr. Gina Tucker and Tracey White. Organized by Dale Butler, the panel discussion was on the topic of successful strategies for school success.
The event also honoured the late Charles Bean, Dr. Yvonne Blackette, Wilfred Allen and Dr. E.F. Gordon.
Dr Lou Matthews is an educator with almost two decades of experience and one of the organizers of "Rise Above", the anti-gang initiative. He spoke of the "loss of an expectation of excellence".
He drew reference to to the athletic program at Central School [now Victor Scott] which he attended. Dr. Matthews pointed out that when he played football there, he was on the field with Shaun Goater, who as most Bermudians know went on to become a professional football player in the UK.
When competing in track and field, he was competing against another student named Nicky Saunders….who went on to win a gold medal at the Commonwealth Games, setting a high jump record which still stands to this day.
He used those two examples to highlight his general theme; that Bermuda seems to have lowered its standards and not expect our students to perform at a high level.
Click to enlarge images:
Dr. Matthews was recently appointed as the Director of the Educational Standards and Accountability Unit by the Department of Education
Read More About