Bermuda's shores will be graced by a world famous artist and autistic savant with the visit of Stephen Wiltshire from May 17-23. Nicknamed the "Living Camera", he can draw incredibly detailed replicas after only a glimpse at them.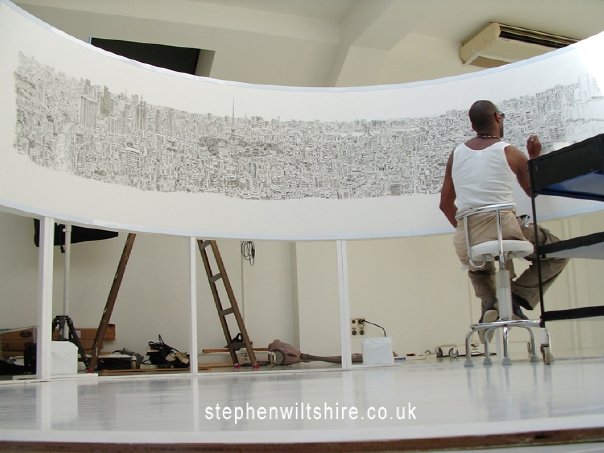 Popularized through the Dustin Hoffman and Tom Cruise movie "Rainman", autistic savants can often have extraordinary talents.
Some of his works include a 33 foot long canvas of Tokyo, and an 18 foot long drawing of New York. Mr Wiltshire draws these huge artworks from memory after looking at the cities for only a few minutes. Using his exceptional memory he draws these panoramas in incredible detail, and is always deadly accurate.
He was born in London to West Indian parents in 1974, As a child, he was mute and did not relate to other human beings. He had uncontrolled tantrums and lived entirely in his own world, and did not speak his first words until he was 5 years old. When he was 11 he drew a perfect aerial view of London after only one helicopter ride.
Mr Wiltshire has been featured in numerous television shows, magazines and been commissioned to produce artwork worldwide. In January 2006 Mr Wiltshire was named by Queen Elizabeth II as a Member of the Order of the British Empire [MBE], in recognition of his services to the art world. No mention of his disability was made, and the award was made sheerly on the merit of his outstanding artwork.
Below is an excellent video showing 5 mins of a documentary on Mr. Wiltshire:
-
Mr. Wiltshire will be visiting Bermuda to demonstrate as part of Bermuda's recognition of Autism Awareness Month, to demonstrate the therapeutic value of art and emphasise how important it is for art organisations to work more closely with social service agencies.
The Bermuda National Gallery [BNG] has commissioned him to create his unique view of the city of Hamilton, prints of which will be available for auction.
Locals will have the chance to interact with Mr Wiltshire ,as he will attend a gala fund-raising dinner on May 22 with proceeds being shared between the Bermuda Autism Support & Education [BASE] and the BNG.
Bermuda's school children will also have the chance to meet Mr Wiltshire as he is expected to visit many of the island's schools.
For more details about these events and BASE, visit Bermudaautism.org or contact Jenny Purvey, President 534-4376 or basebda@yahoo.com
Read More About