Confirming Bernews report from this weekend, Police have stated a man was arrested in the shoreline caves of Hamilton parish, saying the 48-year-old man was arrested for "attempting to evade arrest" and is expected to make a court appearance in "due course."
The incident occurred yards away from the Bailey's Bay Cricket Club on the shoreline of the North Shore Road/Coney Island Road, Hamilton parish area on Saturday, September 4th. A man running away from the Police jumped overboard and was subsequently found by the Marine Police hiding in the caves. The Police are pictured below searching the area this weekend: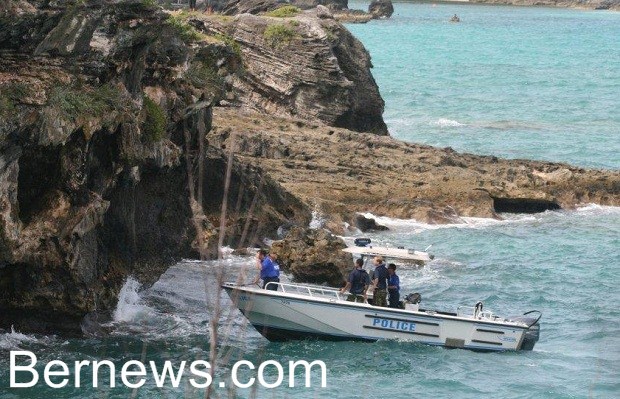 The Police say that "Around 10:45am that day, several officers from different units attended the scene to assist in his capture, including the Marine Unit."
As reported on Saturday the man ran away as he had warrants for his arrest, the Police say that in addition to be apprehended for attempting to evade arrest, he was also apprehended for outstanding warrants.
The Police also stated that a 43-year-old Hamilton parish man was also arrested at the scene in connection with the incident.
Update: 48-yr-old Gerald Outerbridge was charged today in Magistrates Court in connection with this incident.
Read More About